Dark Souls 3: Ashes of Ariandel walkthrough - Chapel of Ariandel to Depths of the Painting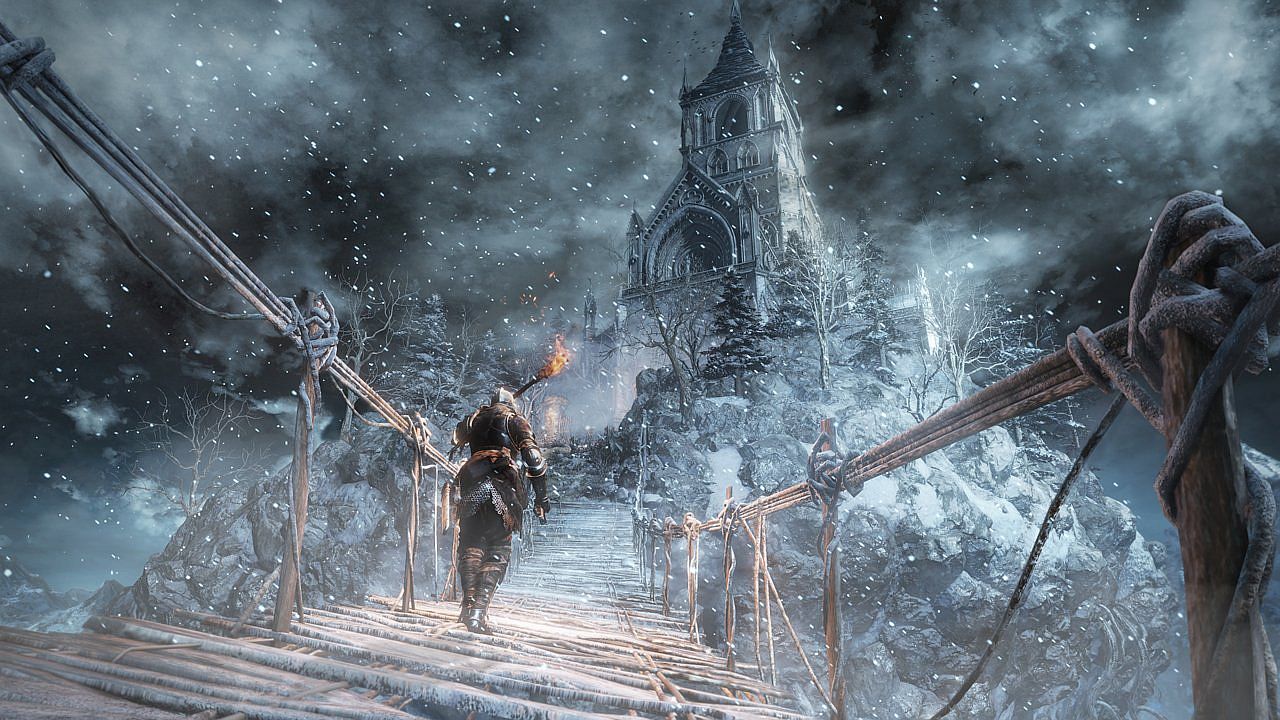 Dark Souls 3: Ashes of Ariandel includes a short optional crawl leading to an extra boss.
After defeating Dark Souls 3: Ashes of Ariandel's main boss, what's an Ashen One to do? Why, go after the optional boss.
Our goal is a bonfire called Depths of the Painting, and to get there, we start at Chapel of Ariandel. You can do this any time, by the way; it doesn't matter when you challenge it, and it's the only way to unlock the PvP arena.
Exit the Chapel of Ariandel by the main door and trot down to the rope bridge, but stay on solid ground on the chapel side. Hack away at the ropes, being careful not to fall over the edge, and wait for the animation to end. Approach the edge cautiously and descend. Whee!
In this area we need to navigate the roots until we reach the ground. It's not always easy, so go slow and careful and plan your route before you wander out. We'll guide you through the hazards as best we can.
First, walk along the stone ledge - to your left, as you face the ladder. Grab the rime blue moss clump in the crevice on your right as you move along.
At the end, listen for breathing and look down. See that Follower? He's like a signpost marking the root you'll want to drop to. Take him out and do so.
Once you're on the root, stop and look around to spot another Follower below and to one side. Again, he's right by the next root you want - although you can drop onto it at any point, not necessarily right where he is. He breathes fire which is deadly when you can't dodge, so you'll want to either snipe him or rush to the more solid ground he's standing on before he can start attacking.
Now, before we go any further: from here on in, you'll come under fire from two Milwood knights with greatbows - one who's slightly above you at this stage, and another right down near where you drop to ground level.
If you're a melee-only character this is basically hell, but cheeseburger assassins - and anybody with a decent bow - will be okay. This first step is the toughest - running from the second root down a slight drop to another root and then onto the next stony shelf and taking cover under the overhead roots, without being shot or going so far you aggro the next few enemies. Make a dash for it when you're ready.
Now that you're on a stony ledge, you'll probably spot a crystal lizard - but ugh, it'll lead you into trouble! If you chase it on your first visit here it'll probably fall off the roots and you might get your goods even though you immediately succumb to the ambush I'm about to describe.
The path forward is along a root that curls off to the right, tight against the cliff wall, as you face direction of travel from the last root. However, there's a spear and shield Follower lurking just around the corner and a spear-throwing Follower waiting when you reach the other side. If you duck forward just a little bit you can aggro the melee Follower and lure him back around the corner to duke it out. This then gives you space to snipe or rush the spear-throwing Follower. Once you see all this in action and understand where you're safe from snipers it won't be hard for you to get the lizard and both Followers - maybe on your second or third go.
Okay, so before you go off to the other side of the gap via the root against the cliff wall: the area where the spear-throwing Follower was standing is partially exposed to the first sniper. As soon as you get over there you want to quickly locate him: above you, and back towards where you came from. Put some of the overhead cover between you while you ready to snipe him. If you are unlucky he will fall down onto the lower platform while you're sniping him, which means you need to ping him with body shots then dodge an attack before firing away again.
The second sniper is more annoying, because there's nowhere closer to him with cover, so you'll have to chip away with sub-optimal attacks. Equip feather arrows if you have them, but if not, any lighter arrow will do, with standard being the second-best option.
Walk around the edge of the abyss on this side of the gap till you can see the archer below you. There's a roughly hemispherical rock on the ground before you which is kind of like a safe zone marker – on the rock or just behind it, the archer's arrows won't hit you. Snipe away, but be aware that as the archer staggers around under your blows he may move into a new position where he can in fact hit you.
After killing the sniper look around and take stock of the twisted mass of roots in the gap between the rocky platforms – you can likely see the orange glow of a torch just below you. Our next goal is to drop down around here from the roots above, but doing so is super deadly because this Follower with a torch will instantly use his fire attack and likely knock you off your perch or kill you. Move around till you can see him and put a preventative arrow or three in him; he usually runs off the edge after one if he doesn't die.
Now it's time to get on with the trickiest bit of root climbing. Your goal is the far side of the icy area, right down the long root where the second sniper was, because that's a safe place to drop to ground level. If you're good at Dark Souls platforming (or falling, we as call it elsewhere), you can grab the Follower Saber from among the roots as you go down.
There are multiple possible paths down, and it may take you a few tries to work out the best way for you to get to that particular root. My advice is to equip the Cat's Ring or Spook so if you miss you might survive a drop to a lower root, and to go very, very slowly. Try not to have any momentum as you drop from root to root, and take your hands right off the walk keys or analog sticks so you don't start moving again when you land. Don't bump them when you grab hold again though; don't ask me about this.
Made it to ground level? Good. Don't go chasing giant ice crabs right now – put that suspiciously crab-like boulder at your right and march across the ice to the Depths of the Painting bonfire tucker directly under all those rubbish roots you've just been pinging off.
Well done! Very little now stands between you and the optional boss, Champion's Gravetender.
By the way, if you'd like the Snap Freeze spell you can get it down here by making it past the two giant ice crabs. There are three weeping dryads past them and the spell is by the third one.
After killing the dryads if you wander back to the upper ledge in this area you'll find a ladder has appeared leading back up to that mysterious dead end near the Rope Bridge Cave - and a Titanite Slab, which is always welcome.