Dance Central gets new trailer, tracklist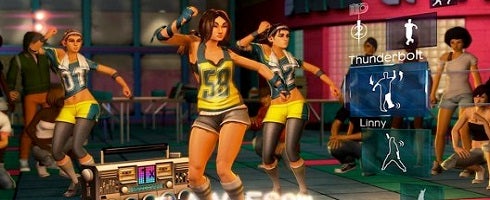 If you do end up getting Kinect next month, and you buy only one game, this is probably the one to buy.
MTV Games has released a new trailer and the tracklist of Harmonix dancer Dance Central.
The tracklist features the already revealed Lady Gaga, No Doubt and Bell Biv DeVoe, as well as Beastie Boys, Kool & The Gang, Dirty Vegas and more.
Full traclist is below, as is the trailer. It shows off how you can hit that, innit.
Dance Central will launch with Kinect on November 4 in the US and November 10 in Europe.
Audio Push – "Teach Me How To Jerk"
Lady Gaga – "Just Dance"
Basement Jaxx – "Rendez-vu"
Lady Gaga – "Poker Face"
Beastie Boys – "Body Movin' (Fatboy Slim Remix)"
Lipps Inc – "Funky Town"
Beenie Man – "King Of The Dancehall"
M.I.A. – "Galang '05"
Bell Biv DeVoe – "Poison"
Nelly Furtado – "Maneater"
Benny Benassi – "Satisfaction
Nina Sky – "Move Ya Body"
Cascada – "Evacuate the Dancefloor"
No Doubt – "Hella Good"
Christina Milian – "Dip It Low"
Pitbull – "I Know You Want Me (Calle Ocho)"
The Commodores – "Brick House"
Quad City DJ's – "C'mon N' Ride It (The Train)"
Craig Mack – "Flava In Ya Ear (Remix)"
Rihanna – "Pon de Replay"
Dirty Vegas – "Days Go By"
Salt-N-Pepa – "Push It"
Eric B. & Rakim – "Don't Sweat the Technique"
Snoop Dogg/Pharrell – "Drop It Like It's Hot"
Fannypack – "Hey Mami"
Soulja Boy Tell 'Em – "Crank That (Soulja Boy)"
Jay Sean ft. Lil Wayne – "Down"
Technotronic – "Pump Up the Jam"
Kool & The Gang – "Jungle Boogie"
Wreckx-n-Effect – "Rump Shaker"
Kylie Minogue – "Can't Get You Out of My Head"
Young MC – "Bust A Move"