Crash Bandicoot 4: It's About Time rated in Taiwan, coming to PS4 and Xbox One [Update]
A release date for Crash Bandicoot 4: It's About Time seems to have leaked.
Update: Images of Crash Bandicoot 4: It's About Time from what appears to be a leaked video have surfaced on the internet along with an October 9 release date.
The images were posted on 4chan and found by ResetEra. Developer Toys for Bob also revealed on Twitter it plans to reveal its next game on June 22 (thanks, Eurogamer).
It's almost TIME. More info on our next game is coming June 22!

— Toys For Bob (@ToysForBob) June 19, 2020
Original story: The next Crash Bandicoot is real, and it's been leaked.
Crash Bandicoot 4: It's About Time is the name of the next game in the series - or more accurately, the first non-remake.
The game's existence was leaked by the Taiwan Digital Game Rating Committee for both PS4 and Xbox One. The rating page also has the game's official cover art.
Developed by Toys for Bob, the Crash 4 story revolves around a new mask, just like fans theorised when the first hints started dropping. Like the original games, it also takes place in the 90s.
"Crash is relaxing and exploring his island in his time, 1998, when he finds a mysterious mask hidden away in a cave, Lani-Loli," the synopsis reads.
"The mask is one of the Quantum Masks and apparently knows Aku-Aku, Crash's mask friend! With the Quantum Masks returning and a Quantum Rift appearing near our heroes, they decide to bravely head through to different times and dimensions to stop whoever is responsible."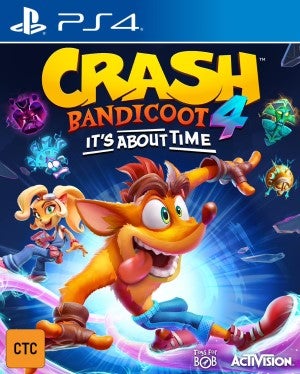 The news itself isn't surprising, but the timing is unfortunate for publisher Activision. The company has only just started teasing the game by sending puzzles and swag to content creators. When solved, the jigsaw puzzle forms to take the shape of one of the masks that appear on the game's cover, just in case it wasn't obvious enough.
Regardless, there doesn't appear to be PC or Switch versions just yet, though those could still be coming down the line.
Thanks, Gematsu.