Activision may be working on a new Crash Bandicoot game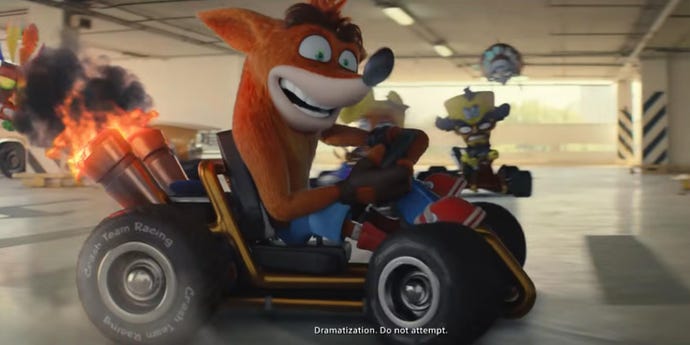 It sounds like Activision is slowly dropping hints about a new Crash Bandicoot.
Speculation first started after the release of PlayStation's It's Time to Play ad, which showed off a number of characters from first and third-party games. This sort of campaign isn't all that exciting in itself, but hidden within were what fans believe to be a teaser for the next Crash Bandicoot project.
The ad was released earlier this month, and fans noticed a particularly fresh mask floating around Crash at 11 seconds into it. They quickly realised that it was indeed a new mask, not seen before in any of the previous games.
Since then, another hint was spotted on a bus ad (of all places), part of the same campaign. Reddit user Aneegles posted a picture of the ad in question, which shows a different character model for Crash than the one seen in the remasters.
Fans speculate that's going to be Crash's new look in an upcoming game. According to Twitter user @RyanPS88, 4Chan leakers say the new game is coming in 2020, and the mask as well as Crash's new model are both accurate assets.
The game is said to be called Crash Bandicoot Worlds, and will feature a semi-open world an introduce three new masks. Obviously, none of this is proof, but it appears there's something going with Crash at Activision, at the very least.
Toys for Bob artist Nicholas Kole also shared this on Twitter in response to fan questions, which is another hint. Kole worked on Spyro Reignited Trilogy at Activision, so they would know.
— Saint Nicholas Ko-hoHo-le (@FromHappyRock) November 4, 2019
Thanks, GamesRadar.