Complete Level-5 Vision conference report: Time Travellers 3DS movie, Layton-Ace Attorney crossover, more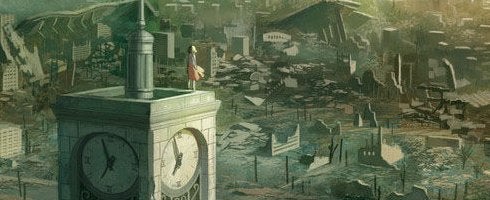 Level-5 confirmed Time Travellers for 3DS release at a Japanese press conference today, as well as taking the lid off a Professor Layton-Ace Attorney collaboration with Capcom.
A trailer was shown of Time Travellers, in which a schoolgirl was onboard a train when the lights went out. A man suddenly appeared behind her before she asks, on top of a church bell tower, what happened.
Watch it below.
Writer Jiro Ishi came out on stage at Level-5's Vision event to give two promises about the game.
One - It will be a game with a solid story. Ishi said he's put together his closest staff to work on it. Those who've liked their previous games won't be disappointed, apparently.
Two - "We're pursuing a new game design in order to appeal to more people."
Ishi said the game will respond to previous concerns about his titles.
Hino said he wanted the game to sell 500,000-1 million units.
Time Travellers was first outed back in Famitsu in April, after Nintendo announced 3DS. Ishi and Level-5 boss Akihiro Hino said the game was for unreleased hardware.
Layton-Ace Attorney, Ni-No-Kuni and more
But while Time Travellers was the main event, it wasn't the only game at the press conference.
Cutesy RPG Ni-No-Kuni was also shown, and it was confirmed it will be sold with a magic book that'll help you find your way around the Dream World. Beware, though: the world map in the game will trick you with stuff that isn't real. The book will help you figure out what's real and what's not. Sounds mental.
A one-on-one DS battle was shown.
As well as features such as the Tag Mode, Traveling Egg and more, Level-5 also announced a raft of DLC for the title to last for up to a year.
No date yet for the collaboration with Studio Ghibil, which will also release on PS3.
Level 5 also announced part of its previously-known team-up with Capcom: a Ace Attorney-Professor Layton crossover, known as Professor VS Gyakuten saiban.
The title was described as a mystery and crime thriller, with the scenario written by the main developer of the Ace Attorney series, Shu Takumi.
Hino compared the crossover to two big TV shows coming together and making a movie.
Watch the trailer for it below.
Professor Layton and the Miracle Mask for 3DS was also seen, and more story details emerged.
The game will take place a year after Layton and Luke first met, and will have two timelines: the present Layton and a younger Layton.
The game will have a download service, supplying a new puzzle will be available every day for a year.
Hino also hinted the game was previously not planned for 3DS.
"We redid it from scratch midway through," he said, which seems to suggest it was coming to DS originally.
Level 5 also formally announced the sequel to football RPG Inazuma Eleven, known as Inazuma Eleven 3: The Ogre.
The game will release on December 16 in Japan and will come west eventually, although when exactly is unknown.
It'll also tie into a movie being released for Inazuma Eleven, which will release in 2D and 3D on December 23 in Japan.
A waitress sim game, Kyaba Joppi, was announced as coming to 3DS. The game is known to be on cell phones in Japan.
Not one to cool down on 3DS support, the developer also announced another one of its games, Fantasy Life, would support the hardware. It was mentioned the music for the game would be done by ex-Final Fantasy composer Nobuo Uematsu.
That'll release next year.
There's more details of the event over at Andriasang.