Assassin's Creed Odyssey: Best Abilities
In this Assassin's Creed Odyssey guide, we'll be walking you through ship combat, recruiting new crew members, the full controls layout, Exploration versus Guided mode, and more.
Both Alexios and Kassandra can unlock some powerful combat moves as you progress further into Assassin's Creed Odyssey, moves which can often give you the upper hand in battle. We'll be detailing the best abilities in the game, which you should be unlocking as early on as possible in your adventure.
On this page:
The Best Abilities in Assassin's Creed Odyssey
Below we'll be listing the Abilities that you should unlock first in Assassin's Creed Odyssey. Keep in mind that while you'll need to progress further in the story to upgrade these abilities, you can unlock them at any point in the story.
Second Wind - This healing ability is great for Assassins who tend to stray more towards outright combat, since it instantly refills 35% of your maximum health.
Shadow Assassin - This Ability is essential in Assassin's Creed Odyssey, as it almost guarantees you'll kill the vast majority of enemies with a single assassination attempt.
Revelation - If you hold down up on the d-pad with this Ability, it'll scan your nearby surroundings, revealing enemies and treasure alike.
Predator Shot - This Ability lets you release a single arrow, that deals a massive 380% Hunter damage to a single target, perfect for taking out tough enemies in a single hit.
Shield Breaker - With this Warrior Ability, you can take shields right out of the hands of an enemy, and use it to bludgeon them to death. Perfect.
Bull Rush - Finally, Bull Rush is an excellent ability to purchase early on in Assassin's Creed Odyssey, since it lets you blast through multiple enemies in your path, dealing 250% Warrior damage to all.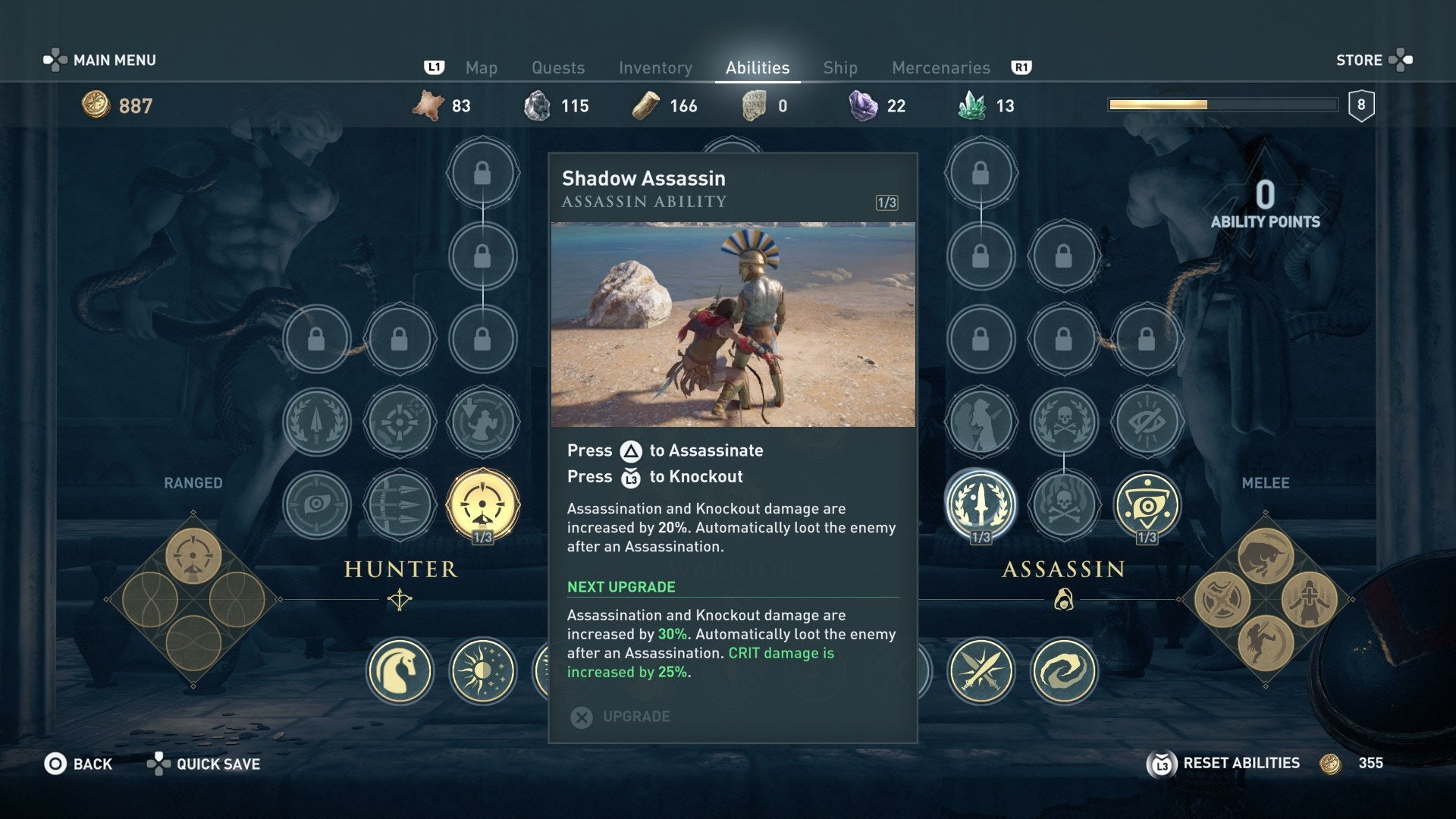 If you're cutting through Assassin's Creed Odyssey, we've got everything you'd ever need at our Walkthrough here. Whether it's combat, stealth or finding the best items, we can provide.
Should I Pick Warrior, Assassin or Hunter Abilities?
You've got three Ability trees to play with in Assassin's Creed Odyssey. The Hunter governs your skills with the bow, while the Warrior is made up of skills used in open combat, and the Assassin governs your ability to strike from the shadows. The row you can see at the bottom is made up of core skills, which you'll automatically earn through progressing the story of the main game, like the ability to summon your horse, Phobos, or your ability to pass time through Meditation.
Which of these you prioritize will depend on what strategy you find yourself using most generally. If you're predominately using stealth, you'll probably want to pick the Assassin skills and so on, though we advise that whatever you pick, you always have a bit of time to boost some basic Warrior skills, as the game often puts you into mandatory fights without much of a stealth or long-range option, such as the open conflicts between Athens and Sparta.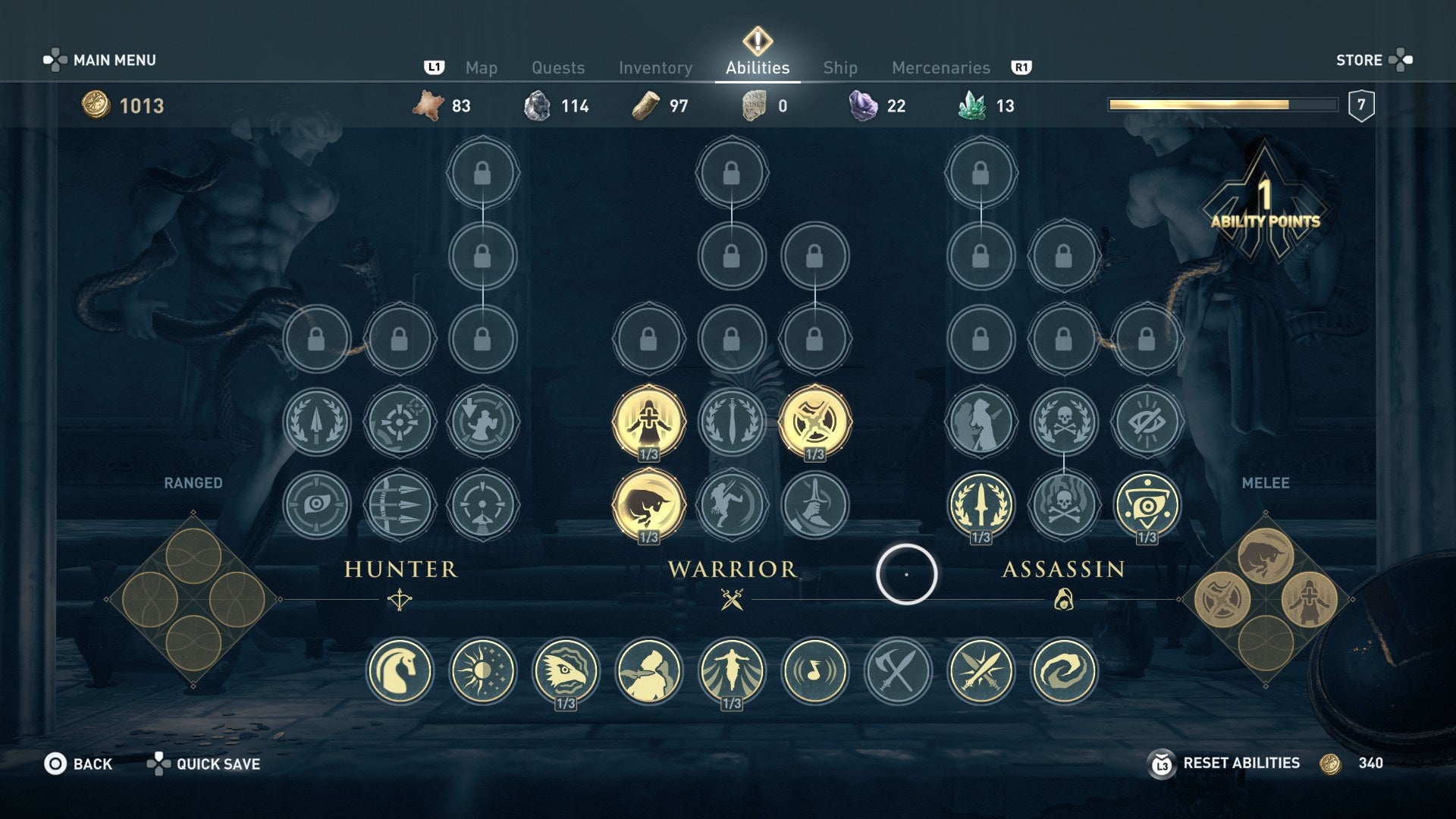 With dozens of abilities to unlock, it's important to know your priorities. | Ubisoft
Warriors from all corners of Greece journey to USG to see our legendary content. You can find Mike's review of Odyssey here, or check out Caty's thoughts on the game's early story here.