25th anniversary Mario Wii, DSi confirmed for Europe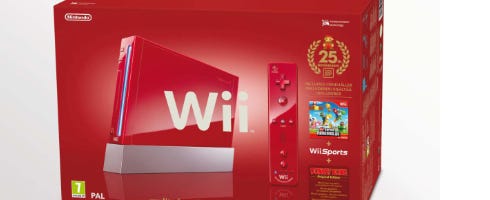 Know that Wii bundle announced last week for Japan by Nintendo to celebrate 25th years of Mario? It's coming to Europe as well. So is the previously-announced DSi bundle
Nintendo's announced it's bringing the pack and a seperate DSi bundle to the UK.
The DSi bundle will come in red with special character icon art included, with a copy of New Super Mario Bros also packaged. That'll be released on October 22. No price was given.
The Wii bundle, meanwhile, will come with New Super Mario Bros. Wii, Wii Sports and the original Donkey Kong, which was Mario's first appearance in a game, pre-installed on the console.
That will release on October 29. Again, no price.
The publisher announced last week the Wii bundle will be released in Japan on November 11 for ¥20,000, while the DSi pack will be released October 28 for ¥18,000.