Razer keyboards, mice and more peripherals are on sale today at Amazon US
Amazon US is running a rather substantial sale today on various Razer keyboards, mice, headsets and other PC gaming peripherals.
I've picked out a few of the highlights below so do have a browse if you've had your eye on a new gaming keyboard or mouse. Further down, there are also some offers to be found on headsets and a healthy $250 off the Razer Blade Stealth 13 gaming laptop.
Perhaps the best offers of the sale can be found on two versions of the Razer Blackwidow gaming keyboard. First, there's the full-sized Blackwidow Elite, which comes with a large wrist rest for added comfort.
Then there's also the Razer BlackWidow TE, a tenkeyless version of the very same keyboard. This means it doesn't feature a numpad. Anyone after a keyboard strictly for gaming might find this to be a more sensible choice. It's functionally identical – with wrist rest included – but considerably cheaper. I'm sure if you don't plan to do any accounting using this you won't miss the numpad.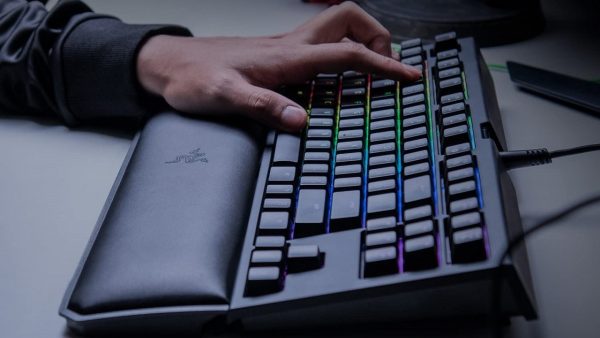 Both of these keyboards are available in three different varieties depending on which mechanical switch you prefer on your keys. The descriptions for each on the store page cover the differences fairly clearly, so it really comes down to personal preference. I'd say the safest middle ground are the Orange switches – they'll give you solid feedback with each key press, but won't drive anyone living with you insane with all the clacking.
Next, onto mice, and there are a couple of good choices here, too!
Let's start with the Razer DeathAdder Essential for $23.99. It's a perfectly competent mouse at a budget price. Ideal if you want a cheap upgrade that comes with better precision and a few extra buttons than your standard office mouse.
My next recommendation would be the Razer Naga Trinity for $61.99. Now, as you can see from the image, this comes with a whole host of extra buttons on the side that you can customise even further with the interchangeable panels. Anyone who's spent a good amount of time in an MMO will know how useful all those extra inputs could be. And the Naga Trinity is a great buy if you want to save yourself from any extended keyboard gymnastics to reach all your hotkeys and macros.
Meanwhile, the Razer Blade Stealth 13 gaming laptop is a decent buy at $1,449.99. It's not going to be able to handle the most high-end games while on the go, but it still offers some decent specs. For your money, you'll get an Intel Core i7, GTX 1650 Ti, 16GB RAM, a 512GB SSD, and a 13.3in, 1080p display with a 60Hz refresh rate.
Elsewhere in the sale, you can find the Razer Kraken Gaming Headset for $49.99 or the Razer Seiren Streaming Microphone for $102.99.
You can also browse the full Razer sale right here. Just remember, the offers are only live until the end of today (14th July) so be sure to snap them up quickly.
And don't forget, you can always check Jelly Deals to find the latest offers across gaming, tech and loads more. Give us a visit for a look at the best external hard drive for PS4, the best Xbox Game Pass Ultimate deal and best Nintendo Switch stylus.