The best PS4 Black Friday deals 2019 – PS4 Pro, Slim, PSVR, games, and more
The weekend may be almost over and Black Friday behind us, but the deals continue into Cyber Monday, and retailers are still offering plenty of discounts on PS4 Pro and Slim offerings still available for you deal-hunting savvy shoppers. There are some big savings to be had if you're looking to nab yourself a brand new console. And it's great news if you're on the lookout for a PSVR headset, too. The prices are lovely and low right now on the console front, and we'll keep scouring the web for any more deals which spring up over the next few hours.
As well as PS4 bundle deals, a great deal of PS4 games have been on offer over the Black Friday period. Most of these discounts are for slightly older games, but certain high profile titles from this year are getting in on the deals action too!
There are many PS4 accessories and extras still on sale this Black Friday weekend, with PS4 controllers heavily discounted across multiple retailers. If you've been eyeing up an extra DualShock 4, it's definitely time to buy – you won't see better prices than now! There are also some great offers on PS Plus deals floating around too, and these don't swing around much either so it's best to buy now before they climb suddenly in price. Make sure you bookmark this page for all the best PS4 Black Friday deals!
Today's best PS4 Pro Black Friday deals
At the moment, PS4 Pro bundles are all teetering around the $300 mark. The best we've been able to track down is this PS4 Pro 1TB Call of Duty: Modern Warfare Console Bundle for $299.99 at Best Buy. That's not a bad price for the set, but we could see even more deals arrive over the next few days.
In the UK, most retailers are sticking a pound sign on the US price and calling it a day. ShopTo is cutting into that a little more, but generally, you're looking at £299 for a PS4 Pro and a game. Check out the list of offers below:
In the UK:
Best PS4 Slim Black Friday deals
If you're happy with a regular PS4, then you can save yourself an extra couple of bucks. An Only on PlayStation bundle in the US was the best PS4 Black Friday offer with a 1TB hard drive and The Last of Us Remastered, God of War and Horizon Zero Dawn – Complete Edition to get stuck into, however, it's proven very popular and has frequently sold out at various outlets. At the time of writing, Walmart still has some left, so you might be in luck if you check there, but stock is running low.
In the UK, Amazon UK is pulling through with some great PS4 Slim bundles. They are, unfortunately, only the 500 GB models, but you can't really beat the prices:
PSVR Black Friday Deals
We're the bearer of the best news if you're looking for a PSVR deal in the US because Sony has dropped its PSVR with Blood & Truth and Everybody's Golf Bundle to $249.99. That is a great price considering the package also includes PS Move controllers that'll usually set you back around $100. Target also has a five game Mega Pack for $199.99, which is pretty good going for the headset, camera and five (count 'em) games.
PSVR isn't as heavily reduced in the UK; the the best we've seen is the five-game Mega Pack on Very. You can also grab the older Mega Pack for the same price.
PS4 Black Friday Game Deals
As always seems to happen around Black Friday, you can find a reduction in a PS Plus subscription wherever you look. In the US it's down to $44.99, whereas in the UK you're looking at paying £37.49 from Amazon or £29 from ShopTo.
On top of that, you'll find a vast range of games on offer. You can browse the list below for some of the highlights on top PS4 exclusives and major releases that we thought were worth picking out:
PS4 accessories:
And we couldn't possibly forget about accessories too, could we! It's looking like now is a great time to get yourself a brand new PS4 controller over in the US as all Dualshock varieties are just $38.99 at Amazon. In the UK, Argos is selling PS4 controllers for £29.99, which is the best price we can find.
There are some good external hard drives and headset up for grabs, too. Here's what's we seen thus far:
Should I get a PS4 or a PS4 Pro?
It's the big question facing many looking to pick up a PlayStation 4 console this Black Friday. Is it worth grabbing a cheaper PS4 Slim or should you cough up the extra money and plump for a PS4 Pro? Essentially, your decision may come down as to whether you own or are going to buy a 4K TV or not. The biggest additional feature that you gain from picking up a PS4 Pro is that you can play games in the higher 4K resolution, something standard HD TVs cannot do. If you want the games you play to look the best they possibly can – and you have the TV tech to support it – then the Pro is the one for you.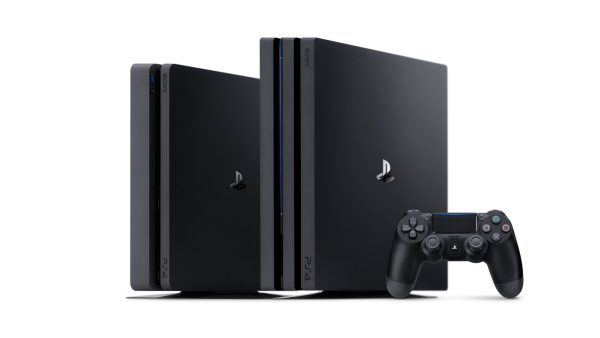 For everyone else: whether that extra graphical bump isn't such a major concern or it's your first foray into the world of console gaming – then a PS4 Slim will do you just fine. It'll play all the same games a PS4 Pro can while saving you £100 or more off the asking price.
That said, you can still use some of the PS4 Pro's power while plugged into an HD TV. The Supersampling Mode, added in the PS4's 5.50 firmware update, will render your games at a higher resolution to give the impression that they are running on a 4K display. Obviously, it's not a true representation of a 4K image, but it'll give you a bit of a visual bump. If you are considering an upgrade to a 4K TV soon too, you may want to future proof yourself with a PS4 Pro – at least for the next few years down the line.
Wait, isn't the PS5 out soon?
That depends on your definition of soon. We now know that the PS5 will be launching in 2020, though it'll be towards the end of the year. So, you've probably got a good 12 months until the next generation arrives.
If you're looking to pick up a PS4 this Black Friday, though, that could work in your favour. As this will likely be the last major sales event before the launch of the PS5 we could see some terrific PS4 deals to shift all the remaining consoles.
>Don't expect a dramatic stock clearance price just yet, but picking up a console can make it easier to take advantage of dropping PS4 game prices as the PS5 gets closer to release.
What will the best PS4 Black Friday deals be this year?
It looks like the big PS4 Black Friday bundle is going to be this 1TB PS4 with God of War, The Last of Us Remastered and Horizon Zero Dawn: Complete Edition for $199.99. That's an incredibly good price for a brand new console and three of the best PS4 games currently available.
If you're looking for a PS4 Pro instead, though, Sony has announced that the system will be $100 off for Black Friday. Retailers are probably going to sweeten that deal with bundling some games with the Pro, so keep your eyes out!
We were already very interested to see what would happen with PSVR over Black Friday with the future of that technology up in the air as the PS5 draws nearer. Sony is offering two bundles for the device. First is the PSVR Multigame bundle, which will include the PSVR, PS Camera, and five games for just $199.99. If you need the PS Move controllers, though, the PSVR PSVR Blood & Truth + Everybody's Golf Bundle will include everything you need to play the PSVR and two games for $249.99.
And what about games? Well, the big end of year releases will most likely stick around their usual prices as they will have only been out for a few weeks. We will be getting a small discount on Call of Duty: Modern Warfare down to $40 as that'll be a huge sales driver. Elsewhere, PS4 exclusive Days Gone will be just $20, while loads of PS Hits releases will be just $10. Best Buy in particular will have a lot of PS4 titles on sale, as well.
Look back a few months at some of the year's earlier top titles as well and that's where the real bargains could be. Borderlands 3, Control, Madden 20 and FIFA 20 could all go for bargain prices – some more significant than others depending on how well they've sold already. Don't fret, you'll find all the best PS4 Black Friday game deals right here.
What were the best PS4 Black Friday deals last year?
The hot PS4 Black Friday deal from last year was a PS4 Pro with Spider-Man for $349.99. Now that the more powerful console is selling at $399.99 with a game included as standard we should expect to see something ever cheaper in 2019. In the UK, a standard PS4 console with a single game was around £220, so it wouldn't be too wild if a drop below £200 was coming.
Other top Black Friday offers for PS4 in 2019 were some strong game discounts across a number of the year's latest sports sims. They usually see a small price drop during that time of year as the season reaches its midway point. Elsewhere, titles from the PS Hits range saw even further reductions below their already very competitive price points.
In the realm of accessories, it was controllers that stood out as one of the biggest bargains. These always seem far too expensive at full price so a few pennies off is definitely much appreciated – and we expect it to be repeated again this year.
That about covers all the more interesting PS4 Black Friday deals from the past!
What date is Black Friday in 2019?
This year, Black Friday will be on 29th November. That isn't when everything happens, though. If you're a well-experienced member of the Black Friday deals hunt then you'll know that bargains can be found during the weeks before and after the day itself, too. With Cyber Monday following immediately after, as well, there are many opportunities to find some terrific offers
Until then, there should be enough here to get you ready for the main event. We'll continue to update the page will any more early PS4 Black Friday deals as and when we spot them.
And, don't forget, you can also find our pages on all the Nintendo Switch Black Friday offers and Xbox One Black Friday deals in case your interests lie there too. Meanwhile, at Jelly Deals, we'll have all the remaining Black Friday deals across games, tech and so much more.