Overwatch League: teams, skins, tokens, schedule and everything you need to watch the action
The inaugural season of the Overwatch League is finally underway, and is already shaping up to be one of the most ambitious esports championships in recent memory. The seven-month tournament has a packed schedule, with players competing for $3.5 million worth of bonuses across four stages made up of five game-weeks each.
Things kicked off with a bang as Los Angeles Valiant drew first blood with a 4-0 victory over San Francisco Shock – a flattering final scoreline in what was a hard fought game. But since Overwatch isn't the most established esport out there, we've put together a guide introducing some of the Overwatch League's basic concepts.
We'll go over the Overwatch League teams, how to get Overwatch League tokens, the skins they unlock, as well as the full Overwatch League schedule and prize pool.
Overwatch League Teams:
The Overwatch League teams are split into two divisions, with each team's full season record counting towards their postseason seeding. The regular season is split into four stages that last five weeks each, with a week's break between each stage.
Overwatch League Pacific Division
Dallas Fuel
Dallas Fuel are backed by Team Envy, one of the biggest esports teams with more than a decade in the business. Their Overwatch team is made up of members of EnVyUs team that won US Overwatch Contenders tournament at the tail end of 2017. Although they lost their first game against Seoul Dynasty, they'll be strong competitors.
Los Angeles Gladiators
Owned by Kroenke Sports & Entertainment, who also own Premier League club Arsenal, the Los Angeles Rams in the NFL, the NBA's Denver Nuggets and NHL's Colorado Avalanche, the Los Angeles Gladiators count Shaz and Big Goose among their roster. Both players won the Overwatch Contenders tournament in Europe with Team Gigantti before joining the Gladiators.
Los Angeles Valiant
The LA Valiant are managed by the relatively new, but successful esports team Immortals. They have GrimReality on their Overwatch League team, one of the most promising young US players competing for the championship.
San Francisco Shock
Via their owners NRG eSports, San Francisco Shock have the backing of sporting legends Alex Rodriguez and Shaquille O'Neal. They acquired an Overwatch team from Luminosity Gaming last year and have added Nomy, who won Overwatch Winter Premier 2017 with Immortals, to their roster as well.
Seoul Dynasty
Seoul Dynasty are owned by Facebook and mobile game developer Kabam, and have some of the best Korean players like RyuJeHong – who's known as one of the best supports in Overwatch – on their team.
Shanghai Dragons
The Shanghai Dragons have an all-Chinese roster comprising of seasoned pros that've been there or thereabouts at major and premier Overwatch tournaments. They're owned by NetEase, a Chinese internet and gaming giant who're Blizzard's main partners in China.
Overwatch League Atlantic Division
Boston Uprising
Boston Uprising are owned by the same people as the New England Patriots, and have a diverse team of players who've done well in minor tournaments as well as a few majors. They'll be looking to turn their promise into solid performances.
Houston Outlaws
OpTic Gaming are one of the biggest names in esports, and provide the backing for the Houston Outlaws. They have a big American contingent in their team, including players who represented the US at the Overwatch World Cup.
London Spitfire

London Spitfire are another strong team made up largely of Korean ex-GC Busan players who won the APAC premier championship in 2017. They're owned by major esports team Cloud9 – one of the world's biggest.

Florida Mayhem

The Florida Mayhem are made up of players from the Misfits esports team that came 2nd at Overwatch Contenders tournament, and the Sweden team that came 3rd at the Overwatch World cup.

New York Excelsior

With great players like Saebyeolbe – who won the Overwatch World Cup with Korea – and Libero – who's one of the best and most flexible players in Overwatch – New York Excelsior are going to be tough to beat. They're owned by the COO of the New York Mets, Jeff Wilpon.

Philadelphia Fusion
Backed by the owner of NHL team Philadelphia Flyers, Philadelphia Fusion have put their trust in long-time esports pros like ex-Dota 2 player Fragi and Canadian high-level support player Joemeister.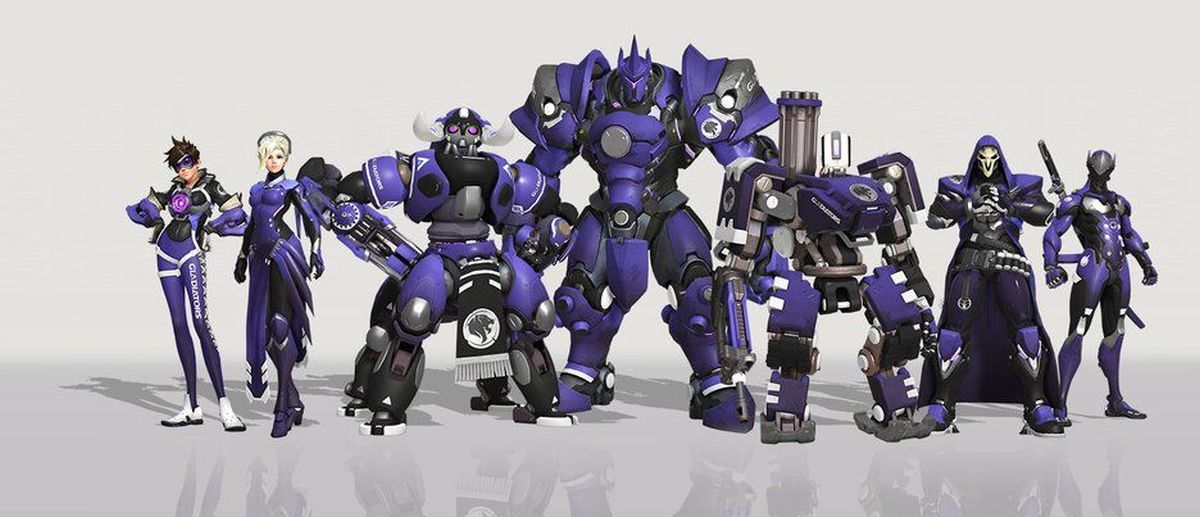 How to earn free Overwatch League Tokens:
The Overwatch League introduced a new currency to the game – League Tokens – which you can use to buy a new set of hero skins based on Overwatch League teams.
Each skin costs 100 League tokens, with the cost of additional tokens listed below:
100 League Tokens – $4.99
200 League Tokens – $9.99
400 League Tokens – $19.99
900 League Tokens – $39.99
2600 League Tokens – $99.99
As you can see, the prices for each one are steep. They're supposed to be like traditional sports jerseys, where you only buy and wear your favourite player's rather than collect the whole team's, but for completionists, it's an exceptionally high amount to play.
There are only two ways to get free Overwatch League tokens:
The first is to collect 100 by logging into Overwatch.
You can get another 100 for free by signing up to the Overwatch League Newsletter on Blizzard's official site. You have to scroll down to where there's a black box on the left, then enter your email.
Overwatch League Skins:
So, as we established above, Overwatch League skins are expensive and you can only earn a couple for free. Here's what you actually get for your money, or tokens if you're still deciding on which to pick.
Overwatch League Schedule:
Overwatch League Week 1 Schedule: We'll update the schedule with new matches week-to-week. With time zones, this gets very confusing, very quickly but we've tried to make it as clear as possible.
January 10-11
San Francisco Shock 0-4 Los Angeles Valiant
Shanghai Dragons 0-4 Los Angeles Gladiators
Dallas Fuel 1-2 Seoul Dynasty
London Spitfire vs Florida Mayhem – 10PM GMT / 5PM EST / 2PM PST
January 11-12
Philadelphia Fusion vs Houston Outlaws – 12AM GMT / 7PM EST (Jan 11) / 4PM PST (Jan 11)
Boston Uprising vs New York Excelsior – 2AM GMT / 9PM EST (Jan 11) / 6PM PST (Jan 11)
January 12-13
Los Angeles Valiant vs Dallas Fuel – 12AM GMT / 7PM EST (Jan 12) / 4PM PST (Jan 12)
Florida Mayhem vs Boston Uprising – 2AM GMT / 9PM EST (Jan 12) / 6PM PST (Jan 12)
San Francisco Shock vs Shanghai Dragons – 4AM GMT / 11PM EST (Jan 12) / 8PM (Jan 12)
London Spitfire vs Philadelphia Fusion – 7PM GMT / 2PM EST / 11AM PST
New York Excelsior vs Houston Outlaws – 9PM GMT / 4PM EST / 1PM PST
Seoul Dynasty vs Los Angeles Gladiators – 11PM GMT / 6PM EST / 3PM PST
Rewards for Watching Overwatch League:
One of the most interesting announcements Blizzard has made in the run up to the start of the Overwatch League is that it's partnering with Twitch to provide "exclusive in-game items" for people who watch the broadcasts.
Twitch then confirmed that these would include but weren't limited to "custom Overwatch League Cheermotes", and that more will be announced "when they're available".
Overwatch League Scoring:
How teams score in the Overwatch League can be confusing at first, but is very similar to how regular games of Overwatch work.
Teams earn points for winning matches, which then determines their standing in their league division.
Each match is played over four or five maps, and the first team to "win" three maps takes home the points.
How teams win a map changes depending on which map it is. On "Escort" maps like Dorado, the offensive team tries to move a payload forward, while the defending team tries to push them back – with each team scoring points depending on how successfully they attack and defence. On "Assault" maps like Temple of Anubis, the offensive team try to capture set points the map while the defending team tries to stop them – again scoring point based on how successful they are. Then on "Control" maps like Ilios, both teams battle it out over the same points, scoring points when they take control of the point.
Overwatch League Prize Pool:
The total prize pool of bonuses that players are competing for in the Overwatch League is $3.5 million, on top of the $50,000 salary that every player gets for taking part. How that breaks down is below.
Finish bonuses for regular season:
1st place: $300,000
2nd place: $200,000
3rd + 4th place: $150,000
5th + 6th place: $100,000
7th + 8th place: $75,000
9th + 10th place: $50,000
11th + 12th place: $25,000
Stage title matches:
1st Place: $100,000
2nd Place: $25,000
Championship playoffs placement bonuses:
1st Place: $1,000,000
2nd Place: $400,000
3rd + 4th Place: $100,000
5th + 6th Place: $50,000
The Overwatch League regular season started on January 10, 2018 and lasts until June 16. The playoffs then start on July 11 until July 22, before the grand final takes place from July 26 to July 28.
You can watch every game live on Twitch.