Star Wars: Battlefront 2 multiplayer beta kicks off this fall, pre-order and gain early access
Ahead of its E3 2017 presentation tomorrow, EA has announced a multiplayer beta will kick off for Star Wars: Battlefront 2 this fall.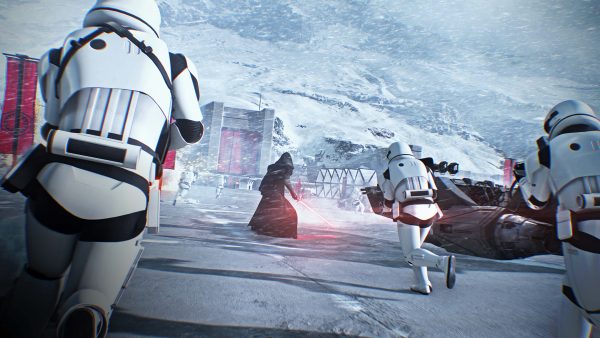 This probably doesn't surprise you in the slightest, considering one was held for Star Wars: Battlefront in 2015.
If you want in on the beta early, you will have to pre-order Star Wars: Battlefront 2 because that's how things roll anymore. If you don't pre-order, you'll have to wait in line with the rest of us.
Not only will those who pre-order or have already pre-ordered gain early access to the multiplayer beta, they will be given instant access to an upgraded Epic Lightsaber Mastery Star Card for Yoda – while supplies last.
The multiplayer beta will take place on Origin for PC, PlayStation 4, and Xbox One.
As a reminder, pre-orders of any edition of the game also come with the exclusive Star Wars: The Last Jedi outfits for Kylo Ren and Rey. The incentive also comes with instant access to six hero and starfighter epic Star Cards: Kylo Ren: Power Reach and Solid Freeze; Rey: Far Sight and Deep Mind; and Starfighters: Enhanced Auxiliary Power and First Order ship upgrade.
Even better? It comes with instant access to Star Wars: The Last Jedi Millennium Falcon with updated sounds and appearance. Heck yeah.
Tomorrow, June 10, the gameplay world premiere of Star Wars: Battlefront 2 will be streamed live at EA Play. Be sure to watch the reveal along with us. We'll pop a "watch the livestream here" post up for you first thing tomorrow morning once we drag our tired ass out of bed and into the downstairs office.
Star Wars Battlefront 2 officially lands on November 17 for PlayStation 4, Xbox One, and Origin for PC.
As previously reported, if you are an EA Access or Origin Access Member, you'll be able to check out the Play First Trial starting on November 9.
Anyone who pre-orders the Star Wars Battlefront 2: Elite Trooper Deluxe Edition can play on the game three days early on November 14.