Warcraft: 20 observations from Blizzard's first movie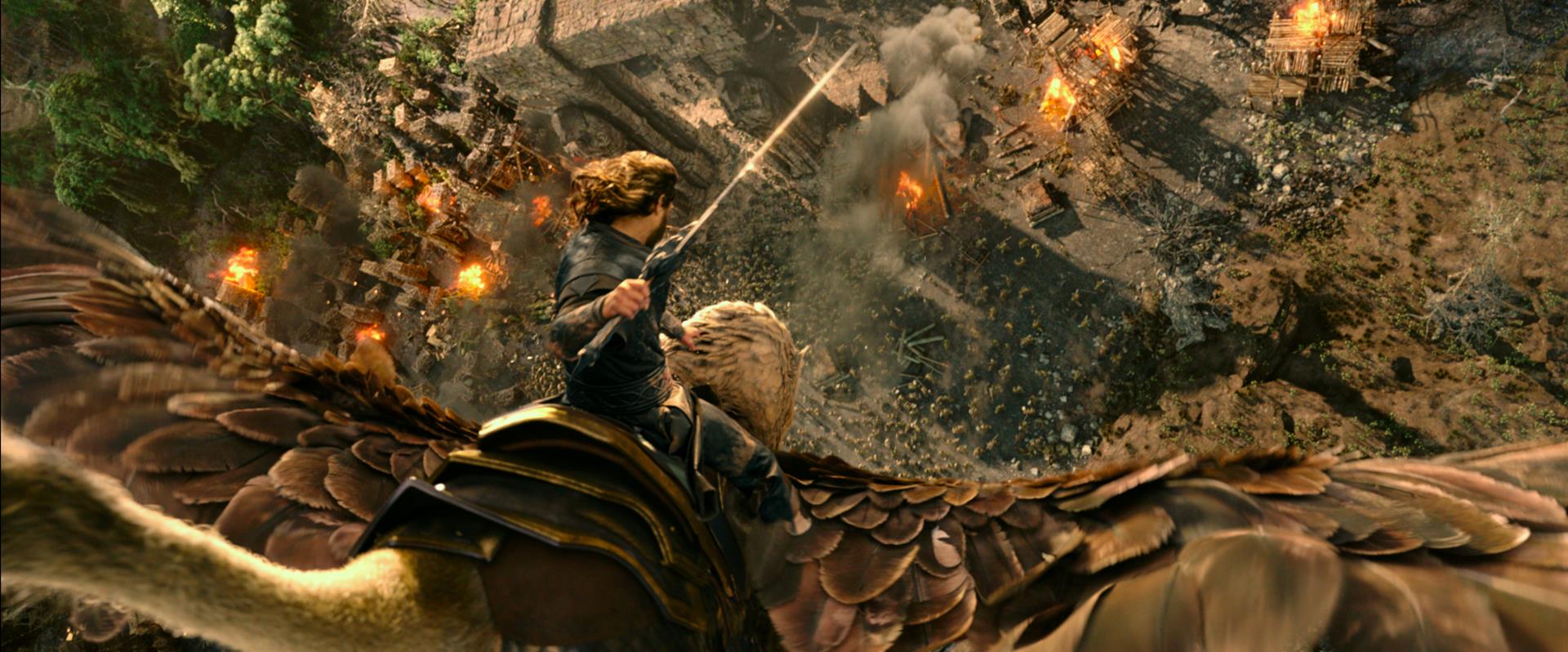 Warcraft has escaped the tortures of development hell at last. Should it have stayed there?
Warcraft: 20 observations from Blizzard's first movie
Two tickets to the local Warcraft premiere were offered to me over email. Sure, I said; the cinema is a three and a half hour drive away, which means I'll get two half-days off for free. And there'll be free popcorn, which is not to be sneezed at.
I admit it: I spoiled it for myself by glancing at the review scores. This no doubt coloured my perception. I did not go in expecting a classic of modern cinema. The again, I never do: this is video games, after all.
1. I have never played World of Warcraft and my memories of Warcraft 3 are hazy to say the least. I took a friend who hasn't played since, like, Wrath of the Lich King (she mained an undead warlock). We couldn't figure out who the cosplayers were meant to be. One was some sort of scantily clad bird. "Maybe she's a pet for that elf," I whispered, but not quite quietly enough. Sorry, bird lady.
2. It didn't feel like a story that absolutely needed to be told; it didn't feel like characters were moved to dance their dance by the force of history. It felt like a couple of hours of being nudged in the ribs and winked at. Look, everyone! It's a Murlock! This is Warcraft! Look, everyone! Look! It's Warcraft! You recognise it! You recognise a thing! Feel a sense of satisfaction! You belong, and you are being catered to! You're very special! Christ, why didn't I bring a flask.
3. That said the aerial battlefield view, a lovely nod to the RTS series, made my mouse finger itch. I will allow it.
4. The movie is full of dads. Everyone is either someone's dad or it turns out someone else is their dad or they just have real daddy issues. It is very important to this movie that, if anybody's going to die, we all understand that they are a dad or have a dad.
5. The tone of the dialogue wanders painfully far from the gravitas the film tries to inject into its themes and setting. The fate of the world hangs in the balance and someone takes the opportunity to make a wisecrack - and not even a very funny one. It's like being trapped on a role play server with people who think they're much better at it than they are.
6. There's a weird pacing issue where a hugely important moment will be so poorly telegraphed that half the audience is left wondering what just happened, but we spend a deathless eternity watching generic CG warriors battling or a mage staring into the distance while casting.
7. The magic looks grouse. That's an Australian word meaning "very good".
8. The architecture is absolutely spot on. There's approximately 16 seconds of set work in the whole film, which must have been shot entirely on green screen. Everything else might as well be an asset from a Blizzard cinematic. The production and visual effects teams nailed the look of Warcraft's world.
9. "For the Alliance" is a really shitty war cry. This had never occurred to me until I heard it in a cinema after a build up that should have resulted in a real goosebumps moment and instead just made one wince. Alliance players ought to have been fist pumping at this stage and instead could be forgiven for wincing and sinking into their chairs a little.
10. They probably did fist pump though, if the round of applause that broke out at the end of the movie is any indication. I felt a great pang of embarrassment for our kind, that we are so easily satisfied, that we accept so little and call it good. We need not be content with bread crumbs like this, my cherubim; we really need not.
11. I know Games Workshop did not invent orcs (if you are a fantasy fan I hope you know just how many things you think of as necessary to a fantasy setting are straight out of Tolkien) but every time the Horde showed up I wondered how on earth Games Workshop, a company that tried to trademark "space marine" and names all its paints esoterically so it can stomp down on competitors, did not send an army of lawyers at Blizzard as soon as Warcraft 3's graphics made the extent of the similarities apparent.
12. There's a griffin in it and when it flies its back paws twitch a little. I stretched my hand out to the screen and made a small sound of longing. There's also a scene where someone scratches behind its ears briefly and it enjoys it. 10/10
13. There's a sexy half-orc in it and I just. I don't feel there had to be? We can go a whole movie without a romantic interest. I suppose this is a Law of Hollywood, predicated on the belief that men in the target demographic can't enjoy anything unless they can imagine sticking their dicks in part of it, which is frankly insulting to all concerned. She can't talk properly through her prosthetic teeth and how would it work even, they come from totally different worlds, surely DNA doesn't - oh, fucking whatever I refuse to go and wiki this.
14. The female orcs are awesome: huge muscles and great haircuts. There are female soldiers in the Alliance, too! And any time there's a group shot of humans, there's racial diversity. It may not seem a big thing but it's pretty rare in Hollywood - and also just a lovely nod to the fact that World of Warcraft is played by all kinds of people - and also that, you know, all kinds of people exist.
15. Your mileage may vary on this point: the main Alliance guy, right, is the brother of the queen, who is married to the king. But the king and the queen have the same kind of intense stare and magnificent eyebrows, so I thought they were siblings for a bit. It's a bit confusing. I kept forgetting which of the two blokes was which (but I have an issue) so I developed a trick for telling them apart: is his hair combed? It's the king. Does he look like he woke up in a thorn bush and exited backwards while head banging to Acca Dacca? That's the main guy. Later the king's hair gets messed up - but he wears a hat and the main guy thinger is somewhere else so it's okay.
16. There weren't enough elves in it. I thought I'd ever think any piece of media ought to have more elves in it, because generally there's a tiresome amount of elf. In this case I think they were happy to leave the elves out since the story didn't require them and they look kind of ... awful. You know how the costume designers did a really wonderful job of capturing the feel of Warcraft armour without actually giving everyone shoulders so big they can't get through doors? A similar approach is required vis a vis elf eyebrows. Make a note.
17. What must it be like to make a film with Blizzard's hand on the back of your collar and a death grip on its creative rights? I suspect its unpleasant enough that Sam Raimi wasn't that upset to be out of it. Blizzard makes great games but it also made Overwatch's Reaper and that's all I'm going to say on that matter before the faithful rise en masse and murder me.
18. The movie ends on a hopeful note, where the hope expressed is: we hope we get to make another one. I don't think that's tremendously likely. It's not that is was dreadful, exactly; it's just a not-that-great fantasy movie, and fantasy is not a hot genre in the mainstream. It takes, like, Lord of the Rings to get past that - and this isn't Lord of the Rings.
19. Given where the movie falls on the timeline I'm trying to work out how many movies would have to be successful before they made one with Illidan in it. Illidan is my favourite. Go see this movie so eventually they make one about Illidan.
20. It wasn't nearly as bad as I expected and that is the best assessment any gaming movie can hope for.
This article is a sequel, something Warcraft will be lucky to get.