Need for Speed: 27 observations from Aaron Paul's new movie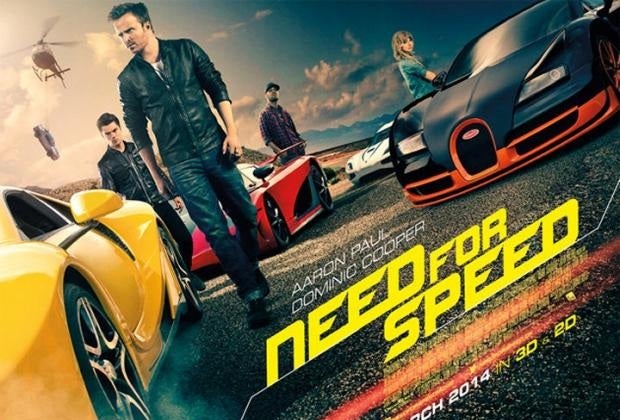 Need for Speed opens in cinemas worldwide this week, but Brenna's already seen it, forgotten about it, remembered it again, written down her impressions and knocked off for the day.
EA saw an opportunity to increase its transmedia synergy, brand reach and other buzzwords by turning Need for Speed, a game about driving fast, into a movie. Driving fast is a well-established (?) genre thanks to the likes of The Fast and the Furious and The Fast and the Furious knock-offs, and signing Aaron Paul was a bit of a coup. Moreover, the project progressed at a spanking pace, unlike most video game adaptations, which just sit around getting worse and worse until somebody sensibly cancels them.
So I was pretty hopeful it wouldn't be entirely dire. The publisher invited me to come and see Need for Speed at a preview screening a whole month ago, but embargoed reviews for UK launch day. I don't know if this is standard practice for movies, but to be shown something and then given a whole month to write about it is unprecedented in video games. In video games, it's more like "play this for 15 minutes; now produce 2,000 words in 90 minutes".
I am remarkably under-qualified to discuss film, let alone review it. Instead of spending the whole month laboriously constructing a careful critique, I took one look at my 30 day deadline and shoved the assignment right down to the bottom of my priorities queue, where it lurked until this morning when I checked today's editorial schedule and remembered I was supposed to have been laboriously constructing a careful critique for the past month.
I have forgotten pretty much everything about the movie, but thankfully I had been emailing notes to myself throughout the experience. Here's what happened, as best as I can reconstruct it.
Have arrived at cinema. There's a huge queue of really well-dressed people. I approach its guardians and loftily announce my credentials, producing a card. I am on the list. Finally, the big time.
I'm not on the list. This list is for something else. So is this queue. There is no queue for Need for Speed.
This is not the first film I have been to see because of some vague connection to games, but it is the first one I've ever been to that was attended by less than six people. It's not like game journalists to stay away from something free. Then again: there are no drinks or snacks provided. Disappointed not to be able to exercise the "except popcorn" clause of our Doritosgate hospitality policy.
A man comes forward to tell us we can tweet and Facebook our impressions but reviews are embargoed until March 12. What? So I can say whatever I want ... but not put it on my website? Is this a movies thing?
The man also informs us the film is 130 minutes long. That's two hours and 10 minutes. He then shuts the door. We cannot escape. (Looking at my notes I was surprised by this figure. Pretty sure I told someone last week that it was 240 minutes.)
Aaron Paul's character and backstory is discussed at length by a rich eccentric who runs a secret, illegal race and hosts a live radio show that everyone listens to and yet somehow he remains beyond the reach of the law. Yes, you can tell a video game was involved in the writing process at some point.
Aaron Paul gets a deeply dramatic reveal with a slow pan and sudden face turn accompanied by musical sting. His character's backstory does not justify this. The reveal is pretty much "Look! It's the guy from Breaking Bad!" This will be his career, forever.
There's quite a lot going on here. Aaron Paul and his crew of ethnically diverse staff are in danger of losing their business. Aaron Paul has a rivalry with a man named Dino, who stole his girl, who is also sister to the skinny white boy in the crew. The skinny white boy is psychic, for some reason. (This only gets more convoluted, but spoilers.)
A race! I'm glad this movie isn't 100% about mortgages and ex-girlfriends. Aaron Paul's car is not as fast as his rivals. He must use Tricks to secure victory. One of his Tricks is having the skinny white boy help him out. Another is dramatically spinning the steering wheel. His final Trick is pressing the accelerator really hard while glancing out the side window at his opponent. Suddenly his car is faster than his rival's. He wins! Gods preserve me from ever having to write a movie about cars.
If Aaron Paul and his team are the best mechanics in the world, as the villain just said, why are they broke?
Something just happened which seems like a pretty important thing and they skipped it entirely. They didn't even show a montage. (This turns out to be a recurring theme and thank god because the plot covers about 300 years. By the end, the cars can fly.)
There are some good bits here where a man acts as comic relief and a woman gets the better of him. It is too much to hope for that the woman will not later be shown to be reliant on the non-comic relief man, I guess. Just like it is too much to hope for the sole black character not to be w-w-w-w-w-wacky. Brenna switch off your brain this is the Need for Speed movie, god.
Having been wronged by his rival (again) Aaron Paul is out for revenge! We're all pretty confused as to how he's going to get it by racing cars, but that's his plan and nobody seems at all concerned by it. Not even the man lending him a $30 million sports car.
"This will be the longest 44 hours and 11 minutes of your life," Aaron Paul warns Imogen Poots. The audience laughs hollowly because our arses are already numb and they're not even properly on the road yet.
Imogen Poots oscillates wildly between smart and in control and "hilariously" useless. I feel like this film was written by more than one person, and maybe they never met.
This is quite a long unnecessary sequence providing a bit of characterisation for the other members of Aaron Paul's crew whose names we can't even remember. I feel like somebody suddenly realised that chucking a few token actors in as a backdrop is kind of shitty and hastily added 20 minutes to the film's length to try and fit in the 16 squillion cast members. Have I mentioned this film is 130 minutes long?
When writing these character backstories, I would probably have included some sort of explanation for how the team can just requisition helicopters.
The best bit of this movie so far is looking at all the different US state police. Detroit po-po are ridiculous. Robocop did not prepare me for this future.
Someone thought this scene between Aaron Paul and Imogen Poots would be well touching. Maybe they imagined the audience's hearts melting. They probably did not imagine us hooting derisive laughter and leaving the cinema chanting "they're bluer than yours".
Is there, like, an illegal street racing ... social network? That you can access through terminals on your car dash? That seems like something the cops would not have much trouble dialling in to.
I'm enjoying identifying which Need for Speed game is most appropriate to each sequence. Like, this bit is Hot Pursuit. This bit is Rivals. That bit is Most Wanted. Most of it is The Run, unfortunately.
Rubber banding! This is definitely Need for Speed, lol.
Oh look, it all worked out in the end. Aaron Paul is as surprised by this as anyone, which is amazing.
The movie is over and women still can't drive. We are invited to laugh at this basic fact of life! If they can drive, how come they wear heels?? What even is a Gucci
"Do not try to recreate the action of this movie," a pre-credits warning trumpets. For some reason we all laugh hysterically. I don't think anyone knows why. Maybe just because we know we'll soon be permitted to urinate and unfold our stiffened limbs.
Outside, it has been raining a little, and everything is glistening slightly. Nevertheless, after staring at waxed supercars for two hours, every vehicle I see looks dull and disappointing - even the luxury brands. Suddenly: a Lamborghini. I perk up again. Life is worth living.
That wasn't too bad, considering.