Ubisoft E3 2018: Assassin's Creed Odyssey, Beyond Good & Evil 2, Trials Rising - all the news, trailers, more
Ubisoft's E3 2018 presentation kicked off today, with fresh looks at Beyond Good & Evil 2, The Division 2, the announcement of Trials Rising and more.
Ubisoft kicked its E3 2018 briefing off with a person in a panda suit dancing with a marching band. It was basically an announcement for Just Dance 2019.
Beyond Good & Evil 2 made quick entrance with a cinematic trailer showing evil Jade, and the development team providing more details on the Monkey Wrench program. Fans will be able to submit their own art and more.
This was followed by the Trials Rising announcement for PC, PS4, Xbox One, and the Nintendo Switch. Players will be able to customize and share any outfit or bike skin they want, resulting in endless possibilities. In addition to the outfit and bike customization editor, the Trials Track Editor is back and bigger than ever.
Trials Rising also adds a new local multiplayer mode with the Tandem Bike. Two riders, each contributing 50% of the power and balance, ride together on one bike.
Beta sign ups for the game are live.
The Division 2 was up next with a new cinematic trailer, and some details on content. Raids are coming to the game and players will team up with eight others. Three post-release content plans were outlined, all of which will be free.
Donkey Kong DLC was confirmed for Mario + Rabbids Battle Kingdom, and it was announced Rainbow Six Siege now has over 35 million players.
Skull & Bones made a great showing with a cinematic trailer and a gameplay breakdown video. It's out in 2019.
Elijah Wood came on stage to discuss Transference, the first-person psychological thriller. Players will need to solve puzzles as they shift between family members. It will be available on major platforms and VR. It's out this fall.
Starlink: Battle for Atlas was up next and the video showed the depth of the "interstellar open world adventure". Players combine items in the world as a toys to life game. Players can mix and match pilots, hulls, wings, and weapons to assemble a starship. Changes to your physical ship instantly appear in-game allowing you to immediately jump into the battle.
Star Fox content for the game was announced, and Shigeru Miyamoto stood up in the audience when the announcement was made. The content is exclusive to Switch. The game is out on all platforms October 16.
It was announced the starter edition of For Honor is free on Uplay. New content was also announced for the game, For Honor: Marching Fire. It's the largest update for the game so far, and it's out October 16 with a new 4v4 multiplayer mode called Bridge, and four warriors from the Wu Lin faction.
A date for The Crew 2 open beta was provided. It runs June 21-24. It will be playable on PC, PS4 and Xbox One and is available for pre-load on PS4.
The news was followed by an in-depth look at Assassin's Creed Odyssey, and it looks fabulous.
The fact it was shown was no surprise, considering Assassin's Creed Odyssey information has leaked like a bad ring seal on a toilet for weeks now. And just yesterday, screenshots for the game leaked, showing a lovely Greek coast along the Mediterranean Sea.
What we saw today though? Well, this is definitely a game going on our wish list. We may even call in sick on October 5 when it releases for PC, PS4 and Xbox One.
So, what was missing today?
Information on the next Splinter Cell game. Surely it's in development, it's just not something Ubifost wants to talk about just yet. Amazon Canada listed Splinter Cell 2018 back in March and it was also listed on the now infamous Walmart Canada leak.
A special shout out to the Canadians is in order for these: you are truly our buddy, guy, and our pal. Sam Fisher also made an appearance in a Ghost Recon Wildlands event which we feel was a precursor to a full on reveal. Keep your eyes peeled tonight, it may show up at the Sony conference. You never know.
What about Watch Dogs 3? No one is too sure how far along it is in development, and Ubisoft didn't even provide a hint on the title today. The firm's AI assistant Sam believes it's in the works, so it's probably too early in development to discuss at this point.
No new content information on Ghost Recon Wildlands or Rainbow 6 Siege was provided.
As expected, Ubisoft didn't announce its new IP in the works. The company has discussed the mysterious title in passing during multiple financial calls, but it failed to step out of the shadows today. Considering it's slated for a 2020 release, we fully understand why it wasn't revealed.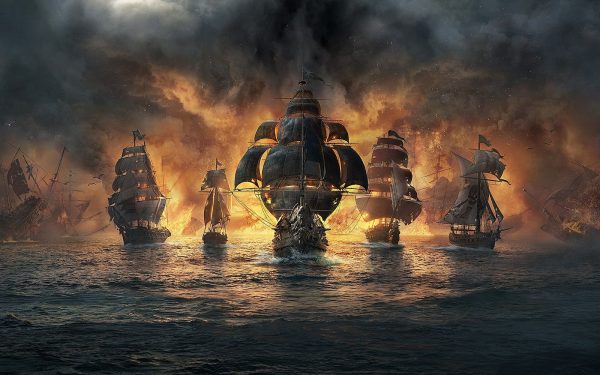 E3 2018 officially kicks off today, Monday, June 11, but separate presentations ahead of the conference were already held.
Before Ubisoft's show today, Square Enix hosted a pre-recorded presentation and Sony will close the day out later this evening.
Tomorrow, Nintendo will host its own pre-recorded Nintendo Direct which will be full of Pokemon goodness.
Be sure to look over our handy E3 2018 conference page to find out start times, how to watch and everything else you need to know.
If you happened to miss all of the EA Play 2018 reveals from Saturday, just give that link a click.
Yesterday the Xbox E3 2018 briefing bombarded us with tons of trailers and announcements. If you missed anything, we rounded up all the news for you - because we love you and want you to be happy.
Bethesda hosted its off-site presentation late last night, which is why we are super tired today. It was totally worth it, and you can read up on everything that happened through that link.