The Video Game Industry Remembers Satoru Iwata
In the wake of yesterday's tragic news, the industry rallied together with one simple message: Thank you, Iwata.

This article first appeared on USgamer, a partner publication of VG247. Some content, such as this article, has been migrated to VG247 for posterity after USgamer's closure - but it has not been edited or further vetted by the VG247 team.
When tragedy strikes, it normally happens in the midst of the mundane. So it only makes sense that an average summer Sunday brought us the news that Nintendo CEO Satoru Iwata passed away at the all-too-young age of 55.
While it took this information some time to settle into people's minds—myself included—by the time the sun set on the West Coast, Twitter was absolutely flooded with amazing tributes and recollections from people who worked alongside Iwata, or simply admired him. If anything, this outpouring of emotion and anecdotes should make it clear Iwata definitely didn't fit the profile of your average CEO. He was a man with a intense love of video games, and secretly behind some of your favorites—Iwata was the programmer who saved EarthBound, after all.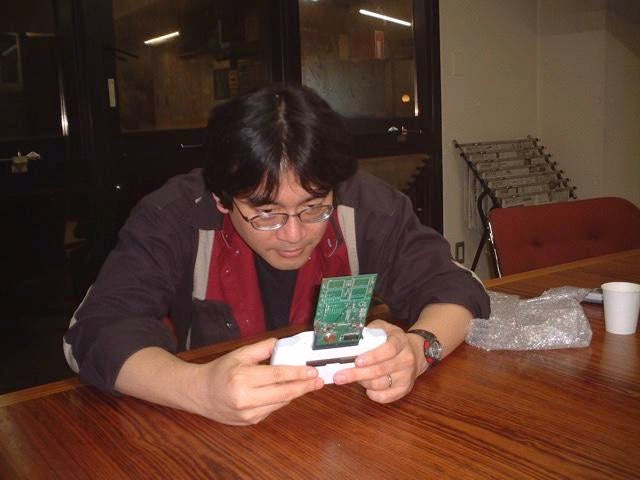 Since so much has been written in such a short period of time, it's nearly impossible to absorb all of the memorials currently taking over Twitter, Facebook, and other social networks. I've taken the liberty of assembling some of the most notable ones below, because really: What else can you do on a day like today?
Sad day. Satoru Iwata has passed. I was lucky enough to be interviewed by him. He knew way more about dev than me. https://t.co/E9YRqPjfXe

— Warren Spector (@Warren_Spector) July 13, 2015
A translated memorial from EarthBound/Mother creator Shigesato Itoi, before the news of Iwata's death went public.
.@itoi_shigesato
Extinguish all the lamps in the world
Make a pitch-black night
With that powerlessness
Can you please just do that for me?

— Cheesemeister (@Cheesemeister3k) July 13, 2015
Twitter user Cheesemeister3k was kind enough to translate other messages from Japanese developers who knew Iwata. Here's one from Smash Bros. creator Masahiro Sakurai, who worked alongside Iwata at HAL on games like Kirby's adventure.
.@Sora_Sakurai It's not a normal day and it's not a normal mental state, but I came to work and threw myself into development as normal.

— Cheesemeister (@Cheesemeister3k) July 13, 2015
.@Sora_Sakurai It's also for Iwata-san. I'm doing what I have to do.

— Cheesemeister (@Cheesemeister3k) July 13, 2015
Something from Tekken's Katsuhiro Harada:
.@Harada_TEKKEN I heard the news right after getting back to Japan, and I'm at a loss for words.
I owe an incredible deal to Iwata-san.

— Cheesemeister (@Cheesemeister3k) July 13, 2015
And a short-but-sweet message from Platinum Games' Hideki Kamiya:
In my heart forever.
http://t.co/w4cYNscXFy

— ???? Hideki Kamiya (@PG_kamiya) July 13, 2015
Hidetaka Suehiro (SWERY65), director of Deadly Premonition and D4:
R.I.P. Iwata-san. I never met him. My all time favorite video game is "balloon fight". Thanks.… https://t.co/I5hKWu3DyC

— SWERY (@Swery65) July 13, 2015
8-4's John Ricciardi recounts a story about meeting Iwata for the first time:
My favorite memory of Iwata was getting to introduce 8-4 to him and Miyamoto at a party with @hiroko84 in 2006. (cont.)

— John Ricciardi (@johntv) July 13, 2015
We were worried about whether they'd be OK with us naming our company after a Nintendo property. :) Fortunately, they both approved, (cont.)

— John Ricciardi (@johntv) July 13, 2015
and were super friendly about it too. And now Nintendo is like family to us. What a sad day. :( RIP Iwata-shacho. #ThankYouIwata <3

— John Ricciardi (@johntv) July 13, 2015
Dylan Cuthbert, a veteran designer who's worked with Nintendo for over two decades:
crazy to think about all the devs who were in Kyoto the very weekend Iwata passed away here - most are making games because of Nintendo

— Dylan Cuthbert (@dylancuthbert) July 13, 2015
Rest in peace, Satoru Iwata. Thank you for everything you helped bring to life and for creating games which inspired us to create.

— Yacht Club Games (@YachtClubGames) July 13, 2015
Legendary Nintendo composer Hip Tanaka put together a remix of Balloon Fight's "Balloon Trip" to honor Iwata. (In case you didn't know, Iwata programmed the game himself!)
An incredibly sad start to the week. RIP Satoru Iwata. You had the respect of a world of gamers, including all of us at Rare. #ThankYouIwata

— Rare Ltd. (@RareLtd) July 13, 2015
I pray for Iwata-san happiness in the next life. picture from http://t.co/xa3kITIjzi http://t.co/UO3Sa4DWCo

— Yoshinori Ono (@Yoshi_OnoChin) July 13, 2015
A translated tweet from Game Freak's Junichi Masuda:
@Junichi_Masuda ...the other day he looked healthy...from the bottom of my heart, may you rest in peace." (RT Nintendo's press release)

— PushDustIn - SG (@PushDustIn) July 13, 2015
Please, I don't understand. #ThankYouIwata

— Markus Persson (@notch) July 13, 2015
So sad to hear about the death of Satoru Iwata. A great leader of Nintendo, his programming leadership brought us Mother 2. He'll be missed.

— John Romero (@romero) July 13, 2015
First time I met Mr. Iwata, I was on a visit to NCL, he was this crazy excited young guy who ran HAL. Super nice, and a great dev. I'm sad:(

— Ken Lobb (@RealKLobb) July 13, 2015
Finally, Game Center CX's Arino shares an uplifting message about this tragic loss:
Improved translation of Arino's remarks on Iwata and the power of games posted to my Tumblr. pic.twitter.com/Ui0Q9wmYtL

— Thomas James (@iiotenki) July 13, 2015