Telltale backtracks on Batman's Crowd Play - 12 player cap, local play only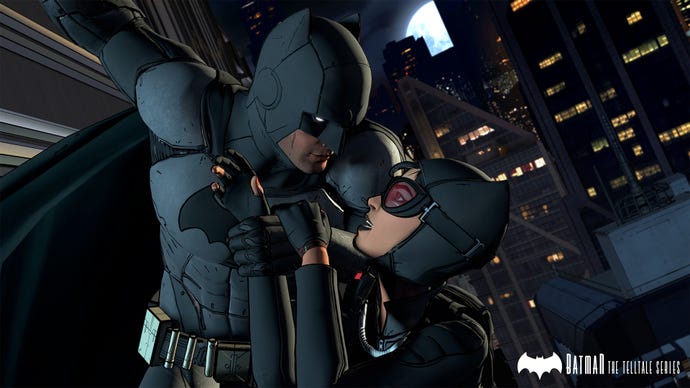 Hey, so, about that 2,000 multiplayer mode in Batman: The Telltale Series.
Batman: The Telltale Series introduces a new multiplayer mode to the developer's family of choice-driven adventure games.
Called Crowd Play, it allows multiple players to vote on decisions in Batman: The Telltale Series via any Internet-ready device. The host player - or at least, the one with the controls in hand - can give the crowd full control, or use it as a kind of advisory panel, and poll results are shown on screen.
It sounds like a fantastic way to play with your pals, a good stage show and excellent for streamers, but Telltale has clarified on a couple of details from the feature's announcement at San Diego Comic-Con in an updated blog post.
First, the developer says Crowd Play in its current form in Batman: The Telltale Series is designed four to 12 players only - not the 2,000 previously mentioned.
"The most important point is that Crowd Play is a local multiplayer experience. It's designed for everyone to be watching the same screen, at the same time, in the same room and works best with 4-12 people," Telltale wrote.
"Technically, it can support thousands of players, but they still need to be watching the same screen at the same time. This is mind blowing in a theater full of fans, but we don't expect you can fit 2000 of your closest friends in your living room so we've designed everything for smaller groups."
Secondly, it won't work with every version of Batman: The Telltale Series. Mac, PC, PS3, PS4, Xbox 360 and Xbox One are all good to go, but mobile and tablet players (Android and iOS alike) are out of luck.
Finally, Telltale has said that Crowd Play isn't designed for streaming via Twitch or similar, and won't work well if you try it.
"There is latency introduced by services such as Twitch. This means that everyone isn't seeing that game at the exact same time, which means that everyone doesn't see the choices at the same time," Telltale said.
"So, the group can't make a choice together at the same time. We are working closely with all the streaming services to address this problem, but it certainly won't be ideal for streaming out of the box. For now, everyone needs to be in the same room, watching the same screen."
It sounds like streaming support might be coming in a future update, but for now Telltale suggested a couple of scenarios for playing Batman: The Telltale series when it releases this week that don't involve chat rooms full of thousands of strangers.
"Perhaps you will make a weekly game night a little extra special. Or perhaps you can Crowd Play with a significant other who thinks playing stories together is cool," the developer wrote.
"We sincerely hope that families, young and old, will be Crowd Playing together, inspiring conversations about why they made the choices they made, and bringing everyone closer together."