State of Decay 2 Maps - How to Change Maps in State of Decay 2
Here's our complete State of Decay 2 guides hub, giving you all the information you need including the final release date, day one patch, a beginner's guide, weapons guide, map layouts, vehicles guide, and more.
State of Decay 2 actually features three main maps, and at a certain point in the game, you'll have the option to move back and forth between all three. In this State of Decay 2 map guide, we'll be providing you with a complete overview of all three maps in the game, as well as detailing how to change maps in State of Decay 2.
If you instead need a helping hand with any other aspects of State of Decay 2, including how to get to grips with the combat system of the game, as well as everything you need to know about setting up your first base camp, make sure to head over to our State of Decay 2 guides hub.
State of Decay 2 Maps Guide
At the conclusion of the tutorial in State of Decay 2, you'll be asked where you want to head next with your band of survivors. The choices you have here are the foothills, the town on the plateau, or the town in the valley, and these form the three unique maps in the game. You might remember there just being one map in the original State of Decay, but in the sequel there are three fully formed maps, each with their own buildings and bonuses.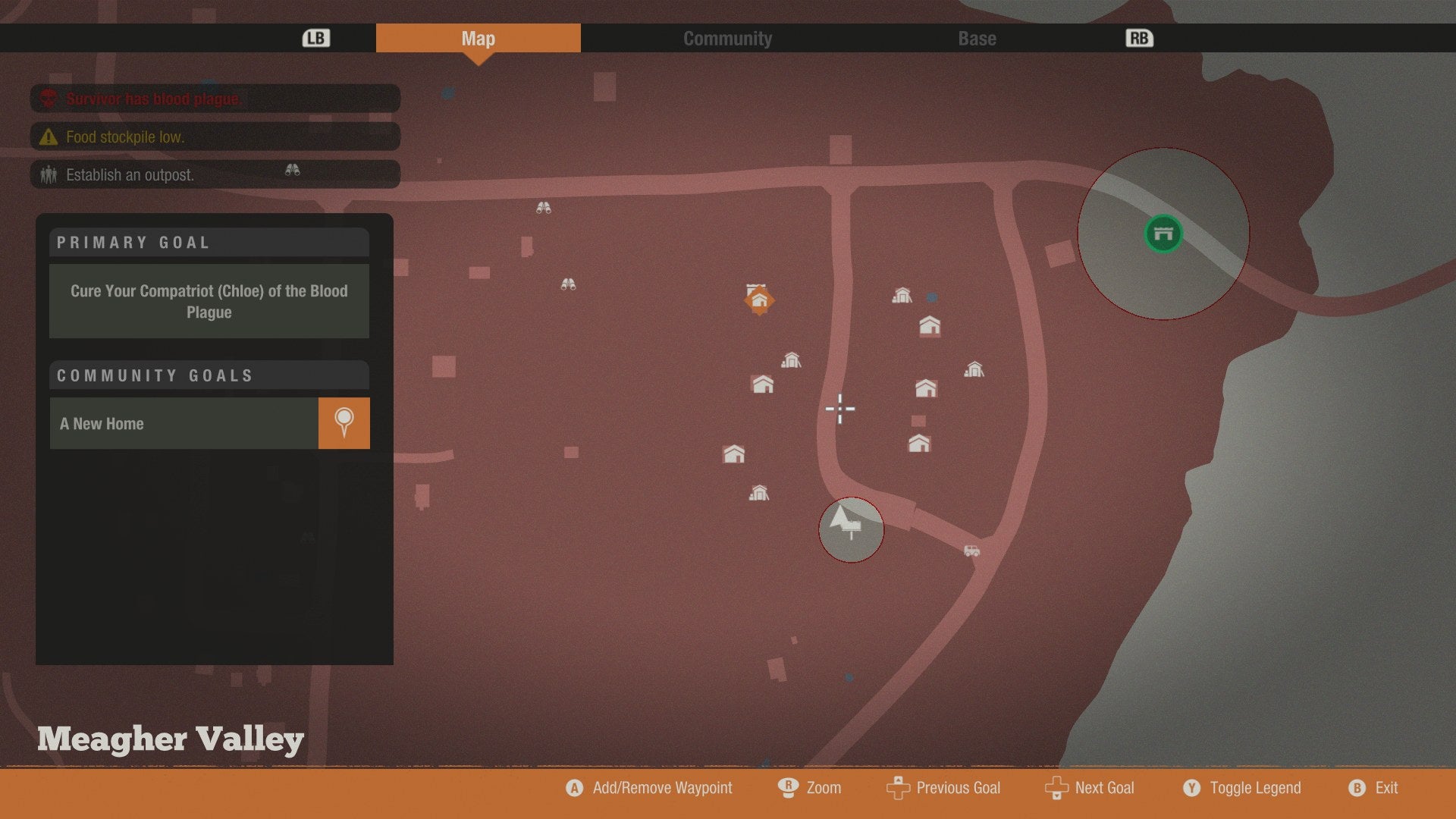 Just below, we'll detail the three basic map areas you're presented with at the start of State of Decay 2, so you know what you're in for when you select one of three options:
Foothills - Starting off in the south east corner of the map, you've got a lot of buildings to loot close to the first base camp, with a whole town of buildings just down the road. This is probably the easiest location to get started in.
Plateau Town - As the name suggests, the landscape here is really flat, meaning you don't have to run very far to reach any of the nearby buildings or other towns. You're not near an abundance of buildings at the start, so it's not that easy to build up a stack of resources.
Valley Town - Finally, you're going to come up against a lot of hills as you traverse the rocky terrain in the valley, which makes using vehicles more difficult than on the other two maps.
How to Switch Maps in State of Decay 2
Once you've got all your survivors accustomed to life in whichever map you originally chose at the start of State of Decay 2, you'll be presented with the option to transfer your community over to another map. There's a catch to this however, as you can't simply pick up and move your entire established community whenever you please.
In order to move territories, you'll need to have first upgraded your Command Center, and through this you'll unlock the 'Research New Territories' option at the center. Now you'll have the opportunity to spend 250 Influence points on researching the two new maps that you can move to, although this will take right around 20 minutes to be completed.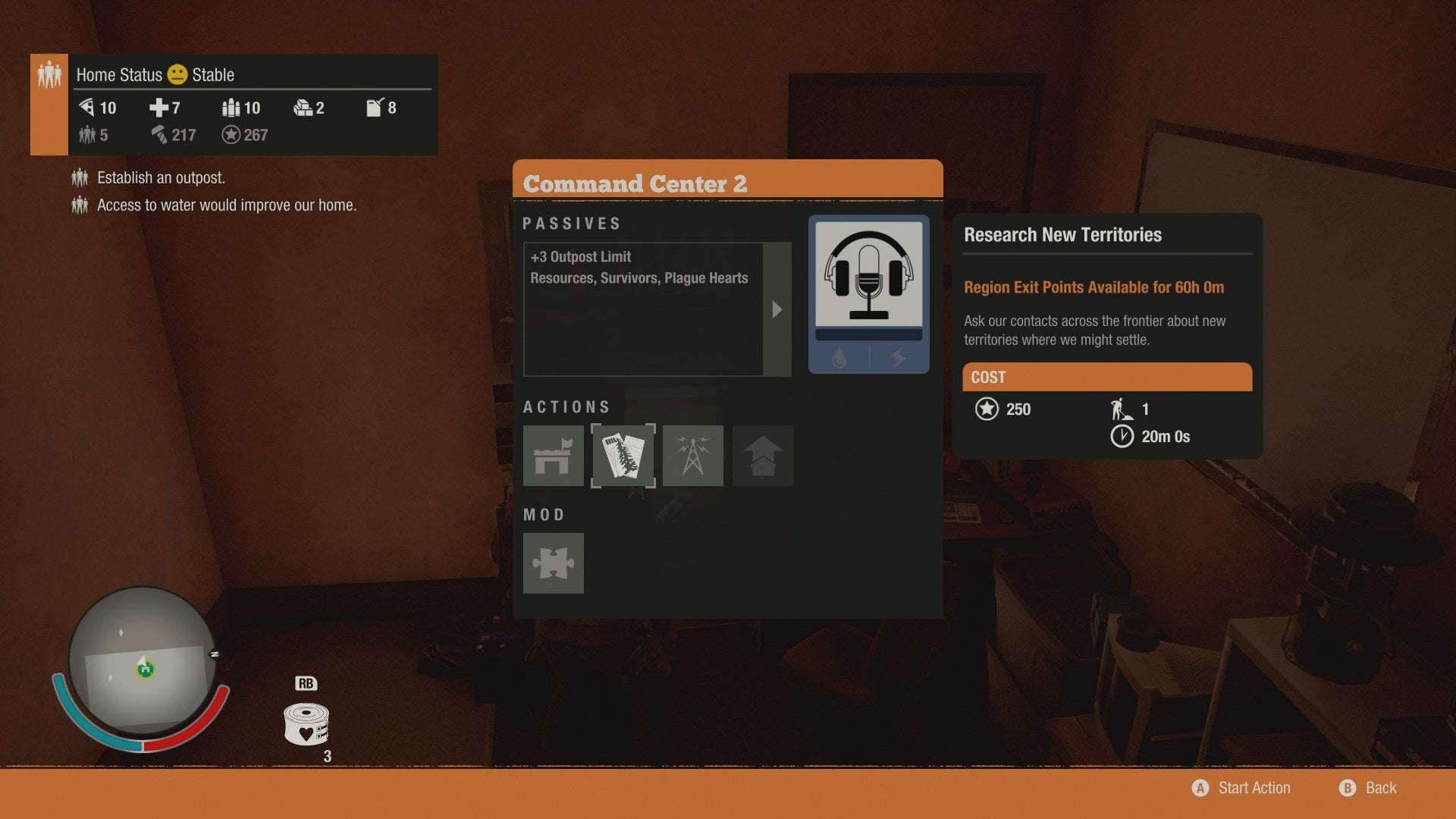 Once fully researched at the Command Center, you'll be able to leave your current base camp behind, and bring all your survivors to one of the other two maps in the game. We'd recommend waiting until you've exhausted most of your current map to move however, or at least wait until you've saved up a decent amount of Influence points.
We might be all wrapped up with this complete guide to all three maps in State of Decay 2, but continue ahead to some of our additional guides on the game here at USgamer. We've got guides covering how to cure the Blood Plague, as well as our complete State of Decay 2 weapons guide.