Cross-platform party support coming to Rocket League this summer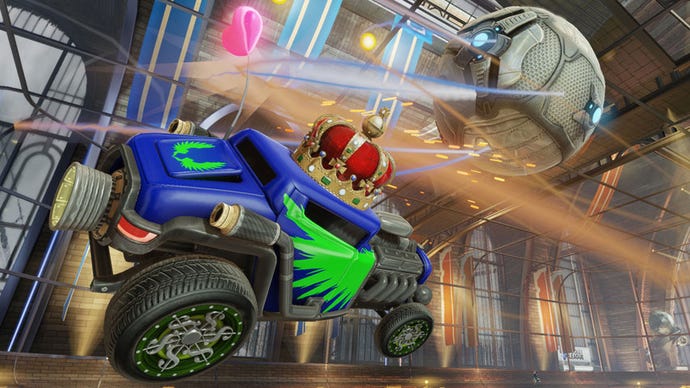 Rocket League players will finally be able to party down with friends on other platforms.
Psyonix Studios announced cross-platform friends and parties support for Rocket League will arrive in the next few months.
The game already features cross-network support, but players are only able to do so in Private Matches, but that's changing soon, going by today's announcement.
Platforms getting party support at release weren't outlined in the blog post. Once available, players will be able to form parties between PC and PlayStation 4, or PC, Switch, and Xbox One. Cross-play between, PS4 and Switch or PS4 and Xbox One isn't possible - as you may recall.
Along with the update, Rocket League will be celebrating its anniversary with an in-game event with some "special throwback content."
Rocket Pass was also announced, and it will provide players with new ways to "earn items and make progress while playing ."
Multiple Tiers of earnable content will make up Rocket Pass, and players can advance their Tier by leveling up normally. Doing so will unlock new, unique content, and each Rocket Pass will last a few months before it's retired. A new pass will take its place with new content to unlock.
Free and premium tracks will be included. The free track contains new cosmetic items, Decryptors and exclusive in-game Titles. The premium track will have a flat cost to unlock, and can be previewed beforehand.
More details on the pass will be announced closer to launch this summer.
Highlights for the Rocket League summer update, scheduled for July-August, is posted below.
Cross-Platform Friends & Parties
Register an in-game ID that is a combination of a name with a unique code, like Scarab#7777
Add friends from other platforms by entering their ID into the new, in-game friends list
Party up with your new cross-platform friends and play online
Progression 2.0
Leveling Updates

Level cap of 75 is being removed and the team will be re-balancing the entire level-up curve. Levels will take a fixed amount of XP to earn instead of becoming exponentially longer as you level up.
You'll be converted to a new level appropriate for how much you've played Rocket League in your career.
Leveling up grants you an Uncommon, Rare, Very Rare, or Import item (instead of these drops being randomly-timed as they are currently)
You can earn new Titles and Banners at level 100 and beyond to show off your status
XP Updates

As part of the leveling updates, XP is going to become Online-only
XP will now be based on Time Played in matches in addition to your Score.
New XP Mechanics

Match Completion Bonus (for finishing games)
Consecutive Games Bonus (for staying in Casual lobbies)
Party Bonus (for playing with friends)
Leaver Penalty (to punish quitters in all modes)
Double XP Weekends
And more