Resident Evil 2 Birkin Boss - Defeat William Birkin Sewers Boss in Resident Evil 2
Here's our complete Resident Evil 2 walkthrough, taking you through the campaign as either Leon Kennedy or Claire Redfield.
When you're firmly out of the police station of Resident Evil 2, you're going to come up against your first boss fight of the game. In our Resident Evil 2 Birkin boss guide, we'll be walking you through everything there is to know about this underground boss fight, detailing how you can get rid of the boss as easily and quickly as possible.
However if you need help with anything else relating to Capcom's new remake of the survival horror classic, you'll want to check out our complete Resident Evil 2 walkthrough. It's here that you can find a full beginner's guide to the game, as well as a story primer for everything you need to know about the two lead characters.
In this guide, we'll be detailing how you can defeat William Birkin. There's not only a map for the arena in which the battle takes place, but also a walkthrough of each different stage of the fight.
Resident Evil 2 William Birkin Boss Fight
The fight with Birkin takes place directly after you've collected the three medallions in the Raccoon City police station, and opened up the secret passageway underneath the building. The encounter with Birkin plays out slightly differently depending on who you're playing as, but we won't spoil the story here.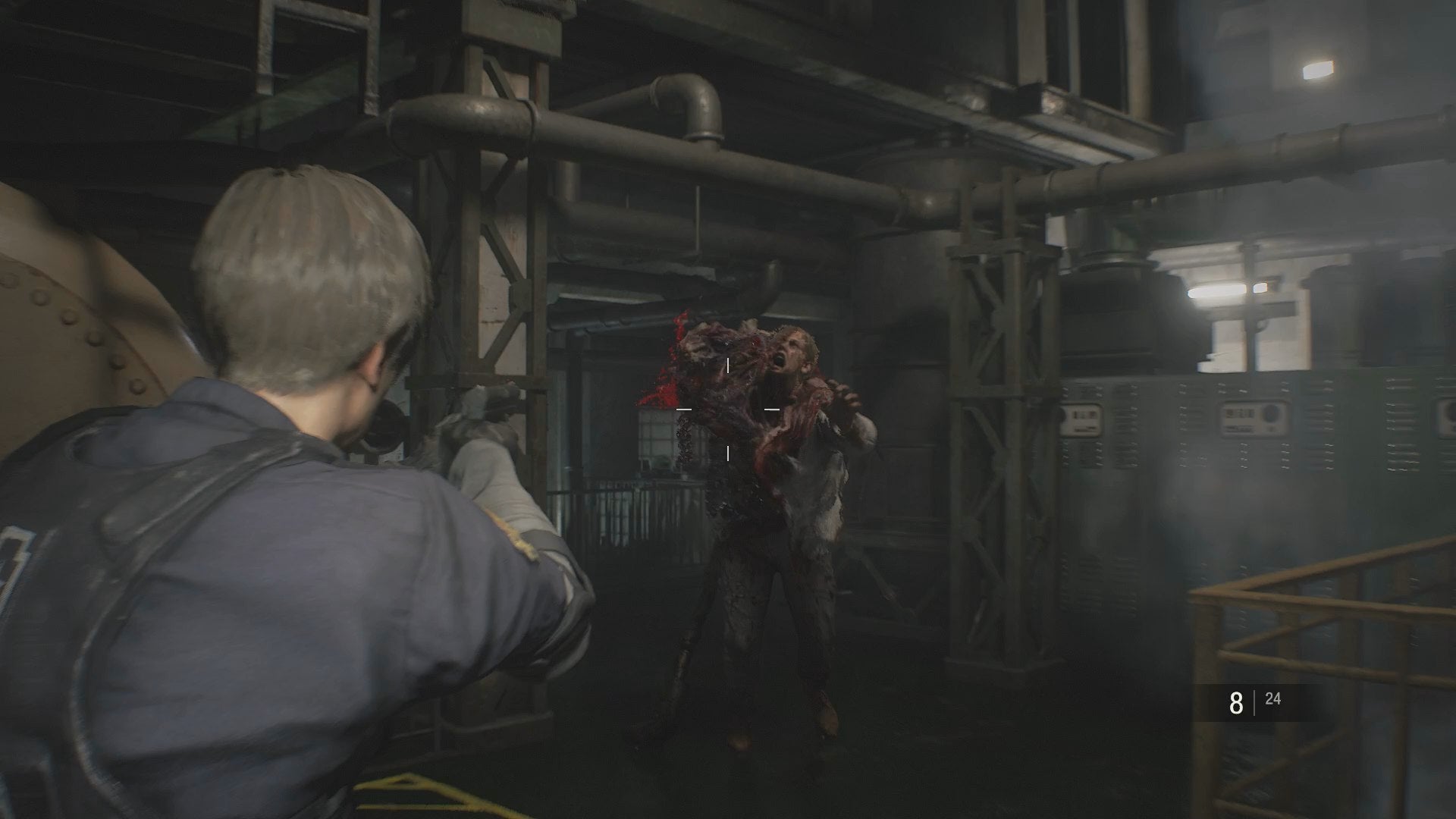 The Birkin Arena Layout
In the battle with the mutated William Birkin, Claire and Leon, unfortunately, have very little room to work with. You're in an underground boiler room, with four corners that all lead to dead ends, and two main pathways in the center of the room that form a crossroads in the middle of the arena.
We mentioned that there are four corners in this arena, and although they're dead ends that you can easily find yourself trapped in, they're also holding some nice items for Claire and Leon. You can find pistol ammo, one grenade, and green and red herbs, and you can take both herbs and combine them together for a potent healing item, which you're going to need in this fight.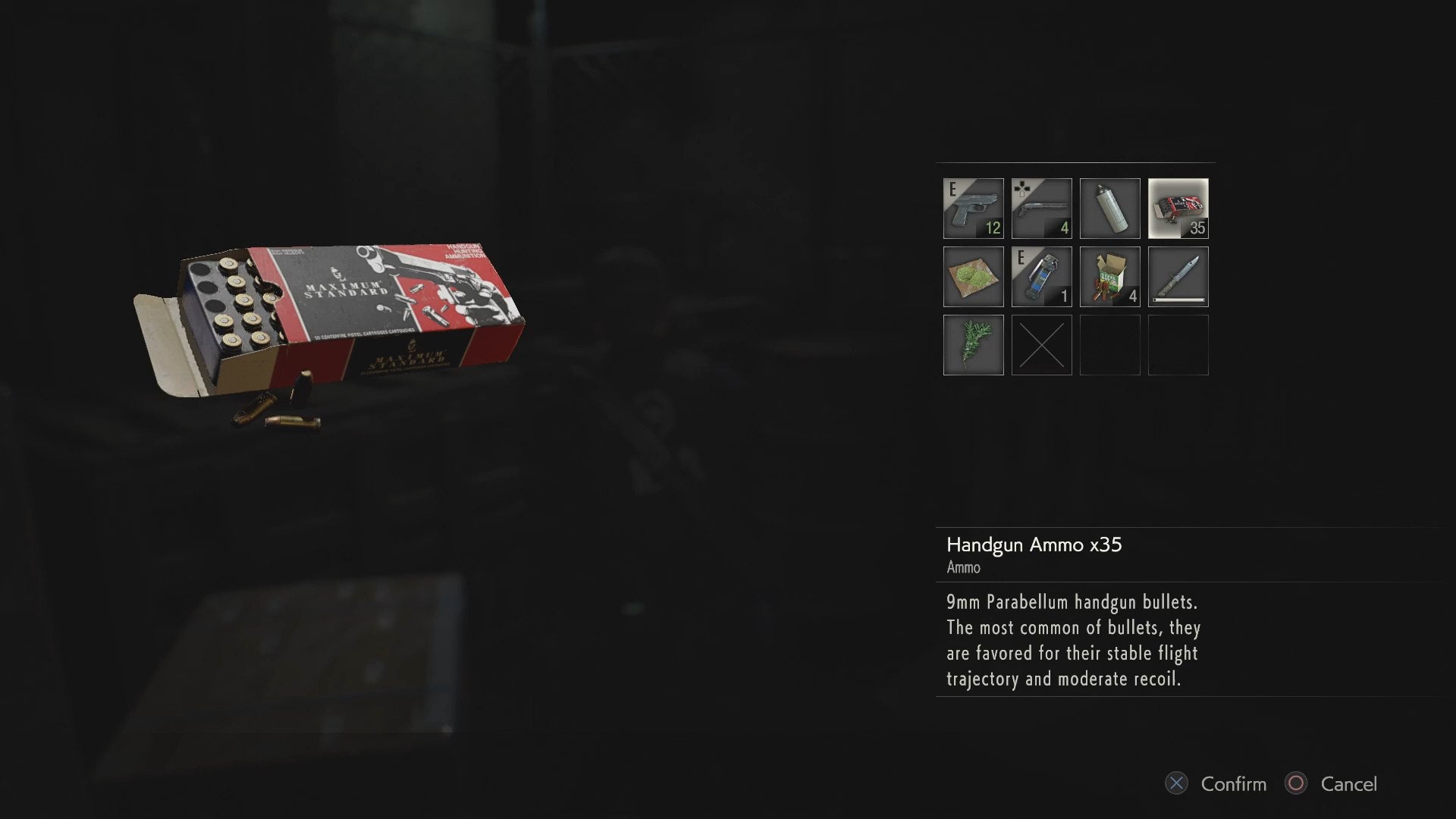 We're going to approach this fight as if this were your first run of Resident Evil 2, with either Leon or Claire. You should have a pistol and a shotgun to work with in this fight, and you're going to want to use the pistol first, and save the shotgun for use later.
Birkin Boss Fight Stage 1
In the first stage of the Birkin boss battle, you need to aim for the humanoid head of the monster, that was once the scientist William Birkin. Two shots to the head on the standard difficulty should stagger the monster, and after you've done this a few times, you'll change to the next stage of the fight, where a giant glowing eye appears on Birkin's mutated shoulder.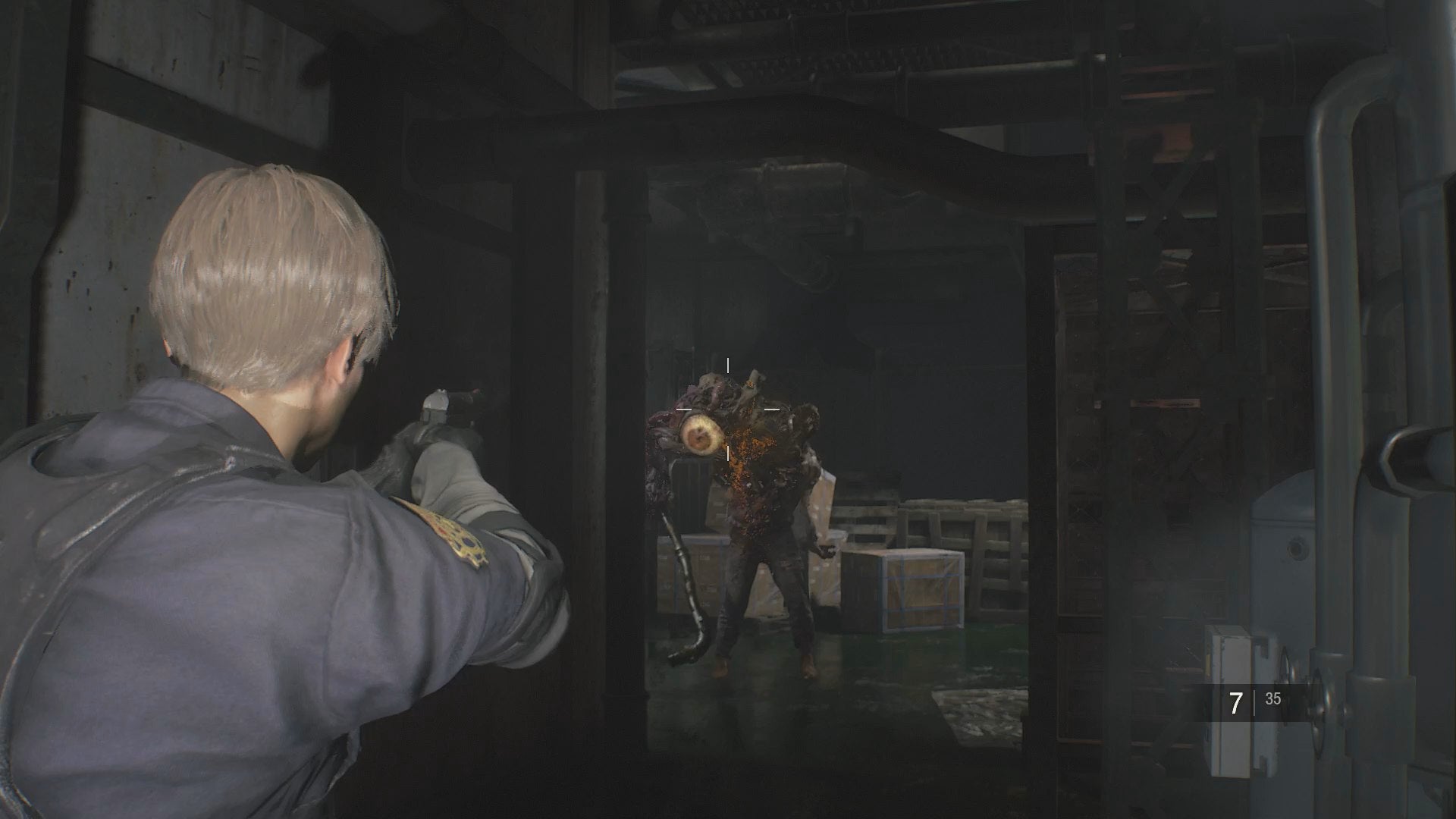 Birkin Boss Fight Stage 2
If it wasn't obvious already, you need to now aim for the big glowing eye on the monster. A nice trick here is to purposefully let Birkin catch up to you, and then immediately run as he builds up a large attack with his mutated arm. This particular attack (if Birkin uses it), should temporarily leave the boss with his large arm sagging on the floor for a few brief seconds afterwards. You can now run up and pump one or two quick shotgun blasts into the giant eye, before retreating to a safe distance. This is the strategy that you're going to have to rinse and repeat for a smooth ride through the Birkin boss fight.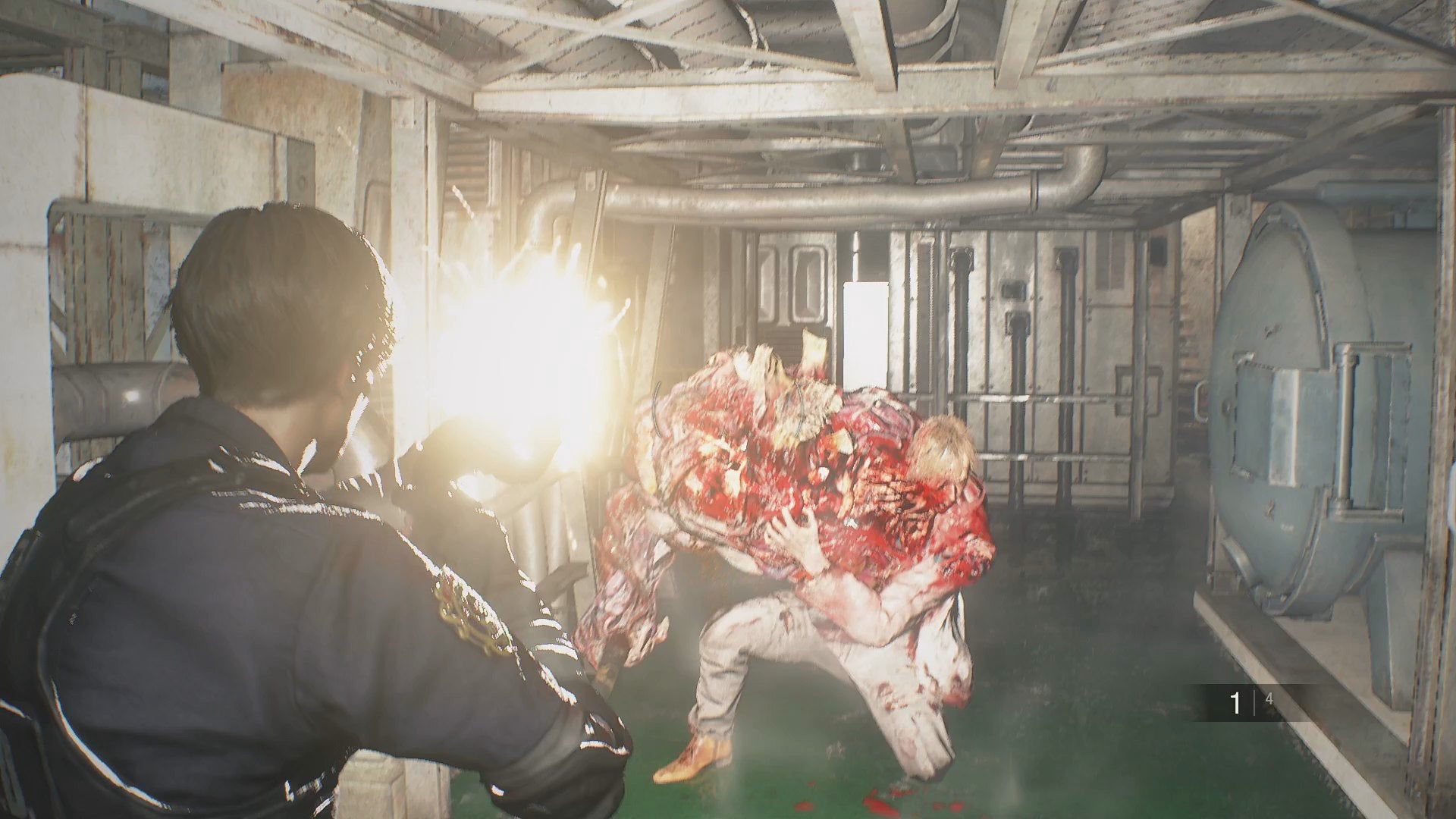 One major thing to watch out for in the Birkin boss battle is the mutated arm. If Birkin gets close enough to Claire or Leon, the giant arm will grab your head, and you've got a limited amount of time to tap the left shoulder button to get out of reach, by using up one of your grenades, or a combat knife. This is why you should make sure to grab the grenade that's in the corner of the arena, as if Birkin grabs you once you've burned through grenades and knives, the monster will deal massive damage to our poor protagonist.
If it's more content for Capcom's remake that you're after, head over to our essential Resident Evil 2 tips page. Alternatively, you can hit up our page on how to unlock Fourth Survivor in Resident Evil 2 with the enigmatic Hunk, our article on how to unlock the magnum in Resident Evil 2, or our Resident Evil 2 Leon's desk locks guide. If you want more Resident Evil goodness, check out our definitive ranking of the best Resident Evil Games.