Rainbow Six Siege's new Villa map is Ubisoft's map design at its best
It is my first match back after a two-month break from Rainbow Six Siege, and I am running around its newest map, Villa, in a daze. Every corridor looks the same, I have no idea how to get to the objective rooms, and I keep getting killed by enemies sitting in unseen corners. In other words, it feels exactly the way a Rainbow Six Siege map should feel when you jump in for the first time.
Villa took a full nine months to put together, with the layout envisaged by one designer. The extra attention to detail has paid off. It's perhaps the best-looking map Ubisoft has made—I could live on its upper floor with its pool table, comfy study, and massive walk-in wardrobe—but its brilliance goes past mere good looks.
While it feels like a maze at first, it only takes 20 minutes in a custom game before you start to get to grips with it and notice clever layout choices. Leather sofas are expertly placed so that, if you get in the right position, they provide cover from a potentially deadline sightline. Each room feels unique: a hunting vault stacked with long rifles; a room with two model planes strung from the ceiling; a dark astronomy room with constellations on the wall. That helps you get your bearings, and the long, main corridor on the first floor acts as an instant reference point.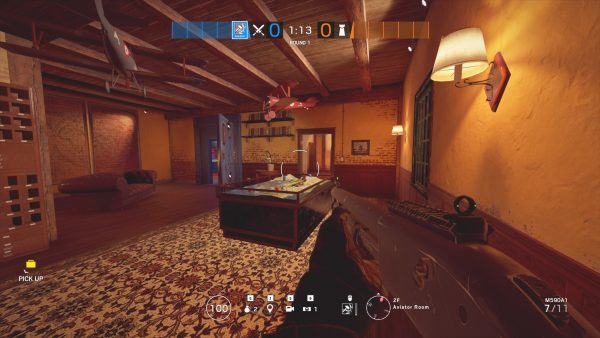 Every site has multiple entry points for attackers to push in from, which means no two rounds feel the same. For example, if you're attacking the bomb sites in the statuary room and the trophy room on the north side of the second floor (you can see the layout here), you could rappel in through a skylight, sneak up through the back stairs, breach the master bedroom window to the east, the landing window to the west, or enter the house from the south and methodically pick your way across the map.
But none of these routes feel overpowered, and a prepared defensive team has a good chance of countering any push—as well as retaking sites if an attacker slips through. Plus, the easy access gives defenders more freedom to roam around the map, which quickens the pace, and encourages a more run-and-gun style.
The sheer size of it creates firefights at every range. Gun battles mostly happen at close quarters, but there are some lengthy corridors to push down, an open skylight that looks from the roof to the floor, and ways for defenders to peek out of windows early on, which provides long-range options.
The best thing about Villa is how easy it is to break apart. Most floors, ceilings, walls and paintings are made of wood, and can be blasted apart with a shotgun or grenade. It's therefore easy to create an unexpected line of site onto a congested area, and it encourages you to experiment in practice matches.
While you might think being able to break down walls at will would favour attackers, it's a good trick for the defensive team, too. Destroying the right walls can give defenders unobstructed views of chokepoints, and in the pro games I've seen, teams have smashed down as many walls as possible around the bomb site, making it as large as possible so it's easier to rotate around.
https://gfycat.com/RepulsiveBonyBobwhite
The destruction also allows players to get kills from above or below, and it's arguably the most vertical map in the game. Most shooters have wall-bangs, Siege also has ceiling-bangs, and Villa is now the best map to bag them on. One of my favourites is the ceiling above the 'toilet' room on the first floor. The toilet is the most direct entry point onto the living room bomb site, and so attackers will rightly rush to control it. As a defender, you can sneak up the stairs, move down the 'classical hallway', and shred the ceiling for a perfect view.
Usually you only need a small hole, but I've ripped it apart in the image below. There's even a drop-down hatch, in the top-right, to let you rotate back onto the site.
There's another good spot in the games room: if you lie down to the north of the pool table, look south and take out the floor beneath you, you get a great view into the corridor below. Pros are starting to aim for vertical kills in matches: watch Cloud9's FoxA fire through the ceiling in the video below (it's worth watching the whole thing to see how pros are currently playing the map—the action starts at 9:50).
Because of all the hiding spots and potential murder holes, I've felt more determined to learn the ins and outs of it than with any other Siege map. I'm not a great marksman, but I can make up for it on Villa by knowing three or four reliable ceiling spots. Even if I don't get a kill, I can lock down an entire corridor from above, and ensure the route remains clear.
I'm sure there are even more powerful sightlines yet to be discovered, and inventive strategies still to be formulated. I'd love to see if the defensive team could stick one or two players on the site and the rest on the floor above, holding down entry points through slits they've made in the ceiling.
The fact something like this might be possible, at least in a casual game, is a testament to how well Ubisoft has realised its vision for a large, flexible map that encourages creativity. After a lukewarm response to the game's previous two maps, Villa is a sign that Siege's design team are back to their best.