Nintendo Labo out today in North America, so here's Bill Nye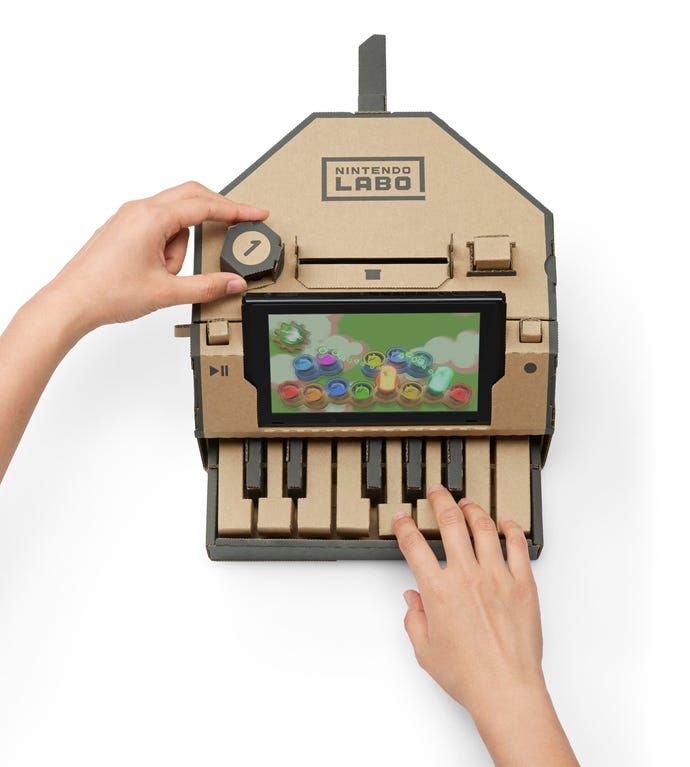 Nintendo Labo releases today in North America.
To celebrate the release of Nintendo Labo, watch Bill Nye the Science Guy fish and do other fun things with the creative cardboard pop outs.
Nintendo Labo users are able to transform modular sheets of cardboard into interactive creations called Toy-Con. These include a 13-key piano, a robot suit, and a few others. More will be released down the line.
Once built, the creations will make use of the Joy-Con controllers to provide more interactive gameplay experiences.
The first two Nintendo Labo kits are the Variety Kit and the Robot Kit.
Here's what's included in each:
Nintendo Labo Variety Kit ($69.99)
RC Car: The RC Car is powered by vibrations in the Joy-Con controllers and can follow a path of reflective tape by using the IR Motion Camera in the right Joy-Con controller – it even works in the dark. Materials to build two RC Cars are included, so two players can race or battle each other.
Fishing Rod: Build a working rod and reel, and then go fishing on the screen of your Nintendo Switch console to catch a variety of exotic fish. You can also enter Aquarium mode – accessed via Toy-Con Piano – to view all the fish you've caught or even design your own colorful fish.
House: Insert different blocks into your newly constructed House to interact with the adorable creature inside. Combining multiple blocks can unlock special features and mini-games, including an exhilarating mine cart ride.
Motorbike: Rev the throttle of your Motorbike by twisting the right handle, just like the real thing. You can even create and race on tracks you design.
Piano: Compose and record music using different octaves, reverb and sound effects – even cat noises.
Nintendo Labo Robot Kit ($79.99)
Build a wearable robot suit, including a backpack and visor, which allows you to assume control of a huge on-screen robot.
Smash buildings and UFOs in Robot Mode, make sound effects using your Toy-Con Robot in Robo Studio or customize your in-game robot in the Hangar.
With an additional Nintendo Labo Robot Kit and set of Joy-Con, you can even battle against a friend in multiplayer mode using just one Nintendo Switch system.
There's also a Customization Set ($9.99) which includes colorful tape, stencils and Nintendo themed stickers.
Nintendo Labo will be released for Switch on April 27 in the UK.