Kingdoms of Amalur IP and Project Copernicus rights and assets acquired by THQ Nordic
Holy hell. THQ Nordic has acquired the Kingdoms of Amalur IP.
THQ Nordic announced today it has acquired the rights to the Kingdoms of Amalur IP, as well as Project Copernicus.
The company said all assets for the Amalur IP were purchased from 38 Studios LLC, run by former MLB pitcher Curt Schilling.
This is rather great news. Reckoning was highly underrated, our opinion. There were talks of a sequel at one point before the utter mess which occurred at 38 Studios. And part of the blame can be laid on former Rhode Island governor Lincoln Chafee.
Here's a recap in case you weren't around when 38 Studios went bankrupt, and the state of Rhode Island came down on the firm. Hard.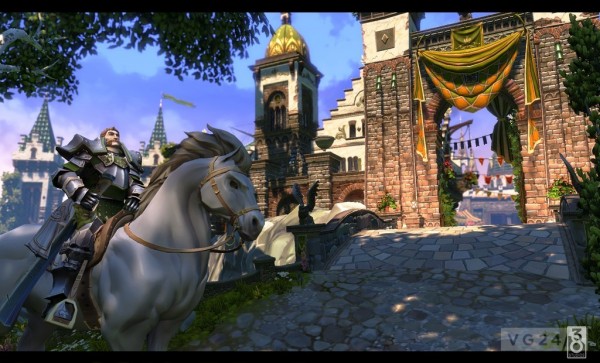 In July 2010, 38 Studios secured a $75 million loan from the Rhode Island Economic Development Corporation (EDC). During this time Governor Chafee voiced his constant disapproval - very publicly. His ire was also focused on the previous Governor of the state, who approved of the loan.
At one point, 38 Studios became was considered in default of the loan, when a $1.125 million payment check sent bounced. A second payment was made and it went through. Because of the second payment, 38 Studios was unable to pay employees or those at its development arm, Big Huge Games.
While Reckoning was well-received by critics when it was released in 2012, it didn't do too well at retail right away. Chafee publicly claimed the game to be a failure. This was reportedly the reason Reckoning's publisher, Electronic Arts, pulled out of a $35 million deal for a sequel. Oddly, at one time the firm seemed keen on backing a sequel, but that was before all hell broke loose between 38 Studios and Rhode Island.
38 Studios eventually declared bankruptcy and laid off everyone at Big Huge Games. An investigation followed, and the EDC filed a lawsuit against Schilling and other higher ups at the company. The SEC also became involved and ended up charging the EDC and Wells Fargo bank with securities fraud over the $75 million loan given to the studio.
According to reports, the money used to develop Reckoning did not come from the loan negotiated with the EDC and Wells Fargo. Instead, it came from EA and other backers. The loan was taken to develop the Copernicus MMORPG.
Schilling tried several times to sell Sony Online Entertainment (SOE) Project Copernicus, but it was too expensive to fund. This was according to former SOE president John Smedley, who had nothing but great things to say about the project.
Now, with THQ Nordic owning the assets and IP, it's possible a sequel to Reckoning may rise from the ashes.
The company stated in its announcement today the purchase will cover all "sales and distribution, evaluation of sequels and new content."
Hopefully this means a sequel to Kingdoms of Amalur: Reckoning is in the cards. At least we hope. It's also possible a remastered version could come to current-gen consoles. We'll just have to wait and see what THQ has planned.
Kingdoms of Amalur: Reckoning is a rather great RPG in our opinion. The backstory for Reckoning and Copernicus was created by author R. A. Salvatore and Todd McFarlane was the art director. Ken Rolston of Morrowind fame was lead on both projects.