Interview: LittleBigPlanet 2 level designer Victor Agren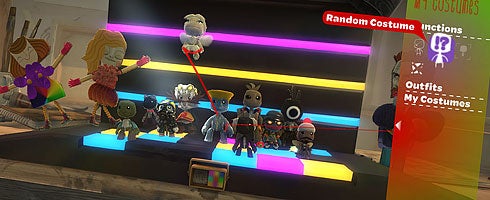 Following our hands-on with LittleBigPlanet 2 at the game's London reveal last week, we sat down with level designer Vitcor Agren to quiz him on influences and style.
Victor's been with Media Molecule from the very beginning, so he's a key influence on the game's direction. During out chat he gave some tips for all you creators out there, so be sure to read.
Hit this for impressions from the event, this for screens and this for another four Media Molecule interviews recorded on the day.
Can you take us through the process of designing levels in LittleBigPlanet 2? Do you normally work together on or do you work on individual levels separately?
Vitcor Agren: Usually we'll group together and decide what works best. We'll then take all of these ideas and plug the work into the level. Sometimes we approach this by the look and feel of the level, deciding what type of gameplay we can create around that. So, there are different angles from which we can approach level design.
Do you ever come up with an idea that you try to keep for yourself, possibly working on it before revealing it to the others?
Vitcor Agren: It's funny, yeah. At first you think, 'Oh yeah this is my level,' but because it's such a brilliant team you then see what the other guys make and say, 'Oh, why I didn't think of that.' You then feel confident about anyone helping out because you know it will turn into something better.
How do you feel about the new style of LittleBigPlanet 2 and the ability to create any genre of game? Mark Healy called it "A Platform for Games": would you agree?
Vitcor Agren: Yes, it's great. I used to do a bit of Flash game design in my spare time and the thinking I got from that basically translates to LittleBigPlanet now. It's a bit like programming but in a visual form, basically. If you can think of it then you can almost certainly now create it.
How do you feel about the new Cinematics? Is this something you've enjoyed putting into your levels?
Vitcor Agren: Yeah. I seem to be a more technical person, so I enjoy doing the more intricate things. What I find is that I can use the cut-scenes, for example, to indicate a door is opening somewhere else on the level when you pull a lever. This is a type of thing I find really useful.
Equally though, you can also use the Cinematics to make really broad, big, cut-scenes, and I guess this is what we are trying to do with the game: introduce bigger and better tools so that you can base whole levels around them.
What is your favourite element of LittleBigPlanet 2?
Vitcor Agren: Like I say, I'm more technical, so I enjoy being able to think of an idea, play around with it and go from there.
It's just great that you can do whatever you want and create some really special levels.
When creating levels, where do you take your inspiration from?
Vitcor Agren: That's an interesting question. A lot of my inspiration comes from old 8-bit arcade titles and the type of gameplay style they have. I try to take inspiration from whatever I can, really. I do a bit of live drawing in my spare time so I can translate this to my work at Media Molecule.
Do you have any tips for budding designers out there?
Vitcor Agren: It's a bit cliché, but you should look at various levels and see what you like about them, then you can take those bits and play around with them. You can learn a lot from that.