Interview: DJ Hero 2's Jamie Jackson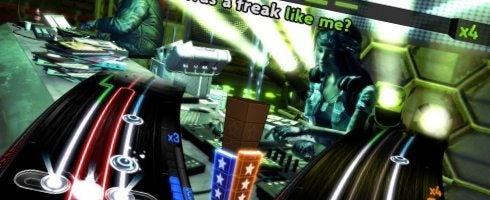 Activision's DJ Hero 2 is set to be released later this year, with many gamers and industry pundits alike still on the fence about the potential mass market appeal of the mix-and-mash-em-up dance music game.
While DJ Hero was well received critically when it released late in 2009, with plenty of positive reviews in both the specialist and the lifestyle/dance press, the sales were somewhat lackluster. Despite that, Activision clearly thinks that it can garner a good return on its investment, as developer Freestyle Games has recently announced (and has been showing off) DJ Hero 2, which amongst other new features and additions, will let dance aficionados muck around with two plastic turntables and microphone.
The game packs in new multiplayer modes, DJ battles, jump in/jump out Party Play, and with the addition of a microphone - budding singers or rappers will be able to get involved in your lounge-based mash-ups later this year. But is it a massive commercial folly? Or is it a very cleverly-calculated commercial risk on the part of Activision? Only time will tell.obviously.
We've played the first game and were shown a pre-E3 taster of the second. There is no question that they are creatively superb and incredibly well executed music games. The only question is whether or not there is a big enough market out there for the title.
DJ Hero 2 adds 70 new tracks which include Dr. Dre, The Chemical Brothers, Kanye West, Metallica Lady Gaga. Canada's electro house export DeadMau5 (pron. 'dead mouse' for non-fans of the genre) and who will feature as an in-game playable character. As a pre-E3 taster, Activision has given DJ Hero owners the opportunity to download an exclusive DJ Hero 2 mix featuring Lady Gaga's "Just Dance" mixed with Deadmau5's "Ghosts 'n' Stuff" for free (until the 14th June).
We recently sat down with Jamie Jackson, creative director at Freestyle Games, to quiz him more about the mixed reception of the first game and the changes they've made, and plans they have, for DJ Hero 2 when it releases later in 2010.
[Interview by Adam Hartley]
VG247: How did you feel about the criticism leveled at the sales of the first DJ Hero? Critically, it did pretty well [Metacritic: 86] yet the sales didn't reflect that.
Jamie Jackson: Yeah, strangely, we got panned, yet at the same time we were also voted 'number one new IP based on sales' worldwide so, I'll just take that number one new IP based on sales accolade, I guess. We got some great scores. The press gave us some great support.
But I think it was easy to be critical last year, when the world seemed to be going down the toilet in every way possible!
Do you think it is just in Britain that we have that tendency to say things are shit?
Jamie Jackson: Yes. It is generally in Britain that people say things are shit! [laughs]
So given that kind of 'conflicted ending' to DJ Hero, how did you approach the second game?
Jamie Jackson: We always wanted, I guess, to get feedback on the social side of things. And we were able to get a lot of feedback from a lot of consumers that were playing the first game and we listened to what they said. And one thing that Activision is very, very good at is research.
And it turned out that most of the people who had bought the game were people that were completely new to music games. People who had never played Guitar Hero before. And so, for us, that was a really cool and nice surprise, because a new audience had bought our game. And it also suggested to us that people were buying it because of the music, because it was a DJ game, not because it was a music game.
And what was the response from the actual DJ community to the first game? Was their feedback slightly different to general consumer feedback in terms of how you can develop the game and how you can make the sequel better?
Jamie Jackson: We have worked closely with the DJ community and the one thing that we have got is the fact that we were being authentic. You know, we weren't 'ruining' this culture that was theirs. And so what would happen, more than anything, is that we would get people banging the door down saying, "hey, I want to make some music for your game!"
So what we know well as a developer is that we know gameplay. And what our music team in London does is to work with DJs and producers, and they make music. So the two of us complement each other. And that's not to say we don't give each other suggestions.
What was also really good was working with some external DJs like DJ Shadow, who came in at the end of the recordings and talked us through what makes a good mix.
You've talked about the new multiplayer features so the idea is obviously to get more people playing DJ Hero 2 together, with two decks and a microphone.
Jamie Jackson:Vocals is the big one. We've seen a really good response to them. And we didn't want to try to force new peripherals in just because they were out there. What we wanted to do was to give a real reason to have two decks.
So there is not as much cross over with guitar music in this game?
Jamie Jackson: With DJ 1 what happened was that, with the success of it, the labels and the artists are now more aware about what it is. Last time round, it was a new product and it was quite a hard sell, for us to say, "we'll take your music and your music and we'll mix it together and you're not going to get a say in it."
This time around there is more understanding, so it has opened the doors to us in terms of getting more popular music.
Can you tell us more about new talent in the game?
Jamie Jackson: Well, we've mentioned Lady Gaga, Dr Dre, Dead Mouse, DJ Shadow, The Chemical Brothers… that's all I'm allowed to talk about right now.
What is the mix that most twists people's brains a bit?
Jamie Jackson: Well we can't announce all of them, so we can't tell you which one but one that I really like is mixing up two Chemical Brothers' in the game. It's a really dirty, filthy beat.
The look and design of the game is very clean – there are not a lot of things popping up on the screen, no scoring popping up or whatnot – has that been a conscious design choice?
Jamie Jackson: Well there were a few people who perhaps weren't that happy with the way in which we presented the scoring in the first one, so we wanted to change it. We have made sure that when you are playing that you understand the kind of feedback you are getting depending on how well you are doing, you get this instant visual feedback as well as the audio feedback.
So you don't plan to use PS Move or Natal in DJ Hero 2?
Jamie Jackson: In DJ 2? No. We won't be using those in this game.
Possibly in the future?
Jamie Jackson: I'd say definitely. I'm really excited about those things. And they certainly open up all kinds of stuff that we can do with our games that will be cool.
And what about 3D? Surely 3D visuals lend themselves well to dance music and culture?
Jamie Jackson: Yeah, all the stuff out there now that we can see down the line for next year is certainly exciting and 3D will be a part of that. For now we just want to focus on getting this game to where we want it to be. Freestyle is all about giving the consumer some kind of control so that they really feel connected to the music, without having to give them a studio.
DJ Hero 2 is out this fall for PS3, Wii, and Xbox 360.