Gearbox was unwilling to sign the SAG-AFTRA contract and Texas law was "no legal obstacle at all" - the union response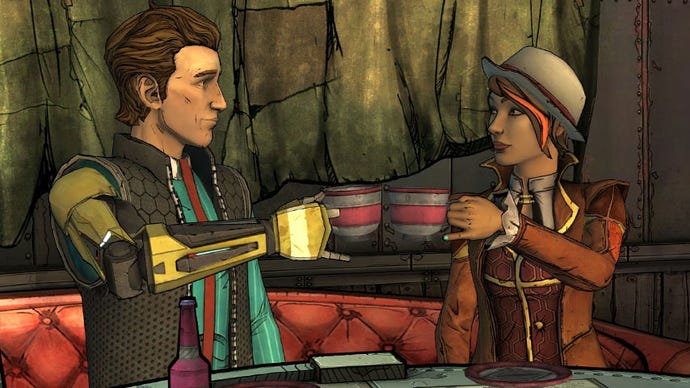 Earlier this week, we broke the news that Troy Baker didn't reprise his role as Rhys in Borderlands 3 because Gearbox was unwilling to accept the actor's union terms.
Since then, Gearbox has put out a statement claiming that Texas state law prevented the studio from doing so. You can read the full story at the above link, and we also have a rundown of events in the video below.
Actors' union SAG-AFTRA has since sent us a statement and some follow-up clarifications challenging that claim.
"Gearbox's reference to Texas law is a non-sequitur," the statement reads. "SAG-AFTRA's contract does not require Gearbox to deny anyone employment based on their union status. In fact, SAG-AFTRA's contract does not require employers in any state to deny anyone employment based on union status.
"We are fully aware of the anti-labor, right-to-work-for-less laws that help explain why Texas has more minimum-wage workers than any state in the Union. Employers in Texas and other right-to-work-for-less states nevertheless routinely work under SAG-AFTRA agreements with no legal obstacle at all. To the extent that Gearbox's statement reflects legitimate ignorance, Gearbox could easily have asked that question during their discussions with SAG-AFTRA, which they did not.
"If indeed Gearbox meets or exceeds our contract standards in their treatment of performers, which we highly doubt, it would have cost them nothing to sign the union's agreement and retain the original cast of their game. While SAG-AFTRA does not comment on member discipline matters, we observe that SAG-AFTRA members who work for certain non-union employers not only deprive themselves of the benefits of a union agreement, they lower the standards for all their peers and facilitate the abuse and exploitation of performers."
In a follow-up email, VG247 asked what barriers existed that prevented Gearbox from accepting the union's terms, and what exactly those terms would have been. According to SAG-AFTRA, the union would never have forced Gearbox to use only union actors - it would have just asked that all actors are treated with the same fairness, a term Gearbox refused.
"Gearbox was unwilling to sign the contract and bind themselves to honoring those standards as reflected in a SAG-AFTRA contract," SAG-AFTRA's chief contracts officer Ray Rodriguez explained. "They claim to adhere to those standards anyway, but we have no way to verify that, and, in any event, a non-binding commitment to treat and pay workers fairly is not enough. Workers deserve the protection of an actual contract.
"Our contracts do not and cannot provide different terms and conditions for workers based on whether they are members of the union. Non-members would enjoy all the same contract benefits as members, whether in Texas or any other state. Nor would the contract prevent them from hiring non-union actors."