First Minecraft Dungeons DLC out in July, cross-platform play coming as a free update
The first crop of DLC for Minecraft Dungeons will arrive soon, and it takes you into the jungle.
Minecraft Dungeons players will be able to enjoy the first batch of DLC for the game in July when Jungle Awakens is released.
The DLC finds you in a dangerous jungle where you will fight a "mysterious power" in three missions. To help you on your missions, you will have access to new weapons, armor, and artifacts.
Later this year, the second DLC pack Creeping Winter will be released. Details were not provided.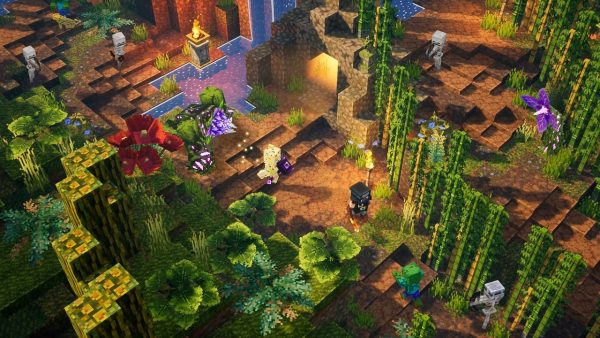 Those who own the Hero Edition of the game will automatically receive the DLC upon release, thanks to the inclusion of the Hero Pass. Mojang didn't state how the upcoming content would be sold to those without the Hero Edition, but more information on the upcoming content will be provided at a later date.
There is also a free update that is also in the works and it will include cross-platform play.
If you are just picking the game up, and need a head start, here's a guide on the best weapons. It shows you how to get legendary Unique Weapons and Items, and here's one on choosing the best enchantments to choose for your gear.