Minecraft Dungeons Best Weapons - How to get legendary Unique Weapons and Items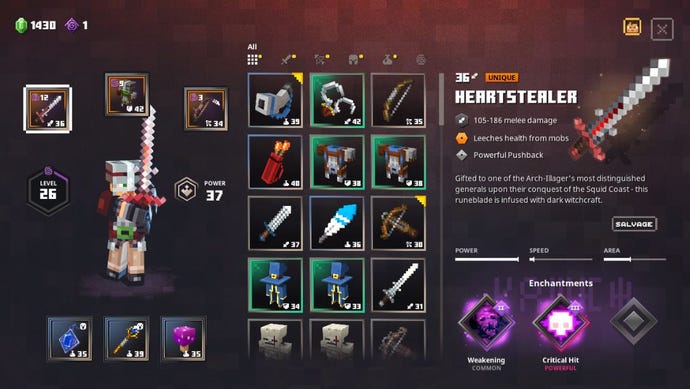 Minecraft Dungeons is all about combat, and as you take on the Arch-Illager you're going to need the best weapons you can lay your hands on.
Since release, we've added even more weapons to the list, including a new Unique.
Featuring tons of melee and ranged weapons, Minecraft Dungeons has a wide arsenal to choose from - but many of your options are better than others, with some only really coming in handy in quite specific situations.
After our multiple playthroughs, here's a rundown of the best weapons in Minecraft Dungeons.
How to get the best legendary Unique Weapons in Minecraft Dungeons
As you level up your adventurer, legendary-style Unique weapons might not always be the best option, but they sure are the flashiest.
Unique Weapons in Minecraft Dungeons are special versions of normal weapon archetypes that come with an Enchantment already attached to them - in addition to the ones you can choose with Enchantment Points.
This means you can stack powerful effects onto a weapon with less investment, and look cool while doing it.
As you level up through the campaign, Unique weapons will still be outclassed by higher powerful regular weapons, so don't hold onto them for too long.
You get your hands on Unique weapons and items in three main ways:
The least common is as very rare drops from regular mobs - this probably only happens about once a full playthrough
A more reliable way is from golden chests you find around levels - replay levels to get more chances
Seemingly the most reliable way to get legendary Unique weapons and items is to fight the big bosses in Minecraft Dungeons - I've had the most luck with the Nameless One in the Desert Temple and Heart of the Ender
We have a page on where to find secrets and chests in Minecraft Dungeons, here.
Minecraft Dungeons Best Weapons - Melee
When you're taking on big groups of mobs in Minecraft Dungeons, your melee weapon is your best choice to try and snatch victory from the jaws of untimely death.
On most difficulties, the majority of mobs are going to go down in just a few hits. This means you need to carefully balance the power and speed of your melee weapon to efficiently dispatch enemies. Otherwise you'll get caught out impotently swinging at one baddie while five others punch you in the face.
This means that we prefer either slow, very powerful weapons which take out most things in one hit, or fast weapons that can deliver the multiple blows they need to defeat mobs as quickly as possible.
Before we start though, it's worth saying: On your first playthrough, the best weapon as you level up the power of your character is whichever is the highest level in your inventory. So don't worry about sticking with a regular sword, axe, or anything else as you progress.
Whatever your preference, you'll likely find yourself a new weapon soon enough. But onto our favourites.
Heartstealer - Unique Claymore
This Unique two-handed claymore is the epitome of high-power, slow swing.
Its high power chews through regular mobs with ease, and combos incredibly well with the Death Cap Mushroom Artifact which increases damage and attack speed - making it useful in most situations.
Slow weapons like the glaive and regular claymore tend to be a big lacklustre, but the extra Enchantment on Heartstealer pushes it over the top. Heartstealer comes with an in-bult leeching attachment that heals you for a portion of the damage dealt to every single enemy you defeat.
I like this Unique much better than the Unique Broadsword version, which just feels slow and one-dimensional without the lifesteal.
Grave Bane - Unique Glaive
Another cool, Unique weapon, Grave Bane comes with a free Smiting Enchantment, which makes it one of the best weapons to deal with the extremely common zombie and skeleton enemies.
Venom Glaive - Unique Glaive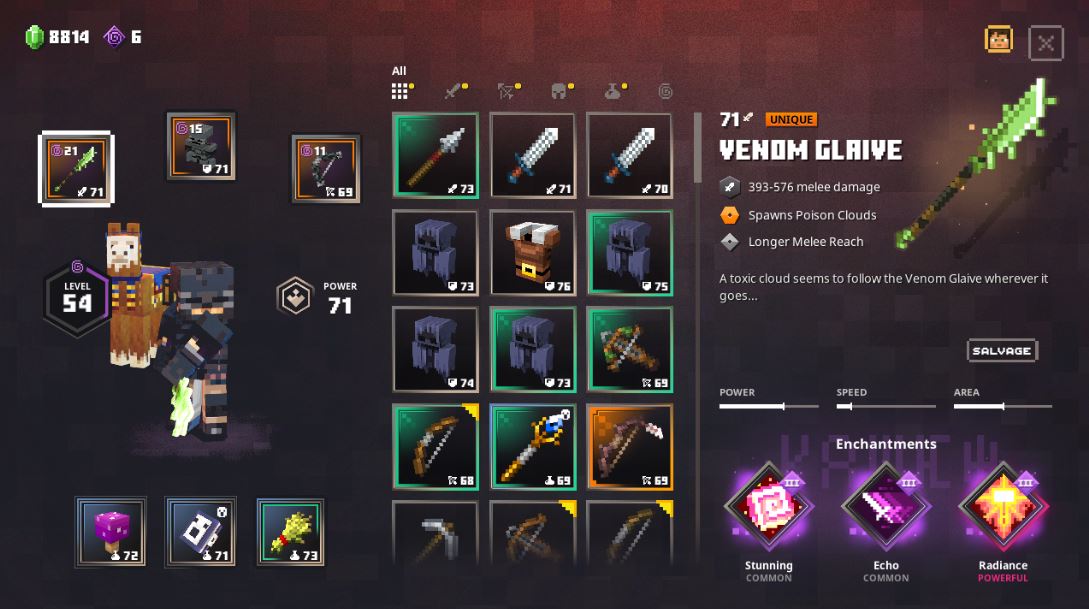 Even better than the Grave Bane is the Venom Glaive, another Unique weapon - but this time with a free Poison Cloud Enchantment.
While I probably wouldn't choose it as a standalone Enchantment, for free on a weapon it's a great bonus and helps deal with large groups and static bosses.
For something a little easier to acquire, the Soul Knife combos with strong Enchantments to create a very tanky set-up.
Try finding one with Anima Conduit to constantly top up your health as you rush in close and take hits from mobs.
Gauntlets, Daggers, and Cutlass
All three of these fast weapons effectively dispatch opponents. But the main reason to pick a fast striking weapon is to pair it with Enchantments which have a % chance to appear, or trigger at the end of a combo.
This means that you can make the best use of these strong abilities, because more hits means more chance to trigger.
For example, gauntlets work well with the triple-damage Critical Hit Enchantment because you're dishing out so many blows that it pops up all the time!
For the ultimate flex, you can't go wrong with the Diamond Sword.
If you're a fan of normal Minecraft, then you're sure to have fun with this one - and it comes with a Sharpness Enchantment already applied, which deals extra damage on every swing.
Minecraft Dungeons Best Weapons - Ranged
Hunter's Promise - Unique Bow
Nobody likes running out of arrows. That's why the Hunter's Promise Unique ability of returning some arrows to your quiver is so good.
It's versatile enough to work in many different situations too.
While the Trickbow isn't the strongest in terms of raw power, it makes up for it with excellent crowd-control. The Trickbow's arrows ricochet between mobs without need for an extra Enchantment, so it softens up large groups for you to clean up with one strike of a slow, powerful melee weapon.
Because the Trickbow's arrows travel such a long distance between enemies, it combos incredibly well with the "Growing" Enchantment, which deals more damage to enemies that are further away from you. It's a set-up that's well worth testing out.
After recommending the Trickbow, you could also look for the Bonebow, which comes with the great Growing Enchantment as its unique ability.
It's another great ranged choice for dealing with enemies at a distance, and can be further enchanted to fire more quickly.
If you want to take out mobs reliably at distance with just your ranged weapon, then the damage potential of the Heavy Crossbow is worth looking into.
It's more than enough to one-shot most normal mobs.
What are your favourite weapons in Minecraft Dungeons? Tell us and we'll add them to the list. We'll also update this page with more picks as we get more experience with the hardest difficulty.
With every weapon comes a choice: here's our list of the best Enchantments in Minecraft Dungeons.
We also have pages on Minecraft Dungeons' best armor, as well as the best artifacts.