Fight On: Iron Galaxy Studios' Journey to the Top of the Tier List
Iron Galaxy founder and CEO Dave Lang tells USgamer how his small Chicago studio became a premier fighting game developer.

This article first appeared on USgamer, a partner publication of VG247. Some content, such as this article, has been migrated to VG247 for posterity after USgamer's closure - but it has not been edited or further vetted by the VG247 team.
From mobile and "a la carte" development to full-fledged design and implementation of Killer Instinct Season 2, Iron Galaxy Studios has had an amazing journey over the last several years. President and CEO Dave Lang shares the story of how his small Chicago studio battled the odds and rose to prominence as a premier fighting game developer.
Iron Galaxy founder and CEO Dave Lang never intended to make games for a living. In fact, he discovered the existence of domestic game development opportunities entirely by accident when thumbing through an issue of Next Generation magazine while in college for Electrical Engineering.
"I don't know whether I thought all games were made in Japan, or what," Lang muses. Though he dabbled in game development his entire life (starting with a Commodore 64 in the sixth grade), he was both shocked and intrigued when he discovered game development was a legitimate career option.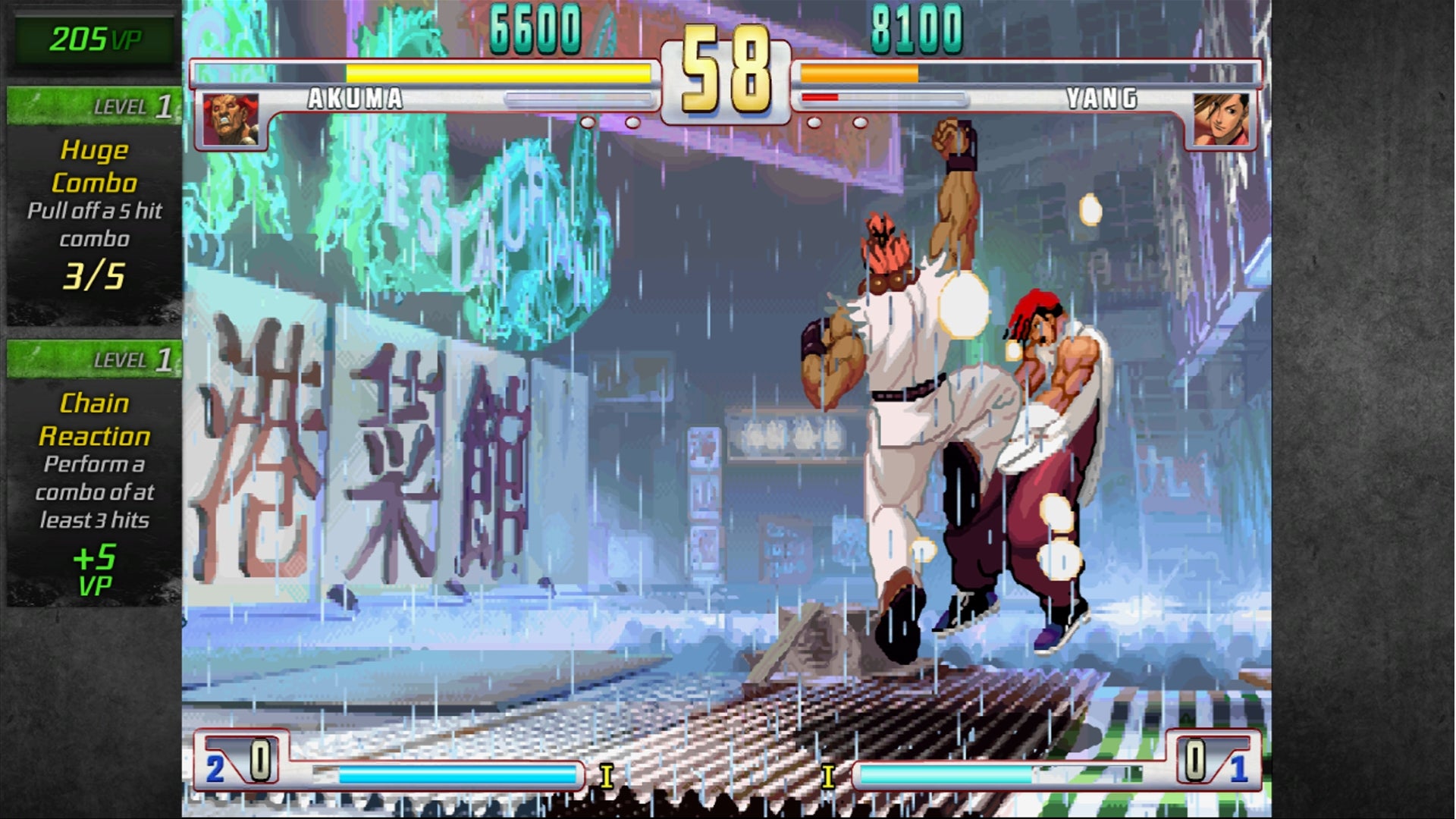 After diving into the Next Generation classifieds and researching local game development opportunities in depth, it didn't take long for Lang to find his calling. He immediately shifted gears, doubled down on his programming skills, and entered the industry as a professional following graduation. He then honed his game development chops at several studios, including Acclaim, Sculptured Software, and Kodiak Interactive before eventually finding his way to Midway Games in Chicago during 2003. While at Midway, Dave contributed to a number of the publisher's most well-known titles for several years, including those in the NFL Blitz series.
Fast forward to 2008, and Midway Games was in crisis. It was clear at that time that Midway was headed for bankruptcy following several high-profile revenue misses, leaving the fate of many teams within the company uncertain. Lang, after a long discussion with his family, decided to venture out of Midway on his own - deciding that it would be no more risky starting his own venture from scratch than waiting for the carnage of the Midway Red Wedding to sort itself out.
And so, in August of 2008, Iron Galaxy Studios was born.
"I had no intentions of making [Iron Galaxy] a large studio at that time," Lang says. "I was just looking to build a sustainable business that I could use to make games and do cool stuff."
At first, Lang was on his own. Through connections with former Midway staff who ended up heading out west to work for Capcom on the publishing side, Lang landed a couple of high profile development gigs with the company as a contracted "hired gun" - lending his development expertise to projects needing a bit of extra help, including Dark Void and Bionic Commando. Following successful completion of several of these contracts, Lang faced an important decision: Capcom asked him whether it would be possible to bring a few more people on board to tackle bigger development contracts.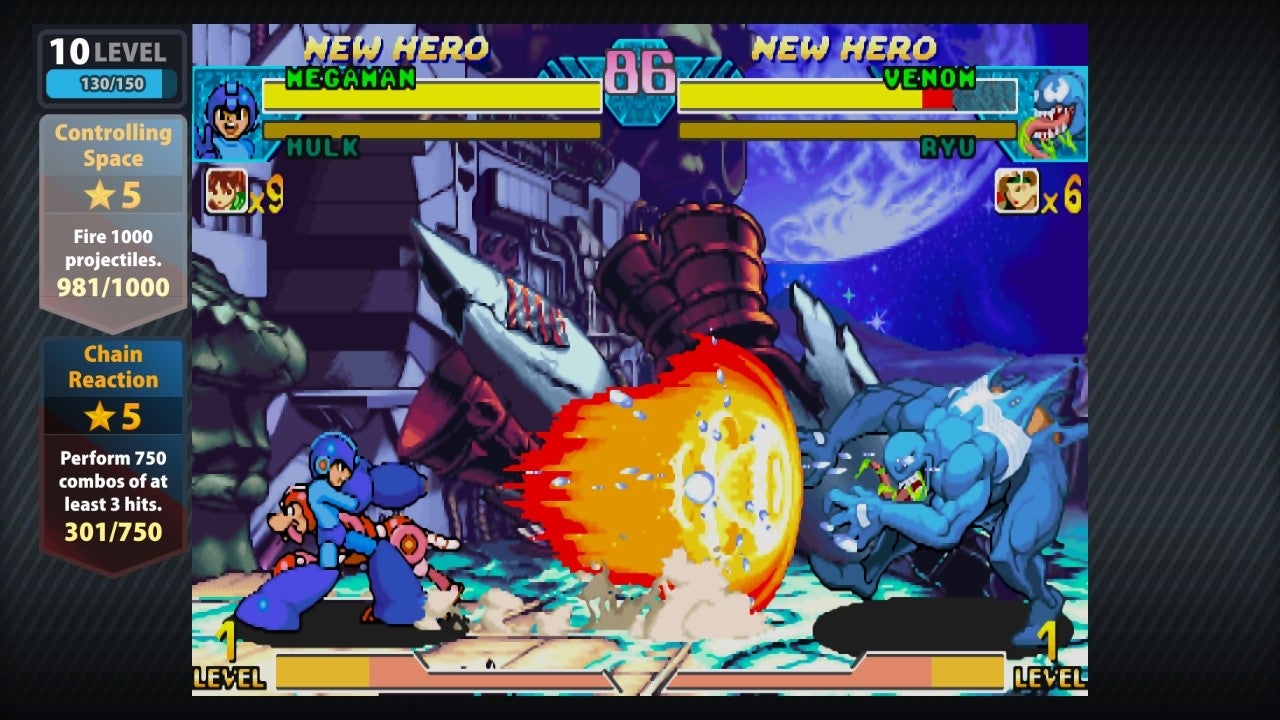 "I didn't have to think about it for too long," Lang says with an air of confidence. It didn't take long for Iron Galaxy to staff up and begin tackling large projects in earnest.
It didn't take long for the talented team at Iron Galaxy to land their first big fighting game gig: Street Fighter III: Third Strike Online Edition, though the project had a bit of difficulty getting off the ground. At the time Lang had first heard rumblings about a potential Third Strike remake, he knew through his contacts at Capcom that work was being done on revamping classic fighting titles and re-releasing them digitally on console platforms. "We started talking to them about [Third Strike] long before we did it. We didn't start development for over a year and a half due to business decisions, which ended up working out for the best.", says Lang. "Even though the guys I knew at Capcom trusted us, Capcom proper didn't trust us. The extra time gave us the opportunity to do more work with them, and when the time came to staff up development on Third Strike, it was clear to the company that we were the ones that should do it." A fighting game fan for years (and former Tekken competitor during college), Lang jumped at the chance to help rebuild and enhance a classic game in a well-known fighting franchise.
Of course, there were technological hurdles to overcome. With no emulator available for the CPS3 arcade platform that powered the original version of Street Fighter III: Third Strike easily accessible, the team at Iron Galaxy had to make a choice: build the game from the ground up using CPS3 machine code, or start with the PlayStation 2 version, which had its source code already available in C. With the significant time trade-off between analyzing low-level machine code and much more readable C source code, Lang and his team at Iron Galaxy felt that starting with the PS2 version made the most sense. It would give the development team much more time to implement new features, but it came with a cost - they would also have to eliminate the PS2 version's quirks. While a competent port for the non-tournament crowd, PS2 Third Strike was far from arcade perfect, and releasing a version on home consoles with those bugs intact was not an option. To squash those bugs, Iron Galaxy was going to need the fighting game community's help.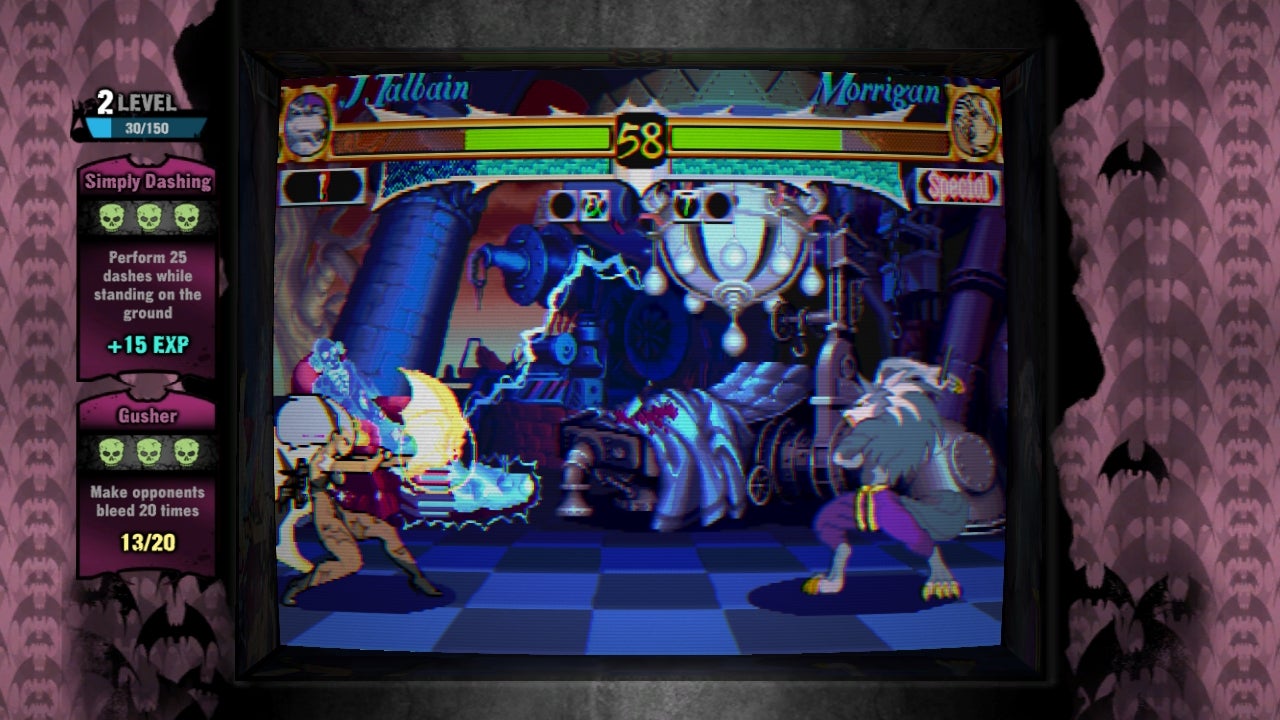 Enter professional fighting gamer and Third Strike expert Ari "fLoE" Weintraub, who conveniently happened to live fairly close to Iron Galaxy's development studio in Chicago. Following an introduction facilitated by Capcom producer Derek Neal (who was already familiar with fLoE's tournament accomplishments), Iron Galaxy brought fLoE onboard to help make the new version of Third Strike as arcade-perfect as possible. He also acted as the fighting game community's voice during production of the title, suggesting tweaks to features such as button configuration and online play to make the game more tournament-friendly and was responsible for engineering a particularly nasty set of character-specific trials (including one based on the infamous 'EVO Moment 37' Daigo Umehara 14-hit parry) to help both newcomers and experts learn how to play the game. With fLoE's tweaks and fixes, plus the massive amount of brand new content also added to the game (mini-achievements/challenges during matches, expansive visual options and filters, a ton of unlockables, and more), Lang and his team succeeded at crafting what many consider to be the definitive version of the classic title.
Capcom was pleased, and Iron Galaxy became one of Capcom's de-facto studios for fighting game development.
After several other projects for Capcom (many based around Capcom's CPS2 arcade hardware - which provided its own set of unique challenges to the development team), Iron Galaxy found an opportunity to create its own fighting game through a unique partnership with another well-known fighting game player (and tournament organizer) in the Chicagoland area: Adam "Keits" Heart, who joined their team during the CPS2 projects (Marvel vs Capcom Origins, DarkStalkers Resurrection) as a producer.
During this time, Adam showed Lang a small, working demo of the joke project that would eventually become Divekick. At first glance, Lang wasn't impressed. "I thought it was one of the dumbest things I'd ever heard in my life," he confesses. "It just sounded too simplistic....but then I played it. It was awesome."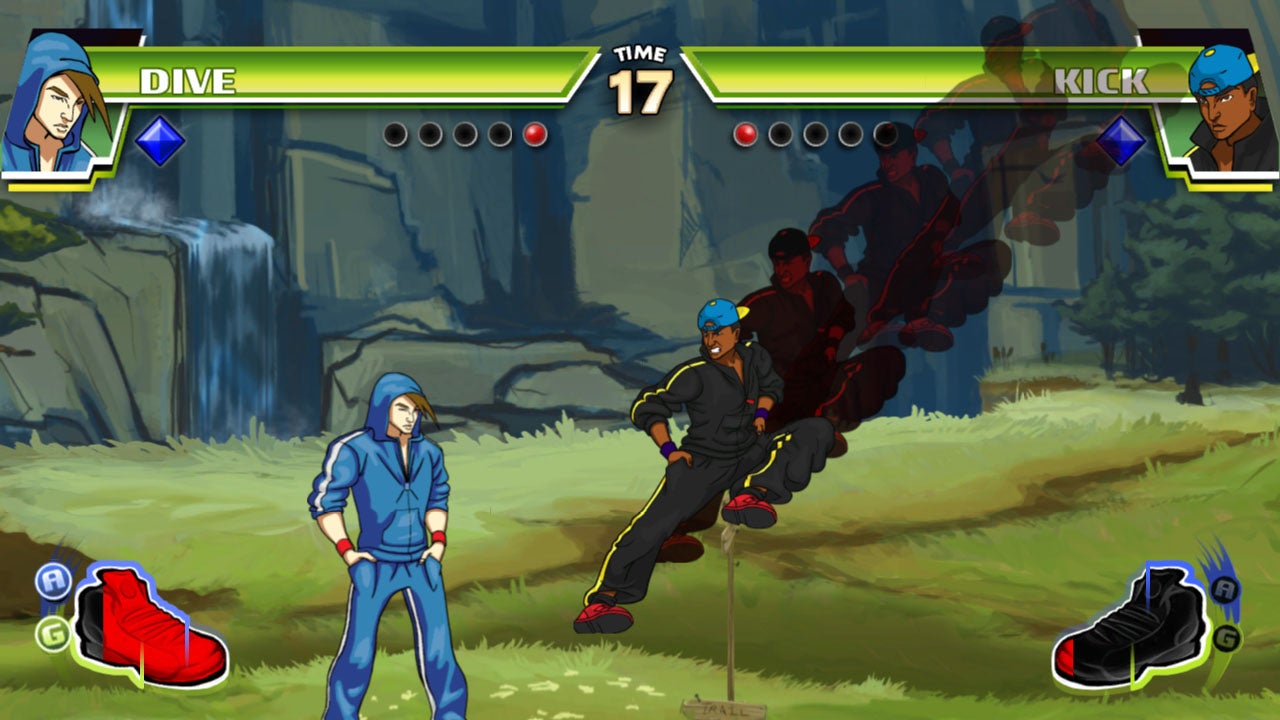 It didn't take long to sell Lang on the idea of a casual title that managed to distill all of the basic mechanics of the genre (such as spacing, mind games, and footsies) into a competitive game while completely removing execution and complicated controls as barriers to entry. At that point, Lang and Adam partnered up - Iron Galaxy would take on development duties, Adam would retain full creative control, and they would release the two-button fighting game parody across several platforms together.
Eight months later, the rest is history. While the original Divekick has already launched across PC, PS3, Xbox 360, and Vita, Iron Galaxy are now in the process of finishing up Divekick: Addition Edition +, which is scheduled for launch on PS4 and Xbox One in the near future (as well as the four platforms mentioned above). In addition (no pun intended) to at least two new fighters and a balance update that will be delivered as part of this update, Lang has committed to continue adding free content to the game as long as people are interested in playing it (yes, folks, that means more new fighters!)
While releasing Divekick was a huge step for the company - as it marked the first time Iron Galaxy was able have full control over publishing duties, marketing, and the relationship with the community - it also served as an excellent practice run for their big upcoming project for Microsoft: Killer Instinct Season 2.
The team at Iron Galaxy learned quite a bit from the development of Divekick. Lang learned, for example, that online communities for fighting games can fizzle quick. "Instead of launching with 13 characters, we should have launched with a smaller number - say 8 - and then trickle the rest out over the next few months to keep the community engaged. Do it for free - give players a reason to come back," Lang says, also noting that the original Season 1 of Killer Instinct did something similar. Lang also mentioned one interesting little secret concerning critical fan feedback, of which Iron Galaxy has received plenty: "When people are upset about something in a game you create, you can deal with it in one of three ways: you can ignore them, you can tell them to f*** off, or you can try to engage with them and try to get to the root of the issue. With Third Strike (and Divekick), we chose the third option - we could afford to do so because unlike larger organizations like Capcom, these titles are our only focus. What we found out very quickly was that even some of our most vocal critics respond positively to individual attention and were willing to communicate with us to help us make the game better."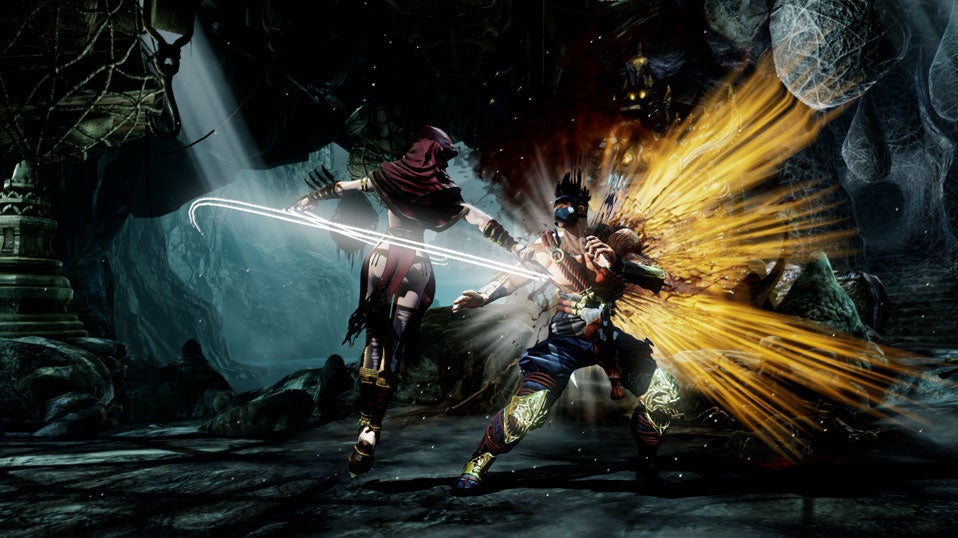 Those lessons look to serve Lang and his team well as they begin ramping up development efforts on Killer Instinct Season 2.
Something fans may not know about Iron Galaxy's involvement in the franchise: they were not only a respondent to Microsoft's original request for proposal on the reboot - they were actually actually a hair's breadth away from winning the contract! While Lang doesn't know all the details, he does know that both his studio and Double Helix made the final cut for developing the game, but because Microsoft also decided to invest in Iron Galaxy's Kinect-exclusive Wreckateer as a showcase for the peripheral, and that was already consuming a large chunk of Lang's development resources, the studio was shorthanded and couldn't take the load. Though he did feel a bit disappointed with losing the Killer Instinct pitch to Double Helix, he admits that "While it was disappointing at the time, if you take a look at where we were at that point versus the final game Double Helix was able to make, I firmly believe we would not have made as good of a game as Double Helix did - in terms of available resources, we simply weren't there at that time."
Iron Galaxy's team was very impressed with the game that Double Helix was able to deliver, and jumped at the chance when Microsoft came knocking with the opportunity to have them deliver Season 2. "When talking to Patrick [Gilmore, head of Double Helix], I asked him, 'hey, is it really cool if we do this?' It was kind of awkward at first," Lang admits, "sort of like dating someone's ex-girlfriend." At the time, Lang didn't know why Double Helix was unable to continue the project - he found out later, along with the rest of the world, that Double Helix was purchased by Amazon as part of their new gaming initiative.
Though he couldn't share anything with us about when to expect any details on the next wave of Killer Instinct content, one thing has never been clearer: with Dave Lang at the helm, this series is in very good hands.