Feature: Is there a way forward for RTS?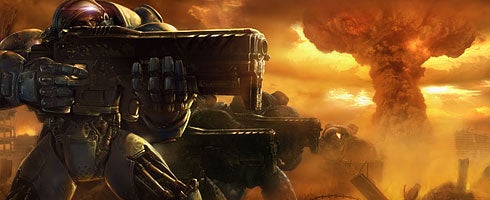 RTS is doomed, if you listen to the naysayers. We sincerely hoped it wasn't, so we asked EndWar dev lead and Ubisoft Montpellier creative director Michael de Plater, RUSE developer Eugen and British starlet Creative Assembly what problems are facing real-time strategy and whether or not the genre can move passed them.
Interviews by Patrick Garratt.
If ever a gaming genre has become a lightning rod for brow-knotting aphorisms, it's real-time strategy. Conventional wisdom dictates that RTS has failed to crack the console market in this or any other generation, despite repeated attempts from talented teams, and its native PC home has been relentlessly attacked by pirates in recent years. It's a two-pronged assault to which even the biggest names in games have apparently no answer, say the worriers.
Patience has worn thin and consumer interest has waned. Publisher behaviour has shown this cycle's bloated budgets simply aren't worth the return when it comes to RTS: big-name studios such as Ensemble and Massive have both suffered despite critical success, the former facing complete closure.
The console conundrum has proven unbreakable, with both Microsoft backing away after dipping a single toe in the water with Halo Wars, and EA retreating from 360 and PS3 after a cross-platform attempt with Red Alert 3. Command & Conquer 4 is to be PC-only.
But what exactly is the problem? Speaking in private, even veteran PC journalists admit they believe real-time strategy is all out of luck. Mr RTS is slumped over the corner of the roulette table, singing old war songs while the croupier calls security. And if lovers of the genre are picking up their chips and edging quietly away, how can there possibly be a route forward?
Take the myth, crush like bug
To answer the question of why RTS is seemingly betting black in a world of red, it's first necessary to shatter some illusions. RTS has failed on console, right? Actually, no. The top-selling real-time strategy title between 2004-2009 was Halo Wars, a 360 exclusive, followed by Age of Empires III, Warcraft III: Battlechest, Command & Conquer 3: Tiberium Wars and Tom Clancy's EndWar, which released on 360 and PS3 as well as PC. Halo Wars has life-to-date sales of around 700,000 in the US, and an estimated 1-1.2 million globally.
The assumption is obvious: Halo Wars succeeded because of the IP. Creative Assembly online manager Mark O'Connell reckons it's not that simple.
"Of course, the Halo franchise is massively popular and undoubtedly brought a lot of its fan base over to its new genre," he says, but "there is definitely a market for strategy games on console, as long as it's done right."
Michael de Plater, Ubisoft Montpellier creative director and lead on EndWar, adds that the problem isn't that no console audience for RTS exists, but just that the overall RTS fan-base is slight.
"The RTS genre, on any platform, is nowhere near as big as the FPS or action-adventure genres and major publishers are increasingly focused on trying to make blockbuster games," he says.
"So EndWar can simultaneously be one of the top five selling RTS games of the past five years and have disappointing sales compared to other Clancy releases like Rainbow 6."
Given the facts, then, RTS's sales failure is merely relative, and Halo Wars' top billing suggests the genre actually has worked on consoles but has been a victim of the current hit-driven publishing climate. Both Ubisoft and developer Eugen clearly agree, as they're working towards the release of RUSE, a big budget PC and console RTS launching in Ubi's FY '11. Why take the risk with consoles? Simple, they say: aesthetically, at least, console RTS can work.
"Strategy is universal," says Eugen's Mathieu Girard. "You can be a strategist when playing poker and chess, conducting business or managing projects.
"With RUSE, there is a great opportunity to bring the experience of being a general, and it works both on PC and on consoles. Being a strategist can be summarized in a few points: assess a situation, build a plan on the long run, solve present tactical problems, and anticipate what your opponent is doing. No need for 200 keyboard shortcuts to do all that."
RUSE uses a hot-point system to pre-select the nearest friendly unit, and also pre-fetches the nearest enemy unit or destination when the player selects an order target.
"These choices make the need of mouse-pointing and screen-scrolling obsolete for the console," adds Girard.
Brick up the Jolly Roger
The other RTS-is-dead Great Truth is that PC-only strategy games are so battered by piracy they never stand a chance. Piracy is never a black and white issue, and there have certainly been some shocking examples of PC RTS titles taking one for the team in recent years, the "team" being the unending legions of global leechers.
A high profile case was Stardock's Demigod. Released in April last year, the other-worldy RTS was pirated over 5:1 in its opening week, with more than 120,000 trying to play the game online off the back of just 18,000 sales.
As realisation there was little hope of a clean outcome for the project dawned, Stardock boss Brad Wardell issued an outburst on the matter, saying "piracy pisses me off" and calling anyone playing hooky versions to "accept that you're a thief".
Bluntly, though, the absolute notion that piracy is killing PC RTS is false. Stardock itself enjoyed sensational success with the Ironclad's Sins of a Solar Empire, moving over 500,000 units off the back of a $1 million dev budget, with Wardell at the time claiming piracy wasn't the main issue surrounding the success of PC games in general.
"Blaming piracy is easy," he said, "but it hides other underlying causes. When Sins popped up as the #1 best selling game at retail a couple weeks ago, a game that has no copy protect whatsoever, that should tell you that piracy is not the primary issue.
"In the end, the pirates hurt themselves. PC game developers will either slowly migrate to making games that cater to the people who buy PC games or they'll move to platforms where people are more inclined to buy games."
It's doubtful Wardell's words were intentionally prophetic, as the mention of "platforms" there relates to hardware. Creative Assembly has remained at the forefront of desktop RTS work for many years, so much so that Sega bought the company in 2005. CA admits there's a piracy problem with its games but has found an able "platform" solution in dissuading the torrents: Valve's Steam.
"We were really pleased by both the critical and commercial success of Empire: Total War," says CA's O'Connell. "All games suffer from piracy to some degree, but since implementing Steam we have certainly made it more difficult for pirates."
The benefits of using Steam for RTS delivery – or any other PC game distribution, for that matter – don't just stop at piracy, either.
It's "a single delivery system for content and updates," O'Connell adds, "meaning that they are always playing the latest version of the game without having to hunt around the web for content. The platform also offers great online and multiplayer functionality."
The notion that closed garden systems are essential to robust RTS businesses isn't confined to Creative Assembly and Valve. Blizzard is so entrenched in the idea, in fact, that it's refusing to launch StarCraft II, a six-year project, until the "new" Battle.net is ready and will make it impossible to play the game online anywhere else. You won't even be able to play StarCraft II offline without a Battle.net account, and LAN functionality's been stripped out. The Californian super-developer has constantly pushed the player benefits of this approach, but a key driver is, very obviously, piracy. No Battle.net, no next-gen Blizzard RTS.
This is a good thing, assuming you're an RTS fan. There is a next-gen Blizzard RTS, one that's cost a huge amount of money to make and will almost certainly last for many years. For de Plater, the answer of the question of a way forward for RTS is simple: StarCraft II is the immediate future of the genre in itself.
"For the next two years, and maybe longer, [RTS] is going to be defined by Starcraft II," he says.
Issue orders: move out
As StarCraft II gears up for launch and RTS attempts to tackle its future, the genre must deal with its past. What exactly is the problem?
It's simple: RTS is a relatively niche category that can flourish behind the protection of walled gardens on PCs, and must accept that it'll only work well in the "traditional" publishing model in exceptional circumstances, as in the case of Halo Wars.
De Plater agrees on the subject of nontraditional publishing.
"There are so many ways to get games published and distributed now that there seem to be lots of exciting opportunities outside of traditional publishing," he says.
"Fat Princess uses a lot of RTS conventions and is directly distributed on PSN. [A] friend of mine from my Total War days, Bob Smith, just developed a space conquest game called Armada 2526 almost completely independently and released it online, and Brian Reynolds who is a legend, just joined Zynga to work on Facebook strategy games. There are more possibilities than ever."
All of which is great, as once publishers and developers circumnavigate the issues that have been castrating the genre recently, they can move onto the important stuff: the games themselves.
Trends in RTS design are genuinely exciting.
De Plater believes that "convergence with RPG, just like almost every other genre" will mark an ongoing route of success for RTS in general.
Eugen's Girard agrees that genre convergence is part of RTS's future.
"I currently see two trends: a strategy trend, which RUSE expands and explores, and an action trend, limited in the number of units and the depth of their controls," he says.
This convergence was exhibited most ably recently by Relic's Dawn of War II, where the straight base- and army-building of the original was swapped out for RPG-like hero elements and the control of small amounts of units as opposed to hundreds.
And if number-crunching's not your thing, then online battling may well come to be. Creative Assembly certainly thinks so.
"Multiplayer is becoming increasingly popular so I think we will see more titles introducing exciting new online features," says O'Connell.
"Our next title, Napoleon: Total War, features three multiplayer campaigns, in addition to drop-in battles so that online players can drop into your single player game to create a massively varied Total War experience. This is in addition to our trademark land and naval battles for up to eight players."
Then, of course, there's the question of console RTS. There's still a way to go, but Eugen believes it can crack the puzzle with RUSE.
"I think so, yes," says Girard when we ask if RUSE is the title that'll make pad-based strategy truly acceptable, citing "the accessibility of the single player campaign, its fun and experience," as well as the aforementioned hot-point controls.
"We have also lots of skirmishes and challenges to encourage shy players to try the multiplayer component," he adds.
De Plater is still waiting for console's true RTS epiphany, calling it a "KOTOR moment, a real built from the ground up RTS for console that doesn't compromise on all the elements that make the genre great.
"I really think that both Halo Wars and EndWar point to the future in terms of having solved many of the control issues that were a barrier, and if we address the criticisms with regard to the depth of the game systems the sequels to both of them could be fantastic. I think that, for example, Dawn of War II, with EndWar's camera and controls, would be a brilliant game with very few modifications to the game system."
The future's bright; just cut out the cocktails
It seems obvious, then, that there isn't just one way forward for RTS, but many, on many platforms and in many guises. We're going to see convergence and multiplay take on increasing importance in the genre, and "the" groundbreaking console game could be merely a release away.
The promise for a great future is there, but only if those creating and selling games accept that RTS's audience is relatively small compared to other genres, and devise their products accordingly.
Keep betting black, Mr RTS. Just go easy on the stakes and rein in the liquor.