E3 2014: EA press conference - Mass Effect 4, Star Wars Battlefront, Hardline beta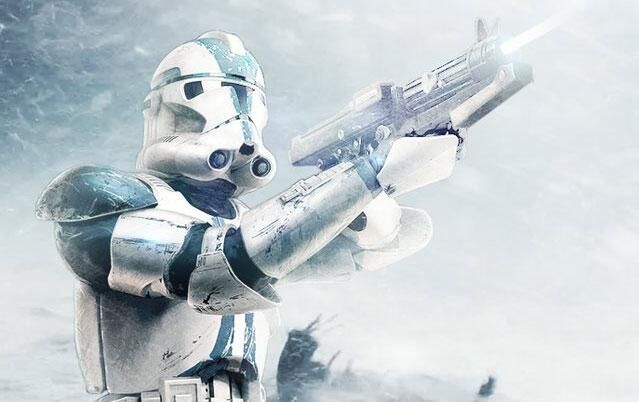 FIFA 15! Mirror's Edge 2! Mass Effect 4! EA's E3 2014 press conference was full of teases regarding your most anticipated titles from the firm. Did you miss the show? No worries. We've got you covered below.
EA kicked off its conference with a pre-filmed video of DICE discussing the "Star Wars game it always wanted to make": Star Wars Battlefront.
According to the video, the team has a passion for the franchise, and went to the original Lucas Arts studio to have a look at the movie props in order to make the game look and feel Star Wars.
Battlefront will be released in 2015.
EA CEO Andrew Wilson took the stage after the Battlefront announcement to discuss how the firm is "putting gamers first." He then introduced Dragon Age: Inquisition and announced two more titles which are are coming from Bioware - one of which is a new IP.
Aaryn Flynn, studio head at Bioware, revealed some new DAI gameplay footage and discussed how to control your party. The first look at the player's team heroes was also provided.
A few Mass Effect 4 pieces of concept art were shown in the works at Bioware Montreal, and the game was confirmed for PS4 and Xbox One - which we knew already.
The new IP in the works at Bioware Edmonton was shown, but it was only a glimpse of environments. The game's title was not revealed, but it looks rather post-apocalyptic; however, since no information or moving imagery was provided, our impression of it is just speculation at this time.
The Sims 4 was also given a release date during the show, and it's out on PC September 2. After the Sims 4 date, previously announced titles EA Sports UFC and NHL 15 were shown, before executive vice president of EA Studios Patrick Söderlund took the stage to discuss Cirterion's new IP - which goes "beyond cars". It has boats, jetskis, planes, motorbikes, plenty of terrain. A title was not announced.
Because you are such massive fans of golf, a new PGA game was shown using the Frostbite engine. It's out in spring 2015 and the tagline is "Golf Without Limits." Chucking a ball over a battleship is apparently something you can do. Because you always wanted to, you know.
Other titles shown were Madden 15; Dawngate, the in-development MOBA from Waystone Games and a short look at FIFA 15. More on FIFA 15 is through here.
One of the most anticipated E3 titles, Mirror's Edge 2, was given some love courtesy of a pre-recorded session from its developer, DICE.
The firm said it was building on the premise of the first Mirror's Edge title, but expanding upon Faith's character in order to convey her reasons "for doing what she is doing."
DICE said it was recreating Faith for a "new generation," and invited parkour artists in to make her moves more fluid, and based in reality. A release date was not provided, however, based on what was shown, we don't expect it to release until sometime next year.
Visceral Games' Battlefield game, Hardline - which pits cops and badguys against one another on the streets - closed out the show, with DICE's Karl-Magnus Troedsson and Visceral's Steve Papoutsis touching upon its premise and the 32-player multiplayer map.
The beta for Hardline launches today on PC and PS4, and in order to get in on the action, Battlefield 4 owners just need to access their game, and click the Hardline beta. It's first-come, first-serve, so you need to be quick.
Battlefield Hardline is out in October.
For a full run-down of the rest of the conferences and ongoing reveals and demos in LA this week, use Steph's exhaustive E3 coverage guide, including an insane schedule from Twitch.