Why I don't trust Cyberpunk with my junk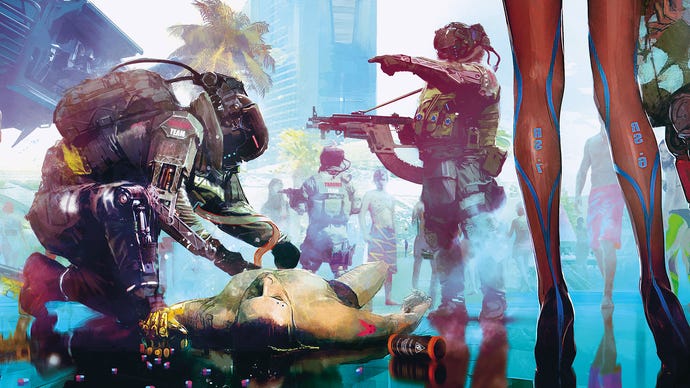 Cyberpunk 2077 looks set to release with the most intriguing character creator in gaming, but I'm just not sure I trust it. The creator isn't interesting because of depth (a million and three different shades of irises won't get me excited), but because it offers something genuinely new.
'Players can select a gender and customise their character; customisation can include depictions of breasts, buttocks, and genitalia, as well as various sizes and combinations of genitals', the ESRB description reads. That means you'll be able to recreate the infamous Mix It Up poster, which depicted a feminine character with an explicitly large bulge at their crotch. While I don't look exactly like the person pictured - I'm nowhere near as cool - I fit the basic description in that I wear a bra and I have a cock.
Yes, that means I'm transgender, and I also don't think Cyberpunk 2077 will be perfect, so angry comment section, you know what to do.
Kidding aside, I think a character creator which not only lets people like me be explicitly transgender, but also gives every gamer complete and utter control over every inch of their character is a great thing. Hopefully there'll be a way for players with disabilities to build characters in their own image too.
As exciting as this character creator has the potential to be, there's already a lot to suggest that Cyberpunk 2077 will be all style and no substance. Depending on your definition, it'll probably still be a great game; developers CDPR have pedigree from The Witcher 3, they've simultaneously taken their time and crunched hard, the combat we've seen so far seems to be inventive and fluid, and 2077 is built on the rock solid foundation of Mike Pondsmith's 2020 tabletop game.
I have no doubts that actually playing the game will prove very enjoyable, especially if you're not one of the minorities Cyberpunk 2077's aesthetic has repurposed into its own edgy image. The game's marketing has already crafted a persona with a futuristic Fred Durst attitude, famously quipping 'we don't f*ck around' - asterisk and all - when the full ESRB rating was revealed, which makes it difficult to take anything around the game seriously.
Engaging with it is different from just playing it, however. That means appreciating the flaws and failings of the game, examining it critically as a piece of art and a story as well as simply how fun it is to shoot people with your robot gun.
The game has already been accused of borrowing Asian aesthetics while erasing actual Asians from the world, and their attitude towards queer people feels remarkably similar.
I've gone up and down on the Mix It Up poster; it might well be a clever satirisation of the way queer identities have frequently been commodified by advertisers, or it might just be 'Ha! Girldick!'. The character creator too, while it will no doubt be abused by some trolls and used as an opportunity to mock, is giving me and everyone like me an opportunity that no other major game has ever offered before. Much like using Asian street design without understanding or centring Asian culture though, letting you build your dream body of tits, cake and cock while relegating queer people to bulges on posters is hardly delivering on the progress Cyberpunk 2077 has the potential to provide.
Will we meet any other people with these 'combinations of genitals' the ESRB tell of? If we do, will they be leatherbound BDSM mistresses who are drop dead gorgeous and only speak in innuendo? Given the setting, most people in the game will probably be gritty caricatures, but I suspect my fellow Mix-It-Ups will be cranked up to eleven.
If they do in fact manage to seamlessly lace not only the idea of trans people into the world, but the much larger concept of transhumanism, interchangable genitalia and the destruction of gender roles, it'll be a masterstroke. Again though, I just don't trust them.
The most telling example of this is The Mox, a gang who describe themselves as "those who protect the working girls and guys" from violent clients. This ambition ignores the fact that many sex workers report the police are a bigger danger to them than any of their clients, and the stressing of "girls and guys" suggests gender roles are alive and well in Cyberpunk 2077. Having gender roles in and of itself isn't the issue, but it's difficult to see how that squares itself in a world where you can seemingly mix and match your genitalia on a whim.
Cyberpunk has a massive potential to be a huge game changer. It just seems to have stretched itself too thin in trying to tackle so many sensitive issues, and because of that, it looks destined to fall short. There are other developers and studios who could address some of these questions in much more interesting and unique ways, but they'll never get the budget or the platform Cyberpunk 2077 has been granted.
I get that the game is not out yet. It may well surprise me. You can tell me not to judge the game until it's out, but you have to understand that everyone preemptively declaring it 2020's GOTY need to also hold their fire. Some people have seen enough to declare that Cyberpunk 2077 will end this era with a bang and sign off as the best game of the generation, sweeping all challengers aside with ease. I've seen enough to suspect it will toy with grand ideas but fail to actually explore them. Pretty soon, we'll see who's right. I'd like to be wrong! But I think I'm right: I'd bet my junk on it.