Bloodborne is over 40 hours long, says Edge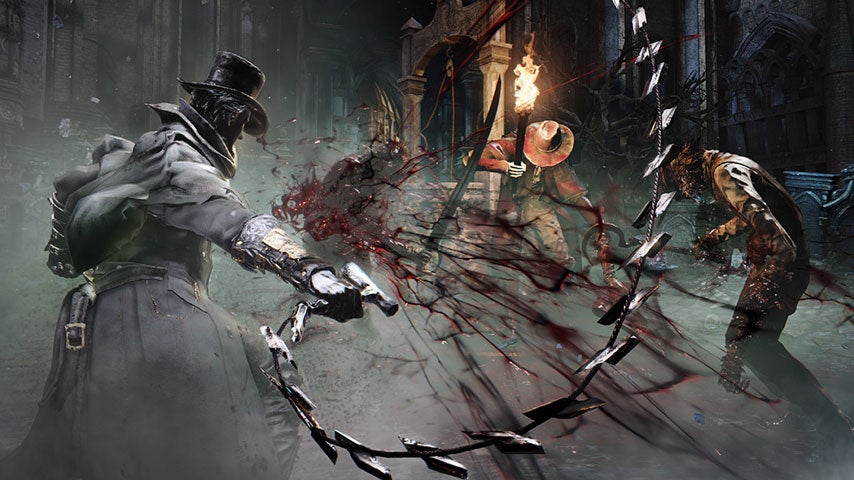 Bloodborne is going to be pretty meaty, according to one of the earliest review-length reports on the new From Software dungeon crawler.
The upcoming issue of Edge has a cover feature on Bloodborne, boasting of forty hours play time and a one-on-one chat with director Hidetaka Miyazaki.
NeoGAF has already got its paws on this toothsome repast, apparently, with member tcrunch offering a bullet point summary with a few interesting bits of information.
For starters, 40 hours wasn't long enough for Edge staff to complete a playthrough, which is heartening. Expert players will probably get it done in that time or less, of course, but Edge found enough to keep it busy for this extended period without venturing into multiplayer or randomised Chalice dungeons.
The magazine describes Bloodborne as a "brutal riposte" to players who think they've "seen it all before". The first shield in the game bears the description "shields are nice, but not if they engender passivity", which lines up with what we've heard of Miyazaki's approach. Enemies can use spells, too, which sounds deadly.
There seems to be less emphasis on equipment, as Edge found about a dozen weapons, melee and ranged, in its playtime. Enemies do not drop equipment, but will award upgrade materials. You can customise weapons using Bloodgems.
In general, it sounds like map layout is closer to Demon's Souls than Dark Souls, with fewer respawn points but more shortcuts around hubs. Light is important when exploring, apparently, but a merchant will sell you a clip-on lantern to supplement your torch reserves.
Finally, Edge said there was a new mechanic it couldn't talk about yet. Hmm! Intriguing! Go hit up the NeoGAF link for more, and do try and get hold of the full magazine feature if you can; from the few quotes that have been shared it sounds like a doozy.
Bloodborne is a PS4 exclusive due on March 24 in North America, March 25 in Europe and March 27 in the UK.