Blizzard's Chris Metzen discusses writing for StarCraft II, clobbering people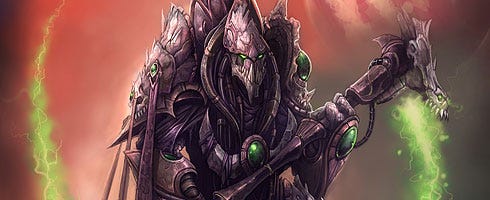 Blizzard lore-master, Chris Metzen, has told VG247 that while less is more when it comes to creating a story for games, the instinct to clobber people with amazing stories is rather strong, which was one of the lessons Blizzard learned with Warcraft III.
Because of that, changes were implemented in StarCraft II - giving the way it all plays out a more retro feel instead of drowning the player with story.
"Story [in games] can get a bit complicated. You don't wanna clobber people, but you want the right amount and to include some immersion where it feels like there is something going on when you are playing," Metzeno told VG247. "But at the same time, you don't wanna drown people, which is one of the lessons we learned with Warcraft III.
"While I am very proud of the game, take five steps back and you see that it was cool, but a little dense. You are playing through these missions linearly and there's all sorts of story playing out. It was almost too much, to the point where the really cool moments didn't stand out because there was just so much to take in because I threw everything I could throw at it at the end of the day.
"This time around, I think, that's why we went with story mode the way we did with StarCraft II. We wanted to see if there was way to kind of go retro with the core gameplay and just make it about the cleverness of the map and not necessarily with giant betrayals or drama playing out in your actual gameplay. To really find a way to take all those thematic and character components and construct a space where they can play out and you can choose to charge that or not."
There's more past the break, and the full thing can be listened to via our latest podcast.

"That's why all the kind of retro adventure game era objects are in those sets - kind of like ambiance story telling, where you could at newspaper clipping and see this dude, and it not be right in the middle of the map.
"So that's how a lot of it took shape. It was kind of based on the instinct if not wanting to clobber people with story - but it's a fine line. At some level, I am desperate to clobber people with story at some degree, because as writers, there is so much we wanna say and do with these characters and people -because writing for games is such a different science.
"It's not like writing for films where you have absolute control. Like, at the end of the day, it's a game and its got to play. It's just a very different science. The truth is, less is probably more in games, but it's also fighting that purely artistic instinct where you just want to clobber people with something bold."