Hardline's war on crime is the boost Battlefield needs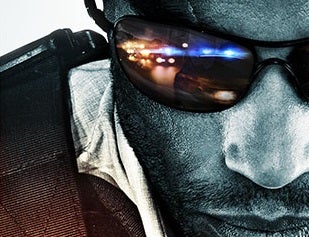 Battlefield Hardline has been confirmed for a Fall 2014 launch, and as rumoured it focuses on urban police combat. Dave Cook whacks down a brain dump on why this switch in tone can only be a good thing for the series.
So Battlefield: Hardline's trailer leaked today and we've learned lots about the project. Shit just got real. Tell 'em Martin:
As rumoured, Hardline is a police-themed shooter that focuses on the urban battlefield, rather than those rusted military warehouses and fields you're probably all getting a little tired of by now. I really don't think I could have stomached another modern army shooter where America fights against [INSERT ROGUE NATION HERE], with tons of of faux emotion and all of that familiar stuff.
Unless it's Battlefield: Bad Company 3 of course, what with all the humour and such. Seriously DICE, when is that game coming?
Anyway, here's why Battlefield Hardline's shift in tone is a good thing.
Because this image is actually quite interesting
Although it's just a teaser image, I have to say the Payday 2 fan in me is liking the heist depicted in the top right of the artwork. Think back to the film Heat, the opening scenes of The Dark Knight and Ben Affleck's The Town and you'll likely recall that big bank job capers and their surrounding drama are actually pretty good fun to watch.
They're all about trust, betrayal, mad schemes, and occasionally, some pretty neat gadgets. Heists have all the right ingredients for a compelling videogame set-piece and narrative, so if Visceral Games has used its collective noggin to good effect, it'll have included one hell of a bank job in Hardline. I know I'd like to play something like that, wouldn't you?
Because change is good
I know what a lot of people thought when they saw the Call of Duty: Advanced Warfare reveal trailer. Many gamers told me that Activision's clip was dull, more of the same and just another predictable jaunt into a bullet and set-piece riddled fiasco. The point is that Sledgehammer Games is trying to spice things up with new ideas, and that's what Visceral is doing in Battlefield Hardline.
Be honest; would you have really enjoyed another America VS China/Russia/Korea smackdown with the same old weapons and weak villains set against familiar back-drops? Battlefield Hardline's police setting could deliver new forms of combat in an urban setting, and is also a chance to explore new stories and problems like mob rule, crime sprees and gang violence. I say bring it on.
Because Payday 2 exists
Have you played Payday 2 yet? If not, why not? Developer Overkill Software has taken co-op and teamwork to a whole new level in that game. Players really need to talk and plan together to break into jewellery stores and art galleries without being seen, loot the joint then get out with SWAT teams shooting at them from all angles. It's a lesson in sublime, chaotic pacing and solid multiplayer. Seriously, play it.
Teamwork, cooperation, multiplayer? That certainly sounds like the hallmarks of Battlefield multiplayer doesn't it? Now flip the tables and have a PvP heist mode that sees one team playing as robbers while the cops try to stop them and you have the makings of a stellar online experience. At first glance the art makes me feel like DICE is trying to one-up Payday and if true that's a shame, but still, this could be epic.
Because, well... because Heat
That's a damn fine movie. If you haven't seen it before, then give it a try. The old cops and robbers premise has made for many compelling movie scripts over the years, and it's a theme that goes hand-in-hand with engrossing game tropes like action, tensions, suspense and of course, gunplay. We're guessing Battlefield Hardline won't end with a shoot-out in a noisy airport landing strip though.
Think about the big car pile up in Bad Boys 2, the tension of the daily beat in End of Watch and the corruption running through the heart of Training Day. I haven't really seen that specific brand of fiction translated into gameplay in games yet but I'm always up for new things, as I hope you are too. This could be anything from a highway chase and shoot-out against fleeing gangsters, a breach on a mob stronghold or any number of things. The source material is rich and largely untapped.
Because Visceral Games is behind it
Yeah, yeah Dead Space 3 was more of a shooter than a horror game, I know. But hey, if Visceral's output kept on leaning towards guns and action over suspense then I say let them have at it. Why not see what happens when the team is let off the survival leash and given the might of the Battlefield IP to play with? It might work, it might not, but I'm all for new games.
Plus, the studio's off-shoot team made Army of Two: The Devil's Cartel, a game that was big, brash and as daft as a dented hat. Take that Michael Bay brand of explosion-porn and chuck it into the cop paradigm to make something new and loud for us to throw money at. I'm not a fan of having slow-mo and gunfire shoved into my face like a set of shiny, jangling keys, but millions are. Give them what they want and so-forth.
Battlefield Hardline will be unveiled officially on June 9 at E3 2014. We'll be there, so stay tuned for more soon.