Animal Crossing: New Horizons Money Tree - How to grow Bell Trees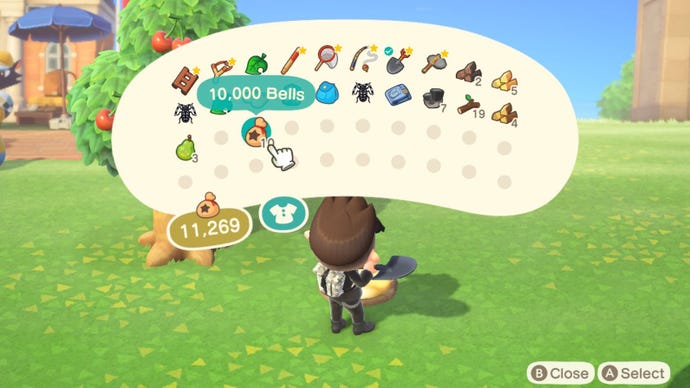 Forget fruit, the savviest islanders grow cold, hard cash. Here's how to grow a money tree and bolster your bells in Animal Crossing: New Horizons.
Unlike typical topiary, you can only plant money trees in specific spots on your island - but luckily they're quite common. Once you've planted a money tree, you can move it to better fit your aesthetic.
If it's still a nursery tree, you can dig it up with a shovel. Or if it's already fully grown, you'll first need to eat fruit to give you fruit power - then dig it up.
Animal Crossing: New Horizons - How to grow a money tree
Money Trees have been around in Animal Crossing for a while, but planting them in New Horizons is simple.
All you have to do to grow a money tree is plant a bag of bells in a glowing hole.
Burying bags of bells in the ground normally wouldn't work, and would just create a crack in the ground like a fossil. However, if you dump some cash in a glowing spot after you've dug up the bells that were already there, it will sprout.
Like with Daisy Mae's turnips, the amount of money you eventually make can change based on your initial investment.
How to get more bells from a money tree
It's easy to just rebury the 1000 bells or so which you dig up from a glowing hole in the first place, but then the mature tree will then only yield three bags of 1000 bells. It's a tidy investment, but you can do better.
If you bury 10,000 or more bells, then the money tree will always return three bags of 10,000 bells. However, there's also a chance that it will dispense bags of bells worth the amount of bells over 10,000 that you buried.
For example, if you buried 30,000 bells then there's a chance your money tree bags could contain 30,000 bells!
For more money-making tips in Animal Crossing: New Horizons, check out our full guide.
If you fancy taking a more active role in striking it rich, here are our pages on all the fish prices, as well as the bug prices in Animal Crossing: New Horizons.