A Fight for the Ages: The History of EVO
As EVO 2014 rages in the Westgate Las Vegas Resort & Casino, we look back at the history of this storied fighting game championship - and check out some of its greatest ever moments.

This article first appeared on USgamer, a partner publication of VG247. Some content, such as this article, has been migrated to VG247 for posterity after USgamer's closure - but it has not been edited or further vetted by the VG247 team.
Since its inception in 1996, the EVO World Finals has become one of the craziest and most significant fighting game tournaments in the World. But what are the origins of this incredible competitive championship? We look back at its very beginnings – and highlight some of the greatest moments from its history.
This weekend, the fighting game community descends on the Westgate Las Vegas Resort & Casino en masse for the EVO 2014 World Finals. Many gamers spend months preparing for this tournament, an event which gives aspiring champions from around the globe a rare opportunity to make a name for themselves tangling with the fighting game community's best-known superstars. In fact, thousands of combatants - from amateurs to professionals - are currently preparing to descend upon the desert paradise with a single goal in mind: fighting game domination. While these competitors may come from different countries, live in different cultures, and speak different languages, they share one common passion: competitive fighting games.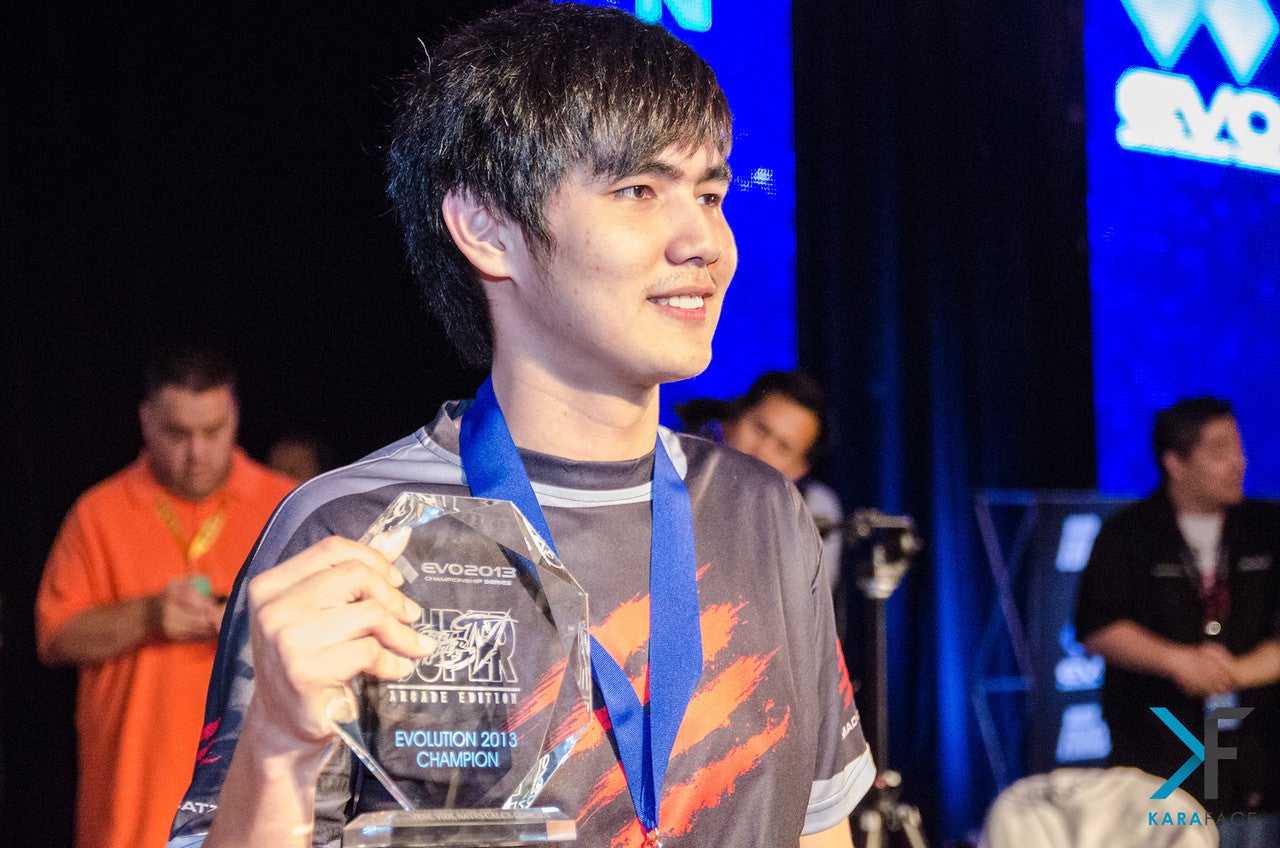 The EVO World Finals has become one of the largest streamed events in modern competitive gaming, with last year's tournament at Paris Hotel and Casino drawing more than 6,000 competitors spread across competitions in nine different games, and thousands upon thousands spectators online. Some of the most significant matches of the event last year sent traffic numbers into the stratosphere, with Ultimate Marvel vs. Capcom 3 drawing 144,848 concurrent viewers on Twitch and Super Smash Bros. Melee following close behind with 134,000. Unlike the notoriously selective, qualification-focused Super Battle Opera event in Japan, EVO is an open tournament - meaning anyone can enter (and potentially win).
EVO is more than just a simple tournament, however. Its growing influence has not gone unnoticed by major game companies, which have subtly transformed the event over the years into a way to show off upcoming fighting game products to the public. During the tournament each year, EVO's competitive arenas are peppered with exhibitors large and small, including the very companies that craft and/or publish fighting games as well as those responsible for creating peripherals and related memorabilia. The event even provides rare opportunities for the most dedicated of fans to interact with the people responsible for creating their favorite competitive fighting games directly through special panels held by exhibitors such as Capcom and Namco Bandai Games.
Occasionally, game companies will even use the EVO stage to make special announcements related to the future of fighting games, and this year is set to be no exception. Last year, Street Fighter producer Yoshinori Ono revealed Ultra Street Fighter IV at EVO, a game that's he headliner for this year's event. Can we expect further fighting game announcements at this event? Possible reveals could include more characters for Killer Instinct: Season 2 and Mortal Kombat X, or an entirely new title.
With so much to see and do at the modern EVO World Finals, the event has completed its metamorphosis into a multinational Mecca for hardcore fighting game fans…but it wasn't always this way.
The event now known as the EVO World Finals originated in 1996 as a humble West Coast Street Fighter community arcade tournament known as "Battle by the Bay", first organized by Shoryuken.com founder Tom Cannon. Although I never had a chance to attend the tournament in those early days, I did manage to track down someone who experienced the formative years of EVO first-hand: Antonio "CoolGrayAJ" Javier, a former EVO competitor in Capcom vs SNK 2 and current fighting game writer with a lot of insight into the origins of the event now known as the EVO World Finals.
This is where it all began: Battle of the Bay in 1996, held at the legendary Golfland arcade in Sunnyvale. Apologies for the very poor quality video - but this is the best that history currently has to offer. Damn those crappy old 90's cameras.
According to Antonio, the original Battle by the Bay tournaments had far fewer entrants than the EVO of today, with participants numbering in the hundreds rather than thousands. In 2002, the name of the event was changed from Battle by the Bay to EVOLUTION - marking the first of several significant changes that would be brought to the event over the next several years. In 2004, the tournament's organizers announced that arcade systems would be dropped from the tournament in favor of home consoles. According to Antonio, while this change generated a lot of controversy among arcade purists when it was first announced, most tournament players were spending a large amount of time practicing on home consoles, which by this time were technologically capable of producing near-perfect ports of current arcade titles. In addition, many of the arcade systems used during the early tournaments were notoriously unreliable and had to be constantly repaired, creating frequent logistical headaches and slowing down the progress of the tournament. Because of these challenges the arcade systems presented, the change to consoles was a no-brainer for event staff. EVO's game roster was also much smaller in those first few tournaments, sporting only three titles: Marvel vs Capcom 2, Capcom vs SNK 2, and Street Fighter III: Third Strike.
From EVO 2006 is this legendary Duc Do vs Sanford Kelly grudge match.
While the drama between members of the fighting game community is more public now than in the early days, controversies still existed. Generally, though, those controversies were focused around player rivalries, such as Justin Wong's 2-year undefeated run in Marvel vs Capcom 2 (which was ended by Sanford Kelly outside of the EVO tournament circuit), Duc Do vs. Sanford Kelly (shown in the video above), and clockw0rk vs ShadyK.
EVO Moment 37 2004: The Beast is Unleashed! Daigo vs Justin Wong - you're not going to see better critical timing than this.
However, the most famous "rivalry" of the time - or, at least, the most famous match moment of EVO history to this day - centers around a certain Street Fighter III battle between Japanese fighting game legend Daigo "The Beast" Umehara and then-East Coast champion Justin Wong during EVO 2004. Despite Justin having Daigo's Ken on the ropes and initiating a well-timed super in an attempt to chip out a victory, Daigo read his intent, successfully parrying all 14 hits of the super and finishing him off with a combo ending in his own super for the win.
Never Give Up. And the commentator goes wild!
Another one of Justin's most famous matches turned out a little more in his favor than his clash with "The Beast". During a Marvel vs. Capcom 2 match against Michael "Yipes" Mendoza at EVO 2007, Justin successfully managed to take down Yipes' team of Storm, Psylocke, and Magneto with a single character (Cyclops) after losing the rest of his team early in the match.
When asked about his own favorite moment when attending early EVO events, Antonio described a heated MvC2 match between Duc Do and Jay "Viscant" Snyder at the last Battle By the Bay tournament in 2001, during which both competitors got so into the fight that they tore their shirts off mid-match, invoking a massive reaction from the crowd.
The most fascinating thing about EVO is that it managed to grow, change, and stay relevant with the times even as fighting games themselves nearly died out. With the death of arcades and the fizzling of the fighting-game-centric Dreamcast against the gargantuan PS2, the flow of new, complex fighting game releases focused on the competitive scene slowed to a trickle. Nearly nine years would pass between Street Fighter III: Third Strike and Street Fighter IV, and eleven years would go by before Marvel vs. Capcom 2 would receive a modern sequel in the form of Marvel vs. Capcom 3: Fate of Two Worlds. During those years without new fighting game releases, EVO kept on going…and kept on growing. The tournament was moved to Las Vegas for the first time in 2005, and 2006 marked the first and last time a non-fighting game was chosen for a tournament slot at EVO (in the form of Mario Kart DS).
During this "dark age" of fighting game development, though, the potential to grow an audience for competitive gaming became more potent than ever, and it's all thanks to the power of the Internet. Streaming over the Internet became commonplace and accessible. Broadband allowed the adoption of online play into the console space, allowing players hungry for practice to challenge opponents from all over the world. YouTube became a viable resource for strategies and match-up study, allowing players to level up their game without even picking up a controller. The concept of eSports materialized and gained significant momentum, making pseudo-celebrities out of well-known FPS gamers and true celebrities out of Korean StarCraft superstars.
It was a perfect storm, ripe for fighting games to make a killer comeback. And come back they certainly did.
In 2008, Capcom revitalized the long-dormant Street Fighter series by releasing the long-awaited Street Fighter IV to Japanese arcades, and followed it up in 2009 with the Western release of a greatly expanded home console version for the PlayStation 3 and Xbox 360 with a large marketing budget in tow. Suddenly those who had only a passing interest in fighters or those who hadn't played a fighting game since the original Street Fighter 2 on SNES were interested in playing fighting games again. Potential sponsors began to take notice in the potential of fighting games in eSports. EVO 2009 marked the introduction of Street Fighter IV to the roster, and with it came a massive spike in tournament registrations. Over 1,000 competitors battled it out that year; a record for EVO which would continue to be broken in years to come. Fighting games were back in a big way.
Never Give Up 2.0. Justin Wong vs Richard Nguyen in one of the all-time great EVO moments.
It's interesting to note that despite the massive injection of new blood Street Fighter IV introduced to the fighting game scene, many of the players from the early days of EVO are still around and still just as formidable as ever. Need proof? Take a look at this EVO 2011 match video pitting the one and only Justin Wong (now of Team Evil Geniuses) against Richard Nguyen in Marvel vs. Capcom 3. While Akuma now takes the place of Cyclops from the earlier video against Yipes, it's certainly clear that Justin has a tendency to come back from insanely difficult odds on an alarmingly regular basis - so much so that the community has coined a term for these comebacks: the "Wong Factor".
This year's EVO will host tournaments for eight different fighting titles: Ultra Street Fighter IV, Ultimate Marvel vs. Capcom 3, Killer Instinct, Injustice: Gods Among Us, King of Fighters XIII, Super Smash Bros. Melee, Tekken Tag Tournament 2, and BlazBlue: ChronoPhantasma, with unofficial tournaments being hosted for many others. This year's tournament has 5,696 entrants according to EventHubs, which is down from last year, but still very impressive. Many of last year's champions are back for 2014, including RZR|Xian (Super Street Fighter IV: Arcade Edition 2012), RG|Flocker (Ultimate Marvel vs. Capcom 3), and C9|Mango (Super Smash Bros. Melee).
Seed points, which had been awarded at various tournaments leading up to EVO for several years running in order to keep top players from battling each other too early in the competition, were dropped last year. Why? There were concerns that the system favored those who had the means and time to fly around to different tournaments in order to gather farm a large number of points. Instead, players are either seeded or unseeded, with number of points being irrelevant. This year's seeds are influenced by feedback from the community. On Reddit, EVO co-founder Tony Cannon said that the seeds "are greatly influnced by your feedback. If you don't like them, tell us."
Even if you don't plan to compete, EVO is an event worth attending in person. According to Antonio, it's been that way since the beginning. "Ever since the first Battle by the Bay, veteran players continue to advocate attending events in-person. The live experience is really second to none. Would you be satisfied just listening or watching a concert through a recording? I didn't think so."
From arcades to consoles, from local competition to online play, technology may change but the hunger for competition remains the same. Even during its early years, EVO provided a way for those serious about improving their skills in fighting games to match wits with some of the best players in the world. That hasn't changed, and no event does it better today. In the words of the announcer of Street Fighter IV, "This is going to be one hell of a show!"
You can find the main matches of the EVO 2014 Finals on Twitch.Tv this year.