PS5 Screenshots | How to find captured gameplay and screens on PS5
Capturing gameplay and screenshots with PS5's DualSense controller is even easier and snappier than on PS4, even though it follows virtually the same steps.
How to find captured gameplay and screenshots on PS5
Instead of the DualShock 4's Share button, the DualSense has a new Create button on the left hand side of the of the touchpad, symbolised by three lines appearing above the button like a flash, unlike the Options on the right that's just three horizontal lines, identical to the Menu button on the Xbox controller.
Whatever you're doing, pressing the Create button brings up options at the bottom of the screen, much like the Control Centre when you press the PlayStation button. This is a quick way to access your most recent captures, which appears in a tile on the left hand side.
Just press X on the tile and it will open up a window letting you look through your last 15 screenshots and video captures, which you can cycle through by pressing L1 and R1, and instantly share, edit, save as a favourite or delete.
Of course, that's just the most recent captures. But if you want to access all captured gameplay and screenshots, then you can do that here too. Just select the option below 'Go To Media Gallery'.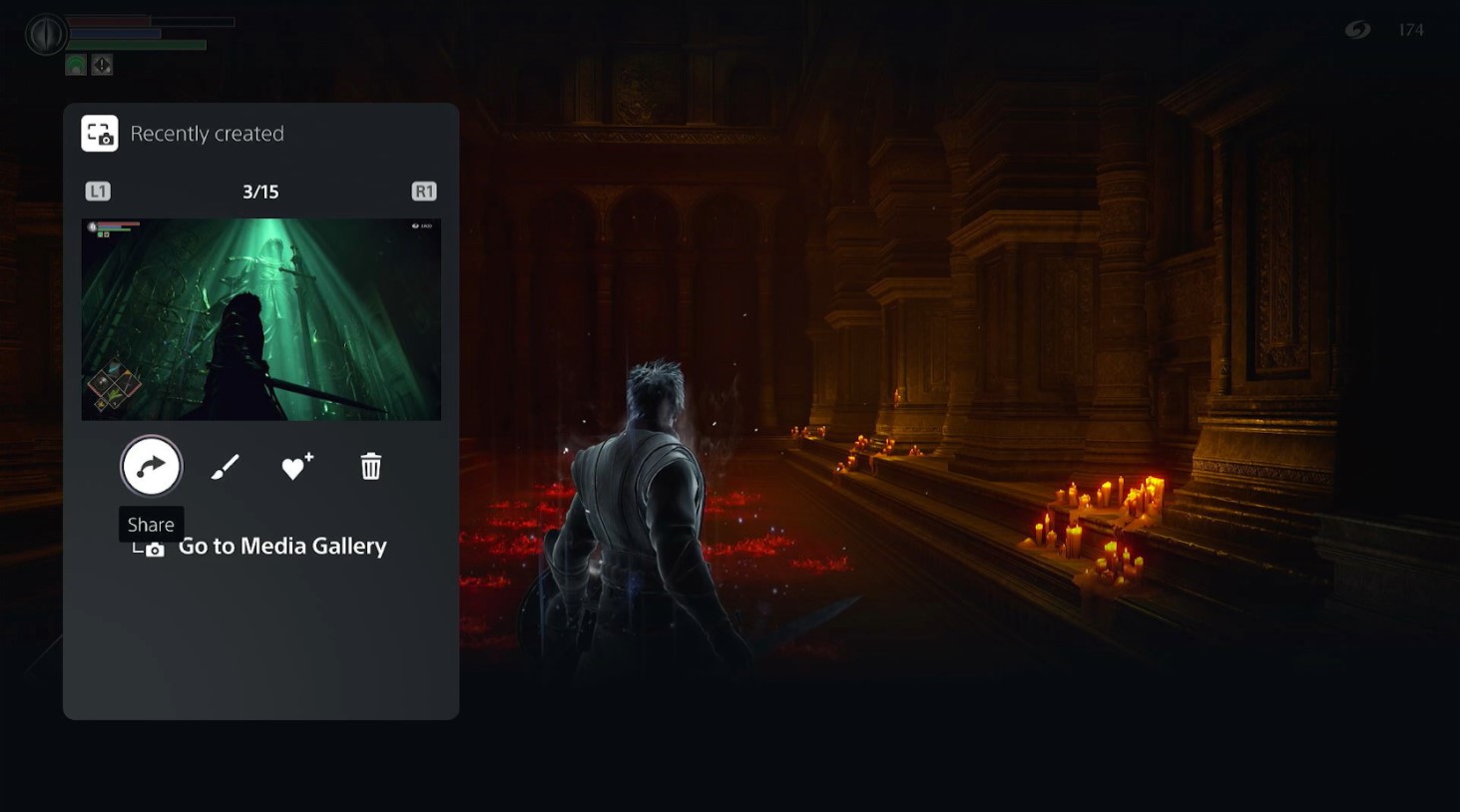 This brings up the Media Gallery where you can find all your captures, including Trophies, which by default also captures a video of the moment you obtain a Trophy.
These are grouped into the following tabs: All, Favourites, Trophies and Albums. If you want to just look for captures for a specific game, then Albums is the tab you're looking for.
Also to the left are two more icons. The top one lets you sort and filter your captures, while the bottom let you select multiple images to delete, copy to a USB drive, or share (remember that Twitter only lets you share a maximum of 4 images per tweet).
You can also select a video capture or screenshot to see in full screen, where you'll then have the following options:
Share to Social Media
Add to Favourites
Edit (either cropping for screenshots or trimming for video)
Delete
More – this has two additional options: Copy to USB Drive, and Information, where you can find out check the file's creation date, size, dimensions, and where you can even rename the file.
Alternatively, the above can be accessed via a quick drop-down menu with the same options just by pressing the 'Options' button when selecting a capture.
That's the quickest and most intuitive way to find your captured gameplay and screenshots on your PS5. There is however another way to access the Media Gallery. This requires you to be in the Home Screen, which you can access by holding the PlayStation button. From there, go to Settings, the cog icon on the top right of the screen.
In Settings, go down to Storage and it will take you to your Console Storage where you can see how much of your SSD has been taken up by games, apps, save data, as well as where you can select the Media Gallery.
This method is pretty similar to how you would access captures on your PS4, and by habit, that may be how some users will prefer to do it. But we must admit that the Create Button makes finding your screenshots and captures so much easier without leaving or suspending your game.
For more on how to make the most out of your PS5, here's a run-down of all the launch and backwards compatible games you can play.
Or if you're starting new, here's everything included in the PS+ collection on PS5.