Predator: Hunting Grounds free trial weekend start times

Predator: Hunting Grounds is a 4v1 multiplayer game where four soldiers go toe-to-toe with The Predator – it's free to play this weekend for PS4 and PC players and you can find the start times for the trial across all major regions below.
As a member of the four-man fireteam you have a mission to complete on a jungle map shared with The Predator. You can complete the mission to win, complete side missions for bonuses, and ultimately hunt down and kill the predator if you choose to. But completing the main mission without killing the predator is still a win, so be prepared to count your losses and get to the chopper if you just need to stay alive. If you're playing as The Predator, then, well, go hunt some player heads and rip out their skulls.
Both The Predator and The Fireteam will also have to fight bands of guerrilla soldiers as well operatives from Project Stargazer, a rogue government black ops team looking to exploit predator tech.
Predator: Hunting Grounds free trial start times
Predator: Hunting Grounds will be available to download March 27 via PSN and on PC at the following times. If you notice PlayStation download speeds are a little slower than normal, that's because Sony is purposefully throttling them to help internet access across Europe.
Japan at 3pm JST
Europe at 4pm GMT
America West Coast at 5pm PST
America East Coast at 8pm EST
Playing as The Predator: classes, weapons, unlocks
If you choose to play as The Predator your ultimate goal is to collect trophies – the skulls of your enemies. You're better equipped than the fireteam when they come at you one on one, or as a small group, but when all four are working in unison you'll need to think tactially about how to divide them and pick them off.
There at three predator classes depending on how you want to play; Hunter, Beserker and Scout. Each obviously has different skills – the Scout is best for moving and navigating across treetops and getting the drop on the fireteam, and comes with extra stamina. The Beserker can take all the damage and carries lethal weapons, while the Hunter is best all-rounder.
You can also choose between female and male predators, and customise your armour. There are a number of weapons and perks to unlock as you play, but each predator starts with the classic arsenal; the wrist blades for close up combat, the plasma cannon for unsubtle ranged attacks, the iconic predator heat vision and the shimmering cloaking mode for when you need to get close undetected.
Unlocks include the Smart Disc, bow and CombiStick.
As a final screw you and if all else fails, the predator is also equipped with a self-destruct nuke to take everyone out.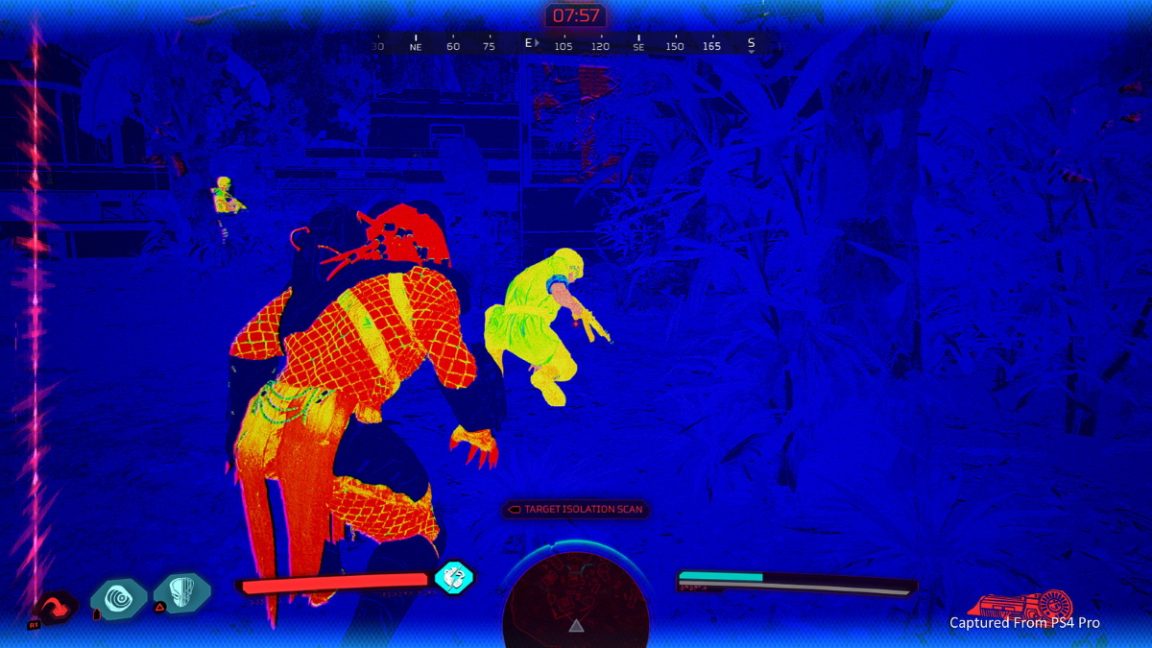 Choosing a Fireteam class
You'll be playing on one multiplayer map, Undergrowth, where you'll find ancient ruins, a winding river, military encampments and temporary cabins. You'll start with a single mission chosen at random, which also has a bunch of optional objectives. For example, one mission requires the fireteam to cut off fuel supplies for the local guerrilla soldiers and then take out the local black market boss. Side objectives include sabotaging expensive equipment, cleaning up contaminated water, destroying weapons caches and burning supplies of narcotics.
There are four fireteam classes to choose from in Predator: Hunting Grounds, but only three are available in the free trial. The Assault class is the all-rounder, ideally suited as the point-man for the mission. The Scout class is more agile, moving quicker through the dense jungle. The Support class is the fireteam's tank, with extra health and ammo to wade in to battle and confront danger.
Predator: Hunting Grounds Xbox
Sorry, Predator: Hunting Grounds is only available on PlayStation 4 and PC. There's no sign of an Xbox One version of the game.
Predator: Hunting Grounds has a release date of April 24 on PS4 and PC.