The Witcher 3: Isle of Mists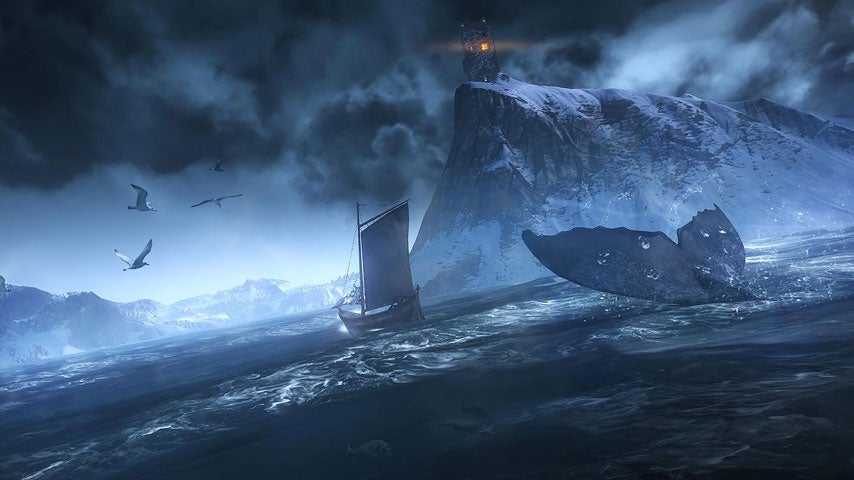 The Isle of Mists marks a major turning point in The Witcher 3: Wild Hunt. There's no going back now.
The Witcher 3: Isle of Mists
Isle of Mists is the beginning of the end game. Once you start it, you'll be locked into a series of missions pushing forward to an ending to this adventure. You won't be able to fast travel to visit shops and tradesmen, or to pick up and complete sidequests. As such, it's really important that you prepare for this.
Ideally, you want to have done everything on your "must see" list. Don't worry too much about treasure hunts, scavenger hunts, witcher contracts, races and fistfights, but do clear out the secondary quest section of your mission log - many of these quests trigger or are affected by the passage of time in the main quest, and are best completed before you leave. You don't have to grind up to level 30 or whatever, but do everything available at, below or achievable from your current level - which should be above 18 by now if you've been doing a respectable amount of side questing as you go.
At the absolute minimum, it is highly recommended that you complete the following before you start Isle of Mists:
Brothers in Arms: Nilfgaard - just visit the emperor in Vizima, no walkthrough needed
Recruit Letho, if alive
Achieve level 22 - preferably higher
Put together some respectable gear
Make a back up save
Done all that? Okay, good. Let's go.
You need to board a boat in Skellige to proceed, and if you check the world map, you'll see loads of different options. If you've been to Undvik, you can speed things up considerably by fast travelling there and jumping in the boat on the beach where you met Hjalmar. Otherwise, pick the western-most port you can find.
The waypoint on your map shows where you need to sail – not an overland trek – so don't be tempted to land and hoof it. Keep your boat in as healthy a shape as possible for this trip, because there's some tricky stuff ahead.
When you approach the waypoint the game will prompt you to make a manual back up save (do it) and then remind you to finish any side quests you haven't done yet (very good advice) and reach level 22 before proceeding. Hit X/A to continue or Circle/B to cancel out.
If you accept, you'll go ahead into a cutscene after which you'll be transported – somewhere. Don't bother checking the world map; there's no help for you there. Follow the firefly carefully, dodging the rocks. You may be attacked by Ekhidna; try to outpace them if you can, and if not, keep going and hope they don't do too much damage; the goal is not very far.
Pull up at the docks and get out. Search along the beach before proceeding for some good loot drops. There are three chests with crafting/alchemy pages to grab.
Apply Necrophage Oil before proceeding. Follow the firefly along the path (there's little to be found elsewhere) taking down any Tangalores that attack – these are a kind of Foglet.
Eventually you'll come to a hut; interact with the door. The dwarves inside won't help you until you find their lost shipmates. Gather as much info from them as you can to make your job easier.
Let's start with Ivo. Head North and take the winding path down the cliffside, battling a handful of Harpies as you go – as usual, Aard is your best friend.
When you finally get to the bottom of this winding path, head along the beach towards the search zone to battle two water hags and rescue Ivo. Unfortunately, he doesn't make it.
Before heading west to Gaspard, search along the beach to the east; there's another water hag further along, just past another good loot chest. There's lots of minor loot to collect, too.
There's a path leading right to the lighthouse and no hazards on the way, so head straight for it. Grab the loot on the bottom level and after the first ladder, then continue up to Gaspard – be sure to empty the loot chest he's leaning against before speaking to him.
Tell Gaspard his friends sent you to look for him and he'll accompany you back to the hut (change your waypoint in the quest menu for best results). You'll be attacked by two more Tangalores on the way, and possibly a few Harpies on the winding cliff path. When Gaspard falls asleep, just wake him up.
With the dwarf safely delivered, go after Ferenc. There's a Fiend getting about in the mist down here, so apply Relic Oil and equip Samum or Devil's Puffball, then challenge it. Unsurprisingly, Ferenc doesn't make it, either. Locate his body, then return to the hut.
The other dwarves come out. You'll notice there are now five of them. And two dead. So that's seven in total. One sneezing, one sleeping, one dopey… Hmm. Sensing a narrative pattern?
Enjoy the cutscenes and dialogue that follow; the quest concludes when you leave for Kaer Morhen. You automatically begin The Battle of Kaer Morhen.
Onwards to The Battle of Kaer Morhen, or back to The Witcher 3: Act Two.
Back to The Witcher 3 guide and walkthrough.