These are your Shenmue 3 pre-order bonuses, North America
Shenmue 3 pre-order bonuses for North America have been announced, and the offers vary by store.
Three different pre-order and pre-purchase offers are available for Shenmue 3 in North America.
Once we're made aware of pre-order offers in Europe, we'll update this post.
We've popped in the links to the North American stores for your convenience.
All participating retailers will offer the following pre-order bonuses:
Snake Power: Three bottles of 'Snake Power' elixir to replenish energy during battle
Playing Tokens: 5,000 playing tokens for the in-game gambling area
"Blazing Kick" Advanced Training Scroll: Unlocks the advanced ability of the "Blazing Kick" to better challenge Ryo's foes
Toy Capsule: Set of 24 tickets to exchange for in-game capsule toys
Amazon, Best Buy, Gamestop and EB Games are sweetening the pot with additional, retailer-specific goodies. One of which is a really cool real-life mirror.
It's called the Dragon/Phoenix Mirror Medallion and is directly inspired by the Dragon and Phoenix mirrors of the Shenmue series. It is a Gamestop (US) and EB Games (Canada) exclusive.
Best Buy is offering those who pre-order a Steelbook which features portraits of Shenmue 3 characters Ryo and Shenhua.
Those who shop at Amazon will receive in-game DLC: it's the Kenpogi Training Wear based on Chinese Kung Fu wear.
Just be aware that the Steelbook and Dragon/Phoenix Mirror Medallion quantities are limited. If you want them, you should probably hurry.
Shenmue 3 releases November 19 on PC and PS4.
GameStop/EB Games
Amazon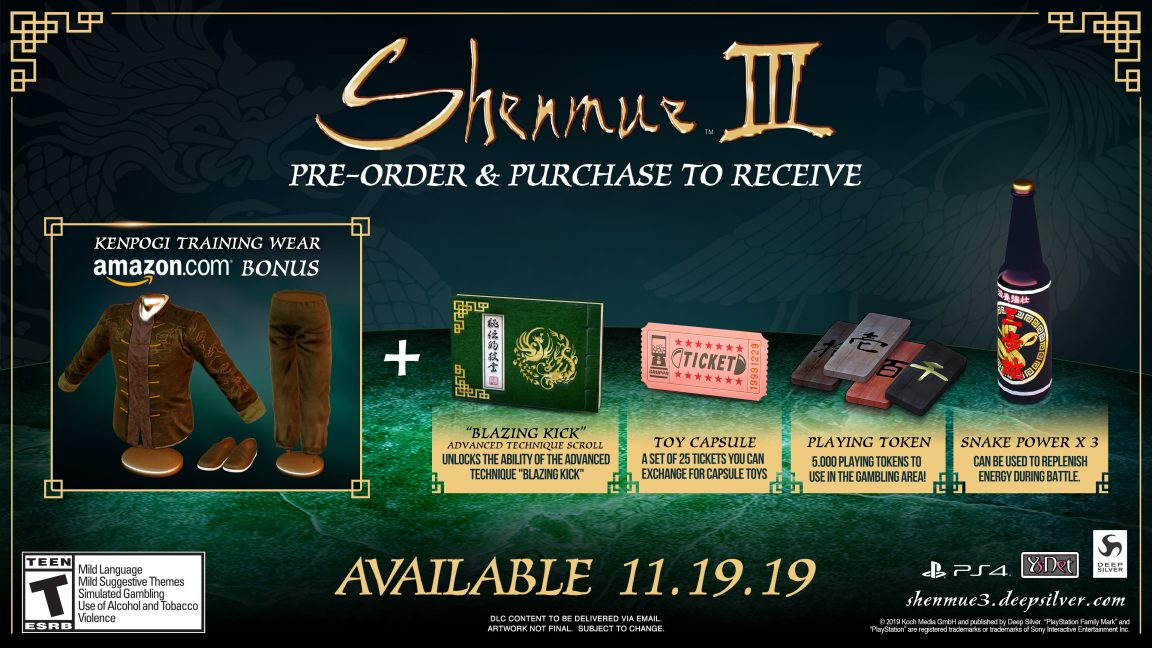 Best Buy