Horizon Zero Dawn: The Frozen Wilds has a skill tree which allows you to loot while mounted
The days of jumping off your mount, looting, and saddling back up in Horizon Zero Dawn will be a thing of the past, thanks to a new skill tree.
Horizon Zero Dawn: The Frozen Wilds will come with a new skill set called Traveller which shaves some time off when looting.
The new skill tree will sit alongside Brave, Forager and Prowler which are already included in-game.
Not only will players be able to stay mounted when looting, they can also do so while gathering crafting materials. This will come in handy for players when Horizon Zero Dawn: The Frozen Wilds releases on November 7.
The new skill contains eight new abilities, per GamesRadar:
Mounted pick-up: Harvest and Loot while mounted
Shard Salvager: Deconstruct items without finding a vendor or dropping to make space in inventory
Expert Carver: Increases chance of getting rare loot
Hoarder: Increases inventory capacity
Dismount Strike: Players can leap off mounts to perform a devastating attack. This will kill smaller enemies and wound larger ones. Opens up when all Traveller skills are unlocked.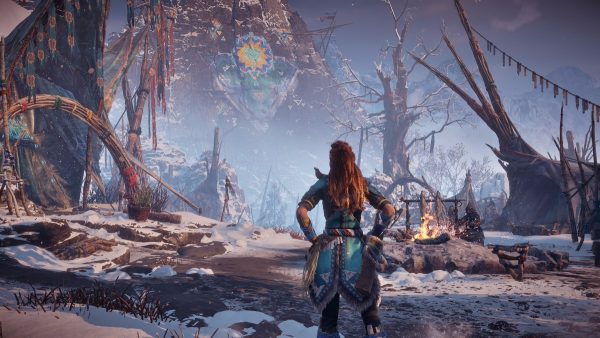 Along with the aforementioned, a new pose has been added to Aloy's repertoire: snow angel. Players will be able to perform this pose in the snowy areas around The Cut. This should provide some really interesting player shots created using the game's popular Photo Mode.
Horizon Zero Dawn: The Frozen Wilds will be released on November 7 and will run you $19.99/£15.99. PS Plus members can save 25% off the standard price. The expansion is estimated to be around 15 hours long and areound 20GB in size, but we won't know for sure on the latter until close to launch (thanks, LeaderGamer).
Alternatively, if you don't own the core game, you can pick up The Frozen Wilds as part of the Horizon Zero Dawn: Complete Edition.
It includes all content from the Digital Deluxe version of the PS4 title along with the aforementioned expansion.
Horizon Zero Dawn: Complete Edition releases in North America on December 5 and on December 6 in Europe. The Complete Edition will cost $49.99 or the regional equivalent.