Microsoft should sell the Xbox business in order to save it
The Xbox One X is a new console without a launch game.

With Crackdown 3 pushed out of this year's release schedule, the Xbox holiday line-up for 2017 ends with just one mis-timed blockbuster. Not so much a bang as an asthmatic wheeze.
This is the year Microsoft launches a brand new console, the Xbox One X, in November. With Forza 7 out a month earlier, the Xbox One X launches with no supporting blockbuster games.
A new console. With no new games.
It might seem easy to counter that the PlayStation 4 line-up isn't bursting with first-party exclusives at the end of the year, either. But Sony has already had a strong year with an enviable line-up of critical and sales successes; Horizon Zero Dawn, Uncharted: The Lost Legacy and Nioh, by proxy exclusive Nier: Automata, as well as a spillage of digital titles including the return of Wipeout and Parappa the Rapper. It's doing just fine in a fallow year.
In contrast, the Xbox One got Halo Wars 2 in February, a game no one really cared about. If only Microsoft hadn't shitcanned Scalebound, a game that was already years in development. Or Fable Legends, a game that was perfectly playable in beta. Remember the Phantom Dust fiasco? If only Microsoft hadn't closed its internal development studios year after year, from FASA to Lionhead.
"Phil Spencer said in March that first-party games were critical for the launch of the Xbox One. And now the Xbox One is in a critical condition."
If you don't make games you can't sell games. Microsoft has put itself in a ridiculous position of having the hardware ready and nothing to showcase those astounding new tech specs. It's hoping people buy the Xbox One X on a promise that something will come out for it next year (even then, Crackdown 3 isn't going to be the game to sell a new console. Microsoft would have put more resources in to it if it believed that).
So let's call it. Microsoft doesn't care about the Xbox business. It's been slowly ramping it down for years. Phil Spencer is doing a grand job of being that enthusiastic exec on the front line, but his words are ringing hollow. It was only March when he said first-party games were "critical" for the launch of the Xbox One. And now the Xbox One is in a critical condition.
Back in 2014 shareholders wanted new Microsoft CEO Satya Nadella to sell off the Xbox business. He said he had no intention of doing so, even though he didn't see it as part of the core business. He still seems to be on board with the idea that he can "connect the dots" around social gaming – but that's ignoring the fact that places like Twitch and YouTube have already been extremely successful at bringing gamers together without being closed environments like Xbox Live or PSN.
So if Microsoft has all but given up on the Xbox One, what's to be done? A sale. A sale of the Xbox business to an entertainment company that can turn it around and shake up the staid console market.
Amazon should buy the Xbox One business.
It already has designs on video games with its fledgling Amazon Games Studios set-up, but this could be a real entry into the big league.
Amazon is already well invested in the entertainment production, distribution and sales business with Amazon Studios, pumping out original movies and TV shows. Imagine the team that saw the potential in American Gods and Preacher, Tom Clancy's Jack Ryan and The Tick, digging around the games community for blockbuster ideas and prototypes.
Or those who commissioned challenging movies like The Neon Demon, Manchester By The Sea and I Am Not Your Negro saying yes to equally exciting game pitches.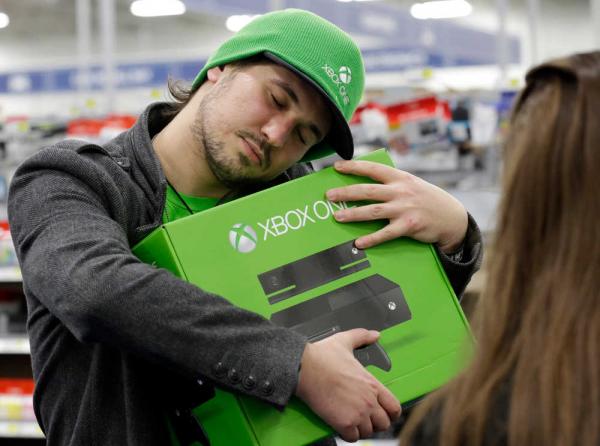 Don't forget Amazon is also the owner of Twitch, the ESPN of esports. Or the largest streaming platform of games, where 45 million-plus people go to hang out and watch and interact every month. That's a whole load of gamers ripe for the picking. Don't forget it owns Comixology too, just to add to the geek credentials.
Amazon is also all about the cloud – the fabled computing system that's been threatening to disrupt video game entertainment for a number of years, but has so far only tentatively nudged at the business with services like PlayStation Now. Imagine that tech finally being used for massive games, like the Crackdown 3 we were promised two years ago.
And Amazon has been manufacturing hardware with the Fire tablets, Fire TV, Kindle and Echo devices. Scaling that up to take on console manufacturing wouldn't be so hard, would it? I haven't even mentioned all the boring but essential business stuff it's perfected over the years – the successful app store, the digital sales business, the absolute dominance of online retail.
"Imagine the team that saw the potential in American Gods and Preacher digging around the games community for pitches and prototypes."
Amazon is a company that disrupts. From retail to reading, TV to technology. It's not a massive leap to see it taking on games as another wing of its entertainment ambitions and flipping the script on a tired old games market. Xbox is a great brand with incredible games and legacy, and a company like Amazon could hit it hard with its unique thinking, reinvigorate a fanbase gasping for entertainment, and really give its competitor a head-to-head fight.