Having a Guinness with Troy Baker and Nolan North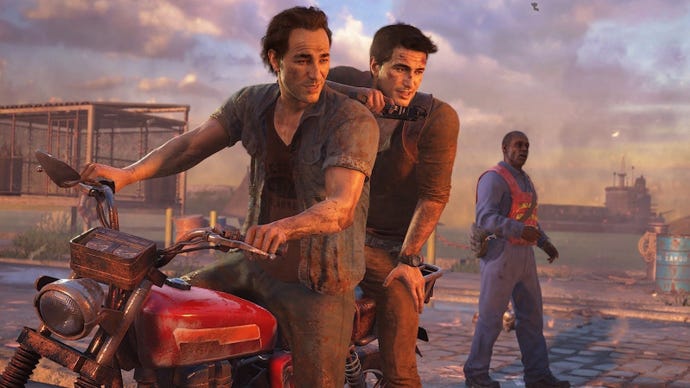 I'm jetlagged, slightly delirious, and I'm crammed into the hold of a replica of the first English ship to circumnavigate the globe, once captained by Sir Francis Drake.
I've just returned from playing the excellent The Last of Us: Part 2 in Los Angeles and I'm now in Central London meeting two of the first game's stars. If only I can spirit them away from their adoring fans.
Troy Baker and Nolan North are two of the most prolific actors in video games today. They're in London to meet their community from Retro Replay, a Let's Play YouTube channel where the acting duo tackles ancient video games (and Uncharted).
The fan meet runs between 3-5pm, with the first hour taking place in the bowels of the cramped ship. I can't even see the actors, since I arrived slightly late, but the ship is stuffed with 80 people aboard - the same amount of people that originally set off in Francis Drake's crew - each of them hanging on their every word.
For the second hour, it's time to go up to the deck. This 60 minutes passes in a haze of selfies and signings, none of it charged for, all of it done with enthusiasm. Once the hour is up, I manage to grab Baker as he passes. He points at me and tells me not to move.
Our interview takes place in a small pub across the road, about ten steps away from the boat. The walk there takes an hour. This is because Baker and North take the time to stop and talk to each person who wants to chat. Eventually, I ask what they're drinking - Guinness for both - and peel off to grab a table instead of floating in the periphery like a meatfly. I order myself an IPA, sorry for the clickbait.
Aboard the @GoldenHinde_ Sir Francis' Drake historic ship that circumnavigated the globe and I am ABSOLUTELY NOT FREAKING OUT AT ALL

....oh, and here's a picture of Nolan looking like a boss. pic.twitter.com/DeL9fWSQoS

— Troy Baker (@TroyBakerVA) September 26, 2019
You can see that both the actors buzz off the crowd. That attention is something North in particular has always craved. When I interviewed him a few years ago for Uncharted 4, the first thing he did was mimic my awful, working class English kid accent back at me. He can do it for anyone's voice after hearing it only briefly, a skill he developed in his younger days.
"I've always been able to mimic people," North tells me, sipping on his Guinness. "I found I could make people laugh because I could do them, I could do teachers, I could do my uncles. My older brother is seven years older, my cousins are seven years older, so I was one of the younger ones. I could always make them laugh, so that was cool. And it got me attention, I think. Just like, 'Hey, look at me!'."
North found his way into acting through a "process of elimination" after bumbling from one job to the next. After graduate school, he worked as a reporter for a local news outlet, reporting on "house fires and murders and local town stuff".
"I just wasn't happy," he explains. "I had done a play in New York, somebody asked me to do this other play just for fun, and I enjoyed it so much, and I just realised I'd rather be broke and happy than have a paycheck and be miserable. I think acting in its purest form is just playing make-believe, and I was pretty good at it as a kid. I think I never cared if I got paid for it, and that probably helped."
For Baker, it was a completely different route in. Originally, he wanted to be a musician, something which he still does on top of his acting now. Occasionally, acting and singing intersect as well, so we get videos like this one where Baker is actually singing in character, as Joel:
Baker's voice saw him tumble headfirst into car adverts, until someone from the Dallas music scene approached him and asked if he wanted to do a game. The game in question was Brothers in Arms, a first-person shooter from Borderlands developer Gearbox.
Both North and Baker got a lot of these kinds of roles early in their career - Soldier A, Grunt F, and other roles where you basically get to scream orders into a mic. "I remember Call of Duty was one of my favourites," North exclaims. "I did Call of Duty, I played Sergeant Randall. And he's the guy who follows as you storm Omaha Beach in World War 2. It's like, 'Grenade! Get down! Follow me! Get in the hedgerow!' It's all those things, and I loved every minute of it.
"I think it was one of the first modern games I ever played, because I've already been a history buff, especially for World War 2. And I've always felt like I may have been killed at Omaha Beach. Maybe I'm reincarnated, because I've had this strange fascination with that particular thing my whole life."
I think he might be right - if anyone gets to start over at a checkpoint or respawn, it's Nolan North.
Despite how high profile some of these gruff military roles were, none of these early games had as big an impact on either of the actors like falling in with a certain PlayStation exclusive studio. Naughty Dog was a turning point in both the actors' careers, impacting them and turning them both into iconic, instantly recognisable stars.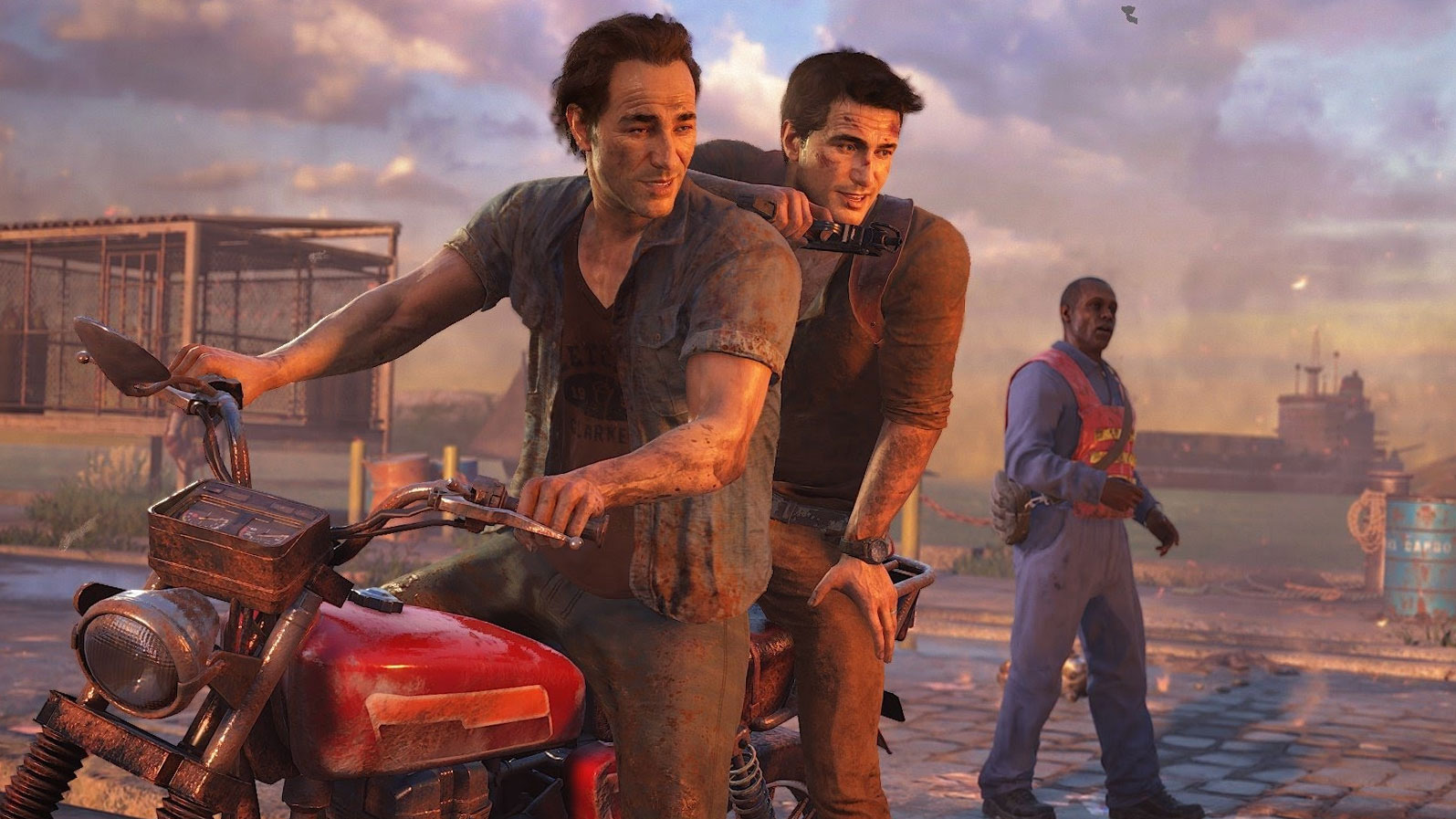 "Uncharted for me personally, it changed my life, it made me better," North admits. "Naughty Dog, to get to work with the developers so closely, and where my opinion mattered, and for so long. It made me a better actor. I think a better person, all in all. Took a lot of pressure off both financially, for a bit, and then also confidence wise. I think to be a lead of that size of a franchise gave me more respect for myself in so many ways."
For Baker, The Last of Us was a similar turning point, though that happened alongside another big game: BioShock Infinite. "People were like, 'Oh, here's a new guy in town'," Baker remembers. "At the same time it was like, Resident Evil 6, The Last of Us, BioShock, and then shortly after that was Arkham: Origins. So in a very small amount of time, I was working on the hottest titles. So you'd have to be stupid not to go, 'Okay, the waters are changing a little bit, I am really scared.' And I think it was all ego, because at the end of the day, it's a job. And you have no idea if this thing's going to be successful or not."
For Arkham Origins, Baker had what was probably the most intimidating role of his career yet. Not only was he being asked to play Joker, Batman's most iconic nemesis, he was being asked to play Mark Hamill's Joker. This was an antagonist already established in the Arkham series, with Hamill's take on the character embedded into the fabric of the universe, from the Animated series to Arkham. Hamill basically is the Joker. Big clown shoes to fill.
"I turned it down twice," Baker says. "When they offered me the role, I went in to do the audition, they didn't say it was for Joker, they just said it was for Jack. So, I went in and I saw the source material, I was like, 'Okay, well this is from Dark Knight, this is from Batman: The Animated Series, and this is the Tunnel of Love monologue from Killing Joke.' They were like, 'How do you know that?' I was like, 'I'm not an idiot, man, I know the Joker.' And the first question I had was like, 'So do you guys want the Mark Hamill?'."
Baker's take on the character had to fit with Hamill's, but - since this was a prequel - he had to portray a younger, more scattershot version of Mistah J.
"If I was a fire hydrant, then Mark is the laser," Baker explains. "So it's like the difference between them. But purely on ego and arrogance, I turned it down twice. And it wasn't until Ames Kirshen, who was the president of Warner Bros games, sat me down in his office, and he was like, 'This is really good, and we're really smart, so shut up and take the job.' And I did, and I'm really, really glad I did."
Baker has since spoken to Hamill about his take on Joker, getting the seal of approval from the Clown Prince of Crime himself. He also insists, whenever he's offered the role of Joker for anything, that they first ask Hamill, otherwise he refuses to do the job. It's an honourable courtesy, since Baker himself has one of the best claims to DC royalty in the acting industry. He's been Batman, Two-Face, Joker, Hawkman, Robin, Thomas Wayne, Mad Hatter, Arkham Knight, Superman, Sinestro, and more. His Marvel roles also run the gamut.
"I've had every Batman character in my head since I was nine years old," Baker says. "Someone just finally gave me an opportunity to get them from my head, out into the world."
Baker got his ability to switch between these characters truly tested when he did Batman Vs TMNT, since Warner Bros wanted him to play both Batman and Joker in it. The idea was for it to be this fun marketing gimmick, but it was a real test.
"When we got to the script, it was like, 'You wanna do Batman first, then Joker?'," Baker recalls. "I was like, 'Nope.' Same thing with Two-Face, 'You wanna do Harvey Dent and then Two-Face?' Like, 'Nope. I wanna do both these guys at the same time.' Because I believe it's the way that Richard Moll did it, but that's the way that Two-Face thinks. The guy can switch between two different diametrically opposed characters, and I was like, 'If you record this separately, it's going to sound like two separate people. It needs to be a person that is switching between personalities.' I'm just a big nerd, and someone finally gave me a chance to get paid for it, that's it."
So what is it like on the flip side of this, when you don't have a frame of reference? Nolan North is an extremely nice man and he's best known for playing the hero. For The Last of Us, he stepped into the shadows to play David, the sinister leader of a group of cannibals and the closest thing to a boss encounter in the entire game.
"I will defend every character I've ever played, no matter what he's done," North explains of his process. "Someone who's crazy doesn't think he's crazy, someone who's an asshole doesn't think he's an asshole. Everybody else is crazy, everybody else is the asshole. Completely justified 100 percent. I can take David and I can talk to you for hours about justifying his behaviour, everything he did. I don't think he was a villain at all, in that circumstance it's tricky. And there's certain things between the character and me that I come up with that help me get there, but I don't know if you can play a character, an evil character, knowing he's evil. It's like, no.
"The first thing I looked at is he had the most soft, gentle, soulful eyes. He was like an old dog, and just those eyes sparked me, personally. Somebody who, knowing what his arc was, ahead of time, I thought, 'Well, the only way to make him really terrifying is to show that he's lost control of his group and self, his senses to a certain point, is to show him so controlled and measured and calm.' And it was the cadence of his voice, the softness in his voice around the campfire. That character is without a doubt one of my favourite characters I've ever played."
Both actors tell me it's all about finding the honesty in a character, bringing what you understand of the world, of people, of emotions, to a role. From this perspective, it makes sense that North has to find a way to justify characters, to understand their motivations, no matter how broken they are. It's a bit of a departure from the two friendly faces aboard The Golden Hinde earlier that day, posing for photographs and signing merchandise.
"I can't believe I'm on the deck of a replica Sir Francis Drake's ship," Baker says, genuinely enthusiastically. "We just got back from South Africa, I couldn't believe so many people even knew who we were. We thought we were going to walk past and be like, here's two people in South Africa, and it was one of the largest crowds that we've ever had."
Join the crowds yourself by checking out Retro Replay on YouTube.