The Pokemon Sword and Shield Interview: "We Knew at Some Point We Weren't Going to be Able to Keep Indefinitely Supporting All of the Pokemon"
We talk to Game Freak about the battle potential of Dynamax, the decision to narrow the number of available Pokemon, and the move into a new era.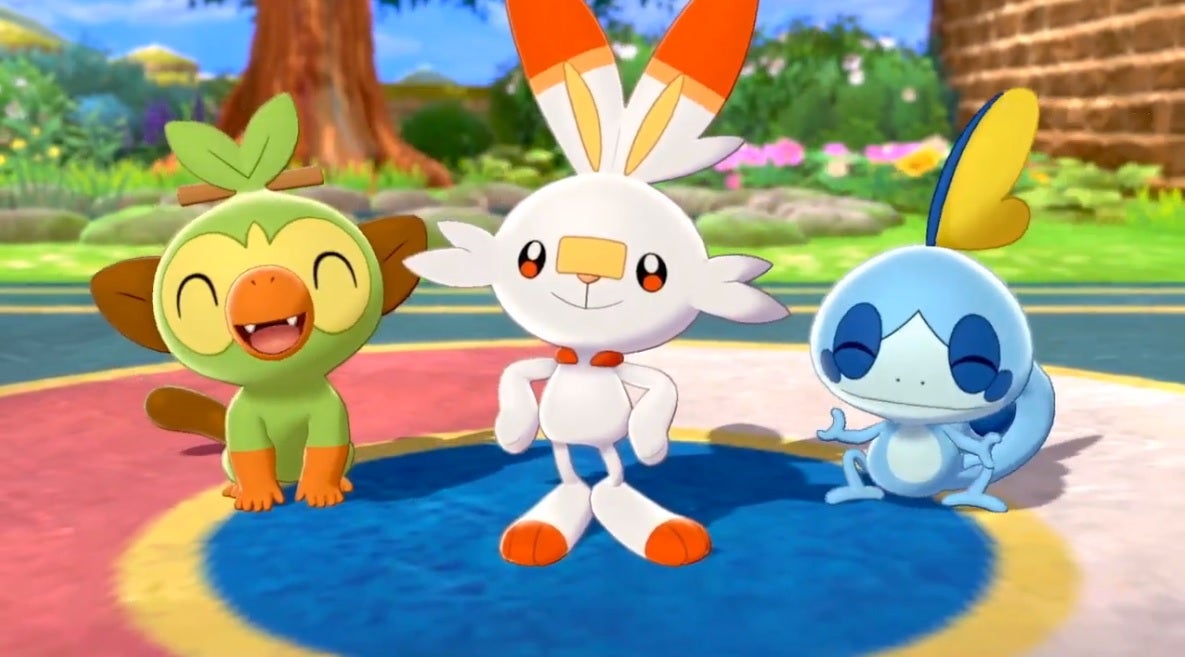 This article first appeared on USgamer, a partner publication of VG247. Some content, such as this article, has been migrated to VG247 for posterity after USgamer's closure - but it has not been edited or further vetted by the VG247 team.
Pokemon Sword and Shield is a big moment of transition for the long-running monster training franchise.. For the first time ever, a mainline generation will be available on a dedicated console. That means all manner of things for the series, from how it handles random encounters, to the decision to pare back the number of Pokemon that can be transferred through the new Pokemon Home app.
To get an idea of what to expect from this generation, we sat down with director Shigeru Ohmori and producer Junichi Masuda to talk about the implementation of the new Dynamax forms; the potential of Sword and Shield's postgame, and the decision to stick exclusively with the Galar Region Pokedex. One takeaway: Game Freak is keenly aware of the opportunities and challenges of moving to the Nintendo Switch. It truly is a new era for the series.
Read on for our full E3 2019 interview with Masuda and Ohmori about where Pokemon Sword and Shield right now, and where it's going in the future.
USG: So, to start off: Bringing Pokemon to the Nintendo Switch, what were some of the things you wanted to do with the extra power and the extra things you can do with something like the Nintendo Switch compared to a handheld?
Shigeru Ohmori, Director: So with Let's Go Pikachu and Let's Go Eevee being the first games we developed for the Nintendo Switch, we did a lot of technical exploration and experimentation, and we learned a lot. We were able to use those two games as a kind of a base for developing Pokemon Sword and Shield, and really taking advantage of the hardware even more. One of the things we really wanted to challenge ourselves with this time is since we have much higher resolution and we can put them on the big screen, we could finally really show the difference in size between Pokemon. That was one of the reasons we decided to try the Dynamax feature, which has Giant Pokemon appearing, and the Wild Area, which is a big, open area, which is something we wouldn't have been able to do with the previous hardware.
Talking about the Dynamax, how do you feel that changes the way players are going to approach Pokemon, and what sort of opportunities did that add for you to change the way people play Pokemon battles?
SO: It's going to add a whole new layer, a tactical element to the battles. We've had power-up gameplay features like Mega Evolution and Z-Moves in the past, but Dynamax is something that can be used with any Pokemon in the game. So that gives the chance for any Pokemon to shine in battle. It also kind of creates a situation where you have to read your opponent, because you don't know which Pokemon they're going to power up in battle.
Looking at the Galar Region, why did you look to the UK specifically for inspiration, and what do you feel are the defining characteristics of the UK that you wanted to bring to bring across in the Galar Region?
SO: It kind of ties in to the main scene we have for the game, which is this idea of being the strongest or the greatest. Being on the Nintendo Switch, I wanted to really challenge myself to create the greatest Pokemon experience yet using all the hardware power we didn't have before. I've been to the UK on trips, and I just get a kind of sense of strength and greatness from the region, you know, the home of the Industrial Revolution, and all these people trying to aim for greatness. We translated some of that feeling into the Galar Region.
And for Max Raids, did you look to Pokemon Go for inspiration the raid battles that are in that? And what do you feel you're going to do with Pokemon Sword and Shield that'll take Max Raids to the next level?
SO: I think both features were being developed around the same time, both the Pokemon Go raid battles and and Max Raid battles while we were working on development of the game. Really with a similar goal of having more ways for players to kind of play with each other. Specifically, what we wanted to do with Max Raid battles was give a cooperative battle experience. You can always battle against friends, but that kind of PvP-oriented competitive play can be intimidating to some players. We wanted to offer an experience where you can easily get a friend and have them join you on something where you can challenge a really strong opponent and have a good time.
What do you envision the end game and single player post-game content is going to be like in terms of what people can do after they beat the campaign? A lot of people want to play a little bit longer, so what do you plan to do? Are you looking at additional updates or anything like that?
SO: I can't really say too much today, of course, but I do want to say it's not just the story, and then you're done with the game. We've got a lot of content for players to enjoy after they finish the story. Also, for players who are really big fans of the battle system and the competitive scene, there's going to be a lot for them to engage with.
On the Decision to Limit Pokemon Sword and Shield to the Galar Pokedex
Looking at some news that came out yesterday, there are some limitations on the Pokemon Bank. Only the Galar region Pokedex is only going to be accessible. Can you walk me through why that decision was made, and why you think it's important to have that limitation?
Junichi Masuda, Producer: There are a couple of different parts to the thinking behind it, but really the biggest reason for it is just the sheer number of Pokemon. We already have well over 800 Pokemon species, and there's going to be more added in these games. And now that they're on the Nintendo Switch, we're creating it with much higher fidelity with higher quality animations. But even more than that, it's coming down to the battle system. We're making sure we can keep everything balanced and give all the Pokemon that appear in the games a chance to shine.
We knew at some point we weren't going to be able to indefinitely keep supporting all of the Pokemon, and we just found that Sword and Shield would probably be a good point to go back and reevaluate what would be the best selection of Pokemon that appeal to the widest audience while keeping into consideration the balance of the battle system. It isn't just going to be all-new Pokemon in the Galar region Pokedex; there's still going to be a lot of favorites that fans will be able to bring over that they've adventured with previously. But yeah, it was pretty much just balancing and getting this optimal selection of Pokemon for the adventure we wanted to provide.
Can you tell me about that selection process, like deciding which Pokemon you wanted ported forward, how much of that had to do with fan favourites versus balancing out the types and abilities?
JM: There are definitely a lot of factors. The primary focus was the setting of the game. We have the Galar Region, and we spent a lot of time discussing which Pokemon would make sense in that region. We kind of selected from there. But we also selected types that make sure the battles are balanced and really provide this exciting kind of battle experience.
Do you see Sword and Shield being a kind of jumping off point for the future of the Pokemon series? Because you're not only launching Sword and Shield, but also Pokemon Home, Pokemon Bank, and a lot of things coming up around it. Does this feel like a new era in the Pokemon series?
JM: I think it might be fair to say it's not a transition, but for example, at Game Freak, Ohmori-san is the director for these games, so we're passing on a lot of responsibility to the younger generation to kind of move the franchise forward. Also, being on the Nintendo Switch allows new play styles, not just handheld, but also on the TV screen. I think it's definitely going to represent a new chapter for Pokemon.
On Whether Pokemon Sword and Shield Takes Inspiration From Breath of the Wild
I want to ask a question about Pokemon Sword and Shield's Wild Regions, the big open areas. Was there influence that inspired you to create that sort of stuff? Because when I look at things like Breath of the Wild, I feel immediately like I see some Breath of the Wild influence there.
SO: I think lots of games have their take on this idea of having a more open area, and we just kind of wanted to come back and see what would make the most sense for Pokemon if we were to do an open area that takes advantage of the Nintendo Switch hardware. We tried a variety of things to come to the Wild Area. For example, one of the things you saw is we now have camera control, something we avoided in the past, but we feel like for the younger generation of kids these days, it's a natural thing to be able to control a camera where that maybe wasn't the case in the past. So doing a variety of things in that area that just make sense for Pokemon.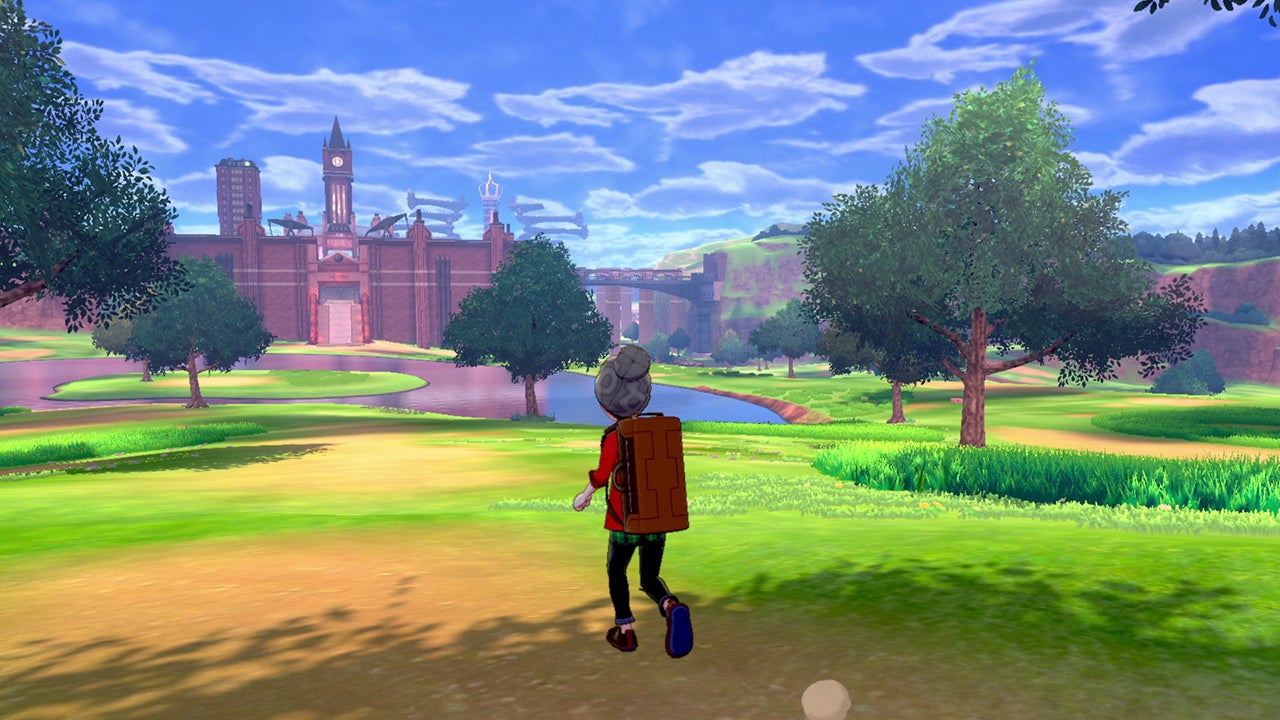 And when you look at things like gym battles, I played the demo earlier, and the gym battles are so much more: There's a sense of scale to it, there's a stadium, there's the roaring crowd, things like that. Is it important to you as you move up through these consoles that you're having this escalation of scale where Pokemon feels bigger? I remember Red and Blue, and you just kind of fight a guy in a room, and now you have these big stadiums that are happening. So is that sense of scale important to communicate Pokemon as a world and not just a game?
SO: Yeah, definitely. I think moving to Switch, the kind of expressive capabilities of the hardware compared to the past is a dramatic increase. Being able to play the games on the TV, we really put a lot into making sure the visuals are appealing, they're pretty to look at, and they're impressive to the player. Like you said, making it feel like a world increases that sense of immersiveness. We put a lot of focus on it.
There's been a lot of focus on collaborative play as well. I mentioned the raid battles already, but it really feels like this one is trying to do a lot of multiplayer things. Was it important that Pokemon also be a cooperative as well as a competitive game? And how much did you weigh those two sides of Pokemon?
SO: Yeah, I think it's more of a sense of getting a lot of players to play together. Maybe not necessarily cooperatively, but playing together in a game world, a shared kind of space, almost. One of the cool things about Nintendo Switch is obviously you can take it with you. So you go out and maybe go to a friend's house and you can cooperate together like "Oh, let's do a match now," and you take on this really strong Pokemon. But communication has always been a central theme to Pokemon, so having more ability to communicate, not just through traditional features but also talking to each other while going up against a single opponent—that kind of cooperative stuff is definitely the focus.
What are you most excited for players to experience in the game?
SO: It's hard to choose just one, but for me it's the Wild Area. Also, if you connect to the internet when you're in the Wild Area, you see a lot of other players from around the world. It really does feel like you're playing alongside all these other players. It's kind of a new thing for Pokemon. You can of course use the feature to invite them to trade or battle. I think it'll be a lot of fun.
When you look at the future of Pokemon, we've seen it kind of evolve past being a game on the Game Boy to moving to mobile to moving to Switch to moving to movies like Detective Pikachu. Do you see the horizons of Pokemon continuing to expand? What's an area you would want to experiment with?
JM: I think there are quite a few horizons we'd like to challenge. I think there's a lot to look forward to in the future. Even in the past few years we've seen a lot of advances in technology and I think we're going to see a lot of new technologies that allow for ways to be creative in fields that just weren't possible before. I think that Pokemon will always be trying to take advantage of new technologies. So things to look forward to, for sure.
For more info on Pokemon Sword and Shield, including release date details, head to our Pokemon Sword and Shield Everything We Know Guide. Go here for our initial thoughts on Pokemon's Dynamax forms after going hands-on at E3.