Star Wars Battlefront 2 has reduced the credits awarded for finishing the campaign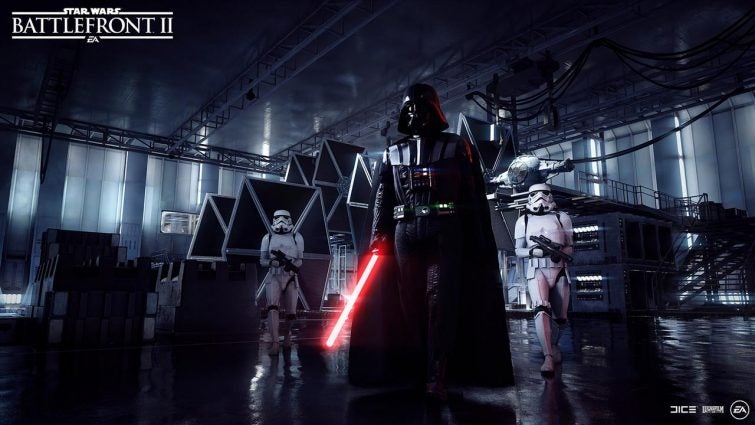 There have been further changes to Star Wars Battlefront 2's increasingly hard-to-track currency systems.
Moments before reviews came out for Star Wars Battlefront 2, DICE made an announcement - following the enormous backlash against the cost of heroes in the new game (at launch Luke and Vader would have taken 40 hours each to unlock), some changes were coming to the in-game economy.
The price of buying heroes, including Luke, Vader, Leia, Chewie, Palpatine, and campaign protagonist Iden, would be cut by 75%, Dice announced. This should, theoretically, make the heroes much easier to unlock, and make the process less time consuming.
However, it might not be as simple as that. Stevivor has just tweeted confirmation that the final reward for completing the campaign has also been reduced, meaning that while these heroes are now cheaper to buy, you're still going to have to really grind if you want to get them all.
Further to this, an EA representative has just confirmed with Stevivor that the reward has been reduced to 5,000 Credits as a result of a reduction in in-game character unlock fees. https://t.co/bXI6aOSFBH

— ?️‍? Stevivor ?️‍? (@Stevivor) November 13, 2017
Originally players were given 20,000 credits for completing the campaign, but this is no longer the case.
Australian games critic Joab Gilroy has summed up how many people feel about this whole situation in a series of tweets, calling the game out for actively encouraging players to spend real money to improve their performance (which seemed like an enormous issue in the beta).
Saw a dev post claiming Crystals can't buy heroes in #SWBFII but that's not true: buy Crystals -> buy loot boxes -> breakdown duplicate starcards into credits -> buy heroes

— Joab of Duty WWII (@Joabyjojo) November 13, 2017
This picture in @Stevivor's review of #SWBFII is so gross. It's the only time credits can be earned through loot boxes, an insidious way to link loot boxes and credit earning for players. SP is a training ground for MP generally, teaching players. pic.twitter.com/Sd6QYSIXcx

— Joab of Duty WWII (@Joabyjojo) November 13, 2017
By giving them 20,000 credits (or whatever they adjust that number to) for finishing the campaign they are grooming players to think creds can be earned in loot boxes. They can't, although as I said yesterday,https://t.co/o5I1hMN7Lo

— Joab of Duty WWII (@Joabyjojo) November 13, 2017
Couple this with the fact that Star Cards can be found and used from Loot Boxes immediately, and the fact that Star Cards convey direct advantages in terms of DPS and survivability, and any other mitigating factors implemented to the progression are moot

— Joab of Duty WWII (@Joabyjojo) November 13, 2017
The reality is that you can purchase cards (at random) and translate that into a real, tangible advantage. Which is a pay to win system hidden behind a lottery. It's the same thing Halo 5's Warzone did with Req cards (although H5 approached it slightly differently)

— Joab of Duty WWII (@Joabyjojo) November 13, 2017
I saw this in the @ausgamers review (on its way) and it's worse imo. It's the taster of how the purchasing system works so that players get looped into the Crystal economy - just enough to buy one thing and see the rewards therein https://t.co/lPgT5lSXZI

— Joab of Duty WWII (@Joabyjojo) November 13, 2017
Furthermore, this video from Star Wars HQ clarifies that during a review event, Luke Skywalker was unlockable for 10,000 credits - 5000 fewer credits than what he's available for now, and just one sixth of what he cost when the game launched.
This means that players who finished the campaign during the review event could have easily unlocked both characters for multiplayer; now finishing the campaign will give you enough credits for one third or one of them. Battlefront 2 has ditched its season pass in favour of distributing map packs for free in the future, but one could definitely argue that this new model of monetisation is more insidious and blatant.
Whether or not this will all come back to bite DICE, or whether players will be willing to put up with all of this, remains to be seen.