Resogun and Super Stardust studio Housemarque moving away from developing arcade titles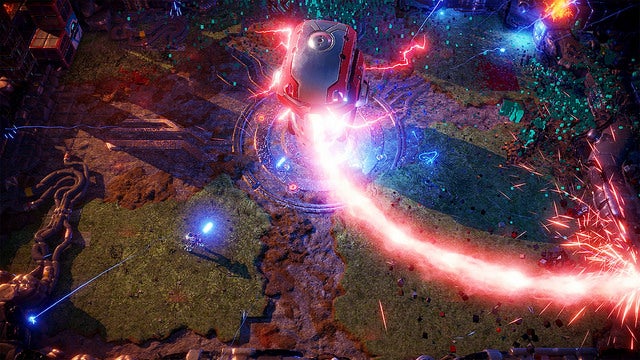 Super Stardust and Resogun developer Housemarque has announced it will cease developing arcade titles.
Housemarque is moving away from developing titles such as Alienation and Nex Machina to work on "something totally different than what you might expect."
According to Housemarque CEO Ilari Kuittinen, the reason behind the genre switch is due to the company's games not selling in significant numbers despite critical success.
Lackluster sales of Nex Machina were the turning point for the studio, said Kuittinen in an official statement.
"For more than 20 years we've been carrying the torch for arcade, bringing arcade coin-op inspired games to the market with a Housemarque twist, and I think it's fair to say we've gotten pretty good at it by now," he said on the company website.
"Our games have received great critical reception over the years, perhaps the best example being Nex Machina."
Next Machina was a "dream project" for the company he said, as the team was able to work with arcade gaming legend Eugene Jarvis on the title.
"However despite critical success and numerous awards, our games just haven't sold in significant numbers," Kuittinen continued. "While some of them have reached a massive audience due to free game offerings across various digital sales channels, this unfortunately doesn't help pay for development, which gets costly for high production quality.
"Lackluster sales of Nex Machina have led us to the thinking that it is time to bring our longstanding commitment to the arcade genre to an end. While this genre will always hold a special place in our hearts, the industry is moving more toward multiplayer experiences with strong, robust communities, and it's time for Housemarque to move forward with the industry.
"Our purpose as a company remains the same, however – to create enjoyable and memorable gaming experiences for players while simultaneously creating a great workplace that allows people to flourish both professionally and personally."
Kuittinen went on to state Nex Machina and Matterfall will be the last arcade titles to be released by the studio.
The team is currently exploring something totally different than what fans of the studio expect, but believe it wil lead to the "creation of even more engaging gaming experiences."