PS4 at gamescom 2013: Sony brings its next-gen darlings to Cologne

PlayStation 4 is firing on all cylinders in Cologne this week. VG247's Dave Cook checks out The Order: 1886, Assassin's Creed 4: Black Flag, Driveclub and inFamous: Second Son to see how they stack up.
I saw an industry in contrast here in Cologne yesterday.
In the morning, Microsoft continued its scramble to make clear new policies and the company's commitment to the independent arena. Xbox One's race to launch looks less like an aimless stumble with each passing day, and as I wrote in this piece, the console finally has a clear strategy despite some initial failings. It's a positive transition to witness.
Sony, on the other hand, played its conference cool, with one exec even finding time to hurl an acid-tipped barb Microsoft's way that put the company down for its shifting message. PlayStation 4 isn't stumbling its way to the launch day finish line; it's strolling along casually while spinning a cane.
Now is not the time for complacency however, as Sony and Microsoft's pledge to the independent developer has entered both parties into a content arms race; a battle to get more rising talent and innovative IP on their store before the other. The flood of interesting IP will add value to both platforms, and we'll all come away richer for the experience.
But for just now, I'm focusing on the system sellers and triple-a pack. I thought it'd be both neat and useful to you if I compiled all of my Sony gamescom appointments into one day and gave you an all-encompassing account of what I've seen. So I've done just that here.
Worry not Xbox One fans, as you will get the same treatment on Friday, so stay tuned for my hands-on impressions and new discussion on Titanfall, Ryse: Son of Rome, Forza Motorsport 5, Dead Rising 3 and much, much more.
Enough gab. Let's do this thing.
The Order: 1886
Ready At Dawn CEO Ru Weerasuriya addressed the games press in a behind closed doors presentation of the studio's shooter The Order: 1886. The game was conceptualised in 2006 and was derived from short stories penned by Weerasuriya. It's now a full-scale project with a 95-strong team and running on the bespoke RAD engine 4.0.
The Order is a third-person shooter, and it's billed as the first game in a franchise of titles that may also spill out into other forms of media. Set in an alternate post-industrial revolution London, the game's steampunk, almost Dickensian veneer was researched by a snap-happy studio trip to London, in which Weerasuriya and his crew took over 38,000 photos of the city.
Why? Well, the game's core hook isn't steampunk, or the arkane, or even those brilliant twirled moustaches we've seen so far. Those photos were actually research for both the game's aesthetic design and the team's material creation tools, as well as its bespoke 'Abel' physics engine. We were shown photos of zoomed-in cobblestones, of granite and gravel, each taken to make the world of The Order visually impressive, believable and most importantly - destructible.
The game has dynamic destruction, and while we're not talking about Battlefield 4 levels of military bombast, Ready At Dawn's surface and environmental destruction is rather impressive. We saw Weerasuriya jump into a stone courtyard and pumped rounds from the protagonist's Combogun - an assault rifle and shotgun hybrid - into a brass fixture set into a wall. The object crumpled and imploded with force after each round found its mark, deforming it in real-time.
He then spawned in a bunch of teddy bears and went all Robocop on their stuffed asses, first blowing off a head, and then four limbs one at a time. This might sound like a gimmick, but we were all assured that dynamic destruction, texture warping and convincing object physics lie at the heart of The Order: 1886's gameplay. When the crowd asked why, we were told it wasn't yet time for that particular discussion.
What I can tell you is that the game looks brilliant, as in next-gen brilliant, not just a small leap in fidelity. We were treated to a fly-over through an underground plaza lined with pubs, meandering NPCs and street lamps so convincing you could almost hear the bulbs hum. At the end of the street sat a mosaic, with each raised tile impacting the way those lights dances across its surface.
This is what a large part of next-gen gaming is about; the dynamic factor, and The Order: 1886 already seems to have that in spades. It's an intriguing project that both Sony and the developer are being coy about, but I'm intrigued to learn more, especially to see how on earth textures and destruction impact gameplay as Weerasuriya promised. I'm looking on with keen interest for some sort of clarity.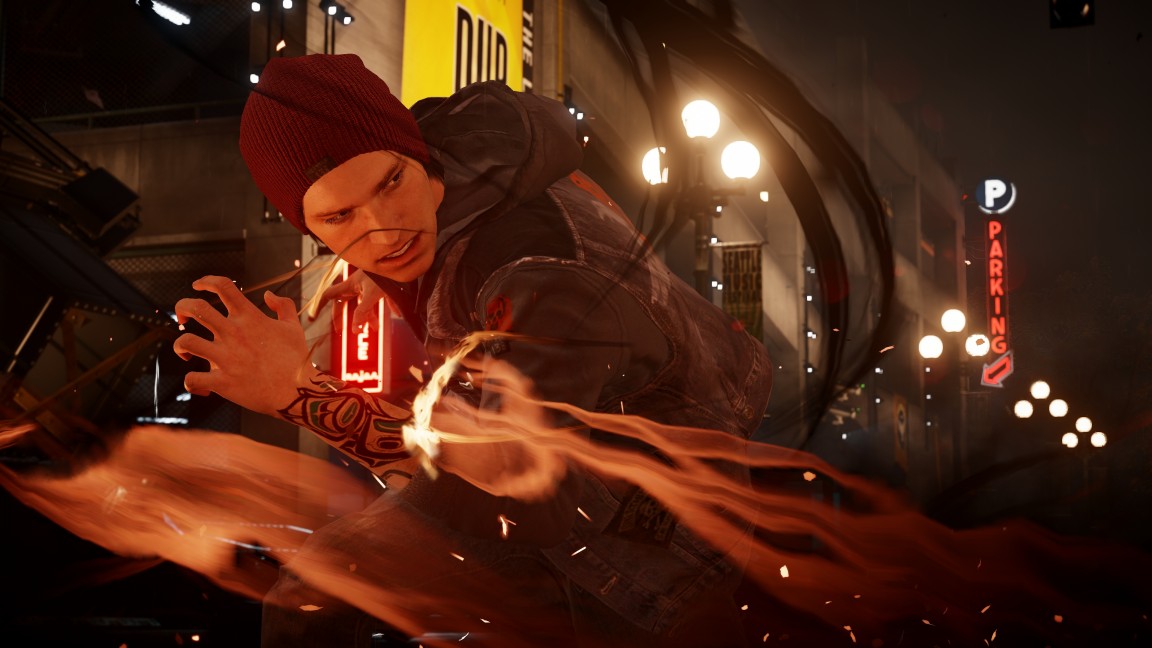 inFamous: Second Son
I've been playing a lot of Saints Row 4 recently, and it's a game that absolutely nails the fun factor of open world traversal dead-on. While playing I even started to wonder if Volition Inc. had even pipped inFamous: Second Son in the fun stakes, but after what I saw of Sucker Punch's game today, I can safely say that they both make being a superhero look damn cool.
To begin this session, game director Nate Fox showed us the studio's latest trailer, in which protagonist Delsin Rowe absorbs the powers of Abigail 'Fetch' Walker, giving him the ability to manipulate neon. We then heard more tech-talk about how the game's depiction of Seattle will feel alive and pack a suite of visual tricks to re-enforce that tangible atmosphere.
Showing off some new DualShock 4 functions, Fox took Deslin to a D.U.P. checkpoint, which have been established across the city to root out super-powered Conduits and exterminate them without trial. Following the destruction left in Cole McGrath's wake, the organisation isn't take any chances, and this vetting sees Deslin placing a finger on a D.U.P. scanner.
To do this in-game, you must place your finger on the controller's touch pad as it rumbles and the on-board speaker beeps. It's a small touch, but neat nonetheless. Phone calls will also come through the DualShock 4 speaker, stealth take-downs can be executed by jabbing the touch pad in range, while a whole range of unannounced features are said to change the way we approach control. You can watch the game's control dev diary here.
I managed to ask Fox some questions about the studio's take on Seattle and next-gen world building, given the additional technical clout at hand. You can read the full conversation on VG247 soon - and it's a big one, trust me, but for now I can tell you that the team has something neat in store when it comes to how Deslin switches between powers, and I was told that when he moves between smoke or neon mode - the two powers announced so far - his method of traversal changes drastically.
Visually, it's something special indeed, and when you see it running with your own eyes I think you can better appreciate just how crisp and bustling any one scene can be. Whether standing in a rainy street and watching drop splash convincingly into puddles, or the way light reflects off the sodden tarmac, everything I've seen so far is a real treat to behold. We'll have more on inFamous: Second Son soon.
Driveclub
Evolution Studios was up next, and this session went a bit wrong as technical difficulties meant there was no live gameplay demo as promised, but we still managed to see captured footage and to prize some interesting facts out of the studio's hands. Driveclub is playable on PS Vita via remote play, and we saw recorded footage of the team playing it without lag or any of that nonsense. We also saw another staff member playing the game via PS4 on the same couch.
But then a neat twist; a third developer logged into the Driveclub phone app and selected a custom time trial challenge he made on his PS4 the night before. He then sent it to the members of his club and within seconds it was flagged up on both player's screens. At the touch of a button they were both playing the challenge as posed by the phone user, and each trying to beat his record time.
We were then told that anyone can send these created challenges to their friends, and Evolution hopes that they will go viral and in turn create a thriving, competitive community of racers around the world. The club component is interesting as well, because every action - from a hard-fought victory to a simple drift - earns your posse Overdrive, which progresses your club's unlocks and overall standing.
We saw a snippet of gameplay around a hill-top circuit, flanked by observatories and blue skies that stretched to mountains in the distance. We were told that the mountains weren't just flat backdrops, but fully-modelled terrain that actually bore their own tracks. While visually-slick, I would have liked it if we were shown more, but it's clear that Driveclub is no visual slouch.
The game will launch as both a free download and Blu-Ray release along with PS4, and game director Cole Rodgers confirmed that every mode and feature from the paid release will appear in the free version. The only difference is in the volume of cars and tracks. While Rodgers was cagey about the differences in volume, the room was assured that the freebie won't be light on content.
Finally, the game was built in an all-new engine, with no hangovers from the Motorstorm franchise, and while Evolution is targeting 60FPS, the gamescom build was locked to 30 for now. DualShock 4 tilt steering is a control option and the Havok engine is in there too. It fuels Driveclub's car damage model, but it should be noted however, that damage is purely cosmetic and doesn't impact a vehicle's handling.
If the game can succeed in forging a strong community - and it may just do that thanks to confirmed weekly events and challenges, along with a stream of new cars - then Evolution and Sony could be looking at a solid day-one release that has the potential to sustain well into the PS4's life-span.
And finally...
I played Need for Speed: Rivals on PS4 and it's pretty much a very shiny-looking, thoroughly enhanced edition of Criterion's Hot Pursuit at base level. It's got the countryside stretches, the big hillside curves, the insane action of cop chases and of course, lots of speed. I could only play it for a few minutes until I was summoned to play Titanfall, so I can't say for sure if it's ace or not, but the Hot Pursuit fan in me liked it.
Following a big Assassin's Creed 4: Black Flag interview over at Ubisoft's booth - which you can read on VG247 soon - I managed to watch some of the press play around with naval missions and on-land sections as well. Ubisoft Singapore associate producer Karl Von Der Luhe assured me that content across PS3 and PS4 versions of the game are identical, but stressed that cosmetic differences help the next-gen build shine.
He wasn't kidding. I saw Edward Kenway stealth his way along the side of a wooden pier to avoid patrolling guards as dynamic, shimmering waves lapped at wooden struts just inches below. I watched one player climb up the side of a galleon to reach Kenway's target and the view from up there - the clear blue skies, swaying trees and the town stretching off into the distance looked wonderful, like a true generational leap.
There you have it folks. Pat yourself on the back if you made it this far and let us know what you think of PS4's presence at gamescom so far.
Don't forget to check out my similar Xbox One article on Friday. It's going to be big.