NBA 2K17 PlayStation 4 Review: Practice Makes Perfect
Visual Concepts' basketball sim remains the bar to which all other sports games aspire.

This article first appeared on USgamer, a partner publication of VG247. Some content, such as this article, has been migrated to VG247 for posterity after USgamer's closure - but it has not been edited or further vetted by the VG247 team.
Allen Iverson famously ranted about practice (and a lot of other things) when he was at the heights of his powers back in 2002: "We're talking about practice. We ain't talking about the game."
In NBA 2K17, though, practice is the name of the game, whether you're taking the role of "The President of Basketball" in MyCareer or working on new dribbling moves. It's brilliant in the way that it makes you feel like you're playing as a professional, but a little monotonous as well. But maybe that's the price you pay when you're as committed to realism as NBA 2K17.
As always, I'll be addressing two different sections of NBA 2K's audience: Those who are relatively new to the series, and those who have been following the series for a while now. We'll start with a broader overview of what you can expect from NBA 2K17 and the franchise in general.
For those who are new to the series
Above everything else, Visual Concepts takes pride in presentation. It's evident in the elaborate pregame show featuring Shaq, Ernie Johnson, and Kenny Smith, the in-game player interviews, and the way that every arena has multiple openings. It's meant to feel like a real NBA broadcast; and in many respects, it does.
Their crown jewel remains MyCareer: A story mode in which you create your own player and embark on the road to becoming an NBA superstar. MyCareer's presentation is full of brilliant little touches like postgame interviews with Ernie and company and live tweets highlighting your performance. You can even hang out with and go one-on-one with stars like DeMarcus Cousins on your MyCourt - a customizable hub where you can retreat and shoot baskets between games.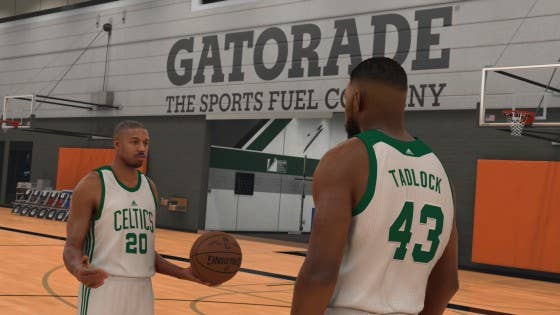 It begins by asking you to create a character and choose a position, at which point you become "The President of Basketball" - a rising star who is treated as the next LeBron James. Your journey takes you through college, through a stint on Team USA, and into the pros, where you will sink or swim as you try to reach your potential. Joining you is Justice Young (Creed's Michael B. Jordan) - a low-key professional who quickly becomes your best friend on and off the court. In fact, you eventually grow so close that you develop a kind of telepathy that enables you to take direct control of Justice and perform alley-oops and other fancy moves.
Above all, MyCareer's goal is to make you feel like an actual NBA player; and in that, it succeeds. It pulls back the curtain in a way that no other sports sim quite manages, whether you're getting hazed by your teammates or complaining about a loss in the locker room. It's an environment where familiar NBA stars aren't just computer-generated action figures - they're your equals.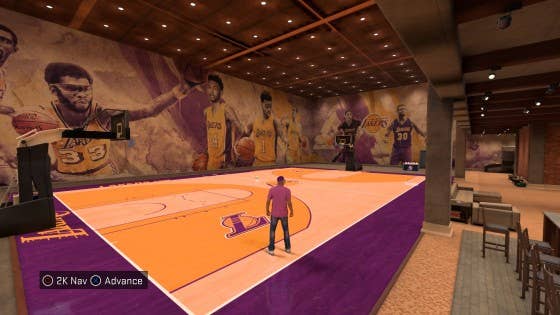 That approach is evident in NBA 2K's other modes as well. In MyGM, you converse with your owner, hold press conferences, and meet directly with your players as you try and guide your favorite team to victory. It includes the ability to relocate and rebrand your team, bringing with it a huge number of cities to choose from, lending it the kind of flexibility and customization that fans love. In Blacktop, you move outdoors and play some pickup basketball with other players. On the floor, every star has their own signature moves. Verisimilitude is the name of the game in NBA 2K17, and it's at pains to couch as much as possible in the real sport.
Of course, none of this would matter if NBA 2K wasn't strong on the court. Thankfully, though, NBA 2K does a terrific job of incorporating realistic basketball strategies and player skills into their gameplay. Every famous player has their own unique skillset; and if you're a fan, half the fun is mastering their signature moves and dominating. It also gives you a sense of a team's real-life strengths. As a Timberwolves fan, I was simply blown away by the speed, length, and power of Karl-Anthony Towns. Whenever a rebound was in the air, his arm was guaranteed to extend out like Inspector Gadget and snag it. It made me feel good about our future, to say the least.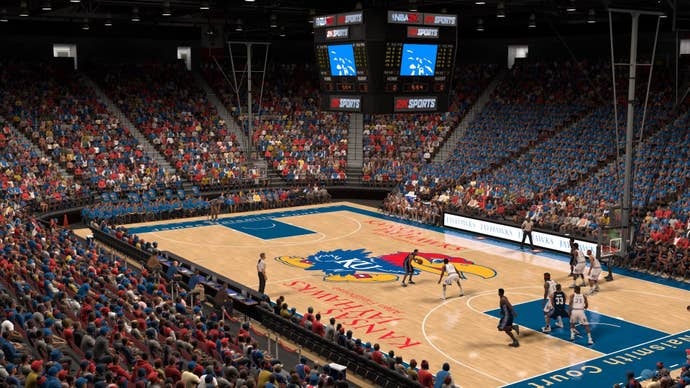 Cool as it can be, though, NBA 2K17's commitment to realism has its drawbacks. One such drawback is its barrier to entry: NBA 2K17 is probably the toughest sports game to pickup, which is accentuated by its move toward removing canned animations. It is very much geared toward existing basketball fans, and it has very little way of useful tutorials. The best it has to offer is 2KU: A simple lesson in the basic controls and concepts and little else.
Another drawback is MyCareer's determination to make you practice. Granted, being an athlete in real-life is an often monotonous process; but NBA 2K is a videogame, and practice quickly gets to be a drag. When it comes down to it, it's more fun to play the actual games, and it seems counter-productive to force players into a less interesting aspect of the game just so that they can grow their player.
On that note, NBA 2K is still the only sports game to feature microtransactions outside of Ultimate Team, which has its own benefits and drawbacks. NBA 2K's in-game currency affects MyCareer and MyGM progression; and in the case of the former, feels paced in a way that turns progression into a bit of a grindfest. It also means that you have to connect to a server, which makes the flow of the interface feel clunkier than it should.
Looking across the total package, though, it's hard not to be impressed by NBA 2K's polish, presentation, and thoughtful design. It is well ahead of its competition in a lot of respects, and has been for a while now. If you're looking for a sports game that will keep you busy throughout the year, then there's absolutely nothing better.
For returning fans
It's tempting to focus entirely on NBA 2K's presentation, but the thing that really jumps out at me about this game is just how smart and ambitious it is. NBA 2K always seems to be one step ahead of everyone else on an annual basis, and this year is no different.
Case in point: The ability to start in the 2016 offseason. It's a small feature in the grand scheme of things; but after one of the wildest NBA offseasons in recent memory, it's essential. Honestly, I can't believe I never thought of it before. But that's just what Visual Concepts does: They're ahead of the game.
Another interesting new addition to MyGM is the ability to add expansion teams. On the face of it, it's not a big deal, but it's actually a lot of fun to download a random user-created team and drop them into a new league. On a whim, I grabbed the best Sonics team I could find, and was pleased to find that the whole process was completely painless. I downloaded the team, let it run the expansion draft, then went on with my life. It's a great addition, and it definitely beats simming through a whole season just to move a single team from one city to another.
As usual, NBA 2K is full of these nuanced little additions. You can go much deeper into setting your rotations, for example, micromanaging it to the point that you're setting when individual players will come into the game. You can also start a franchise mode on whatever day the NBA season happens to be on and seamlessly go from there.
But NBA 2K doesn't skimp on the big picture additions either, and one of the biggest is their overhaul of the animation system. In previous years, one of the biggest complaints was how movement felt overly artificial, with some moves taking multiple steps to play out with no interaction whatsoever. This year, you get a lot more control over how moves play out, which is both daunting and liberating. It lets you combo together moves more effectively and put on a real show as you drive the lane, but the degree of difficulty is expontentially higher. Tougher still is the fact that even individual layups have a timing component to them now, so it's that much harder to get an easy bucket.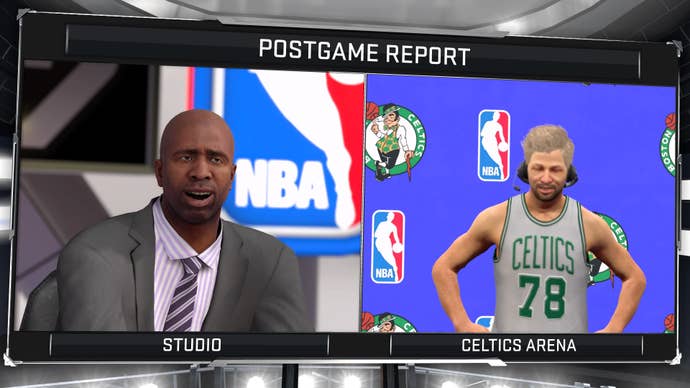 I'll admit, I've felt frustrated at times. Nailing the timing on shots can be hard; and more than ever, you have to run plays to be successful. This is a net good for the series, but it has served to widen the gap that needs to be crossed to get to high-level play. NBA would be wise to take a cue from Madden and find a way to integrate tutorialized skill games in a way that feels seamless and rewarding, and not just like more practice.
More broadly, NBA 2K improves on last year's game in a lot of ways; and truthfully, it has never looked or played better, its piece de resistance once again being MyCareer. After last year's flawed and disappointing Spike Lee story, NBA 2K17's MyCareer rights the ship and rightfully puts the focus back on life in the NBA. It brings with it all the hallmark features of the past several years: Remarkable presentation, a satisfying if slightly goofy storyline, and a huge amount of flexibility in how you grow your character.
As usual, MyCareer's biggest strength is that it understands that its players are basketball fans who want to experience the fantasy of being a pro athlete. It goes a long way toward realizing that fantasy with its huge range of customization options and stars to meet, as well as in the way that it integrates your character into the presentation. Now if it would just let players skip the cutscenes and simulate practice, it would be pretty much perfect.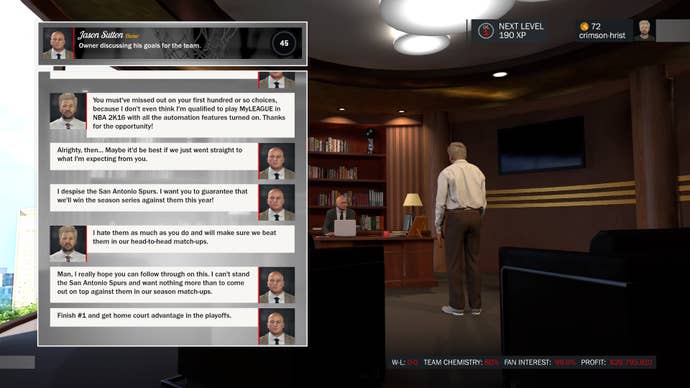 Actually, let me amend that last statement: It's not perfect, but it's close enough. When you play sports sims year in and year out like I do, it can be easy to get caught up in minute details and forget that NBA 2K is just a really amazing sport simulator. It's a truly enormous game - the kind of sim that can last you an entire year - and it's done the most to capture the soul of its sport. Other sports games are only just now catching up to MyCareer's ambitious storytelling, and no sim outside of Football Manager can match up to the depth of MyGM.
In overhauling the animation system, refocusing career mode, and making meaningful additions to MyGM, NBA 2K17 has addressed many of my lingering criticisms while losing none of its polish. And lest we forget, NBA 2K17 is one of the sports sims to feature a credible online franchise mode, with this year's MyLeague Online now offering multiple years and some fun new concepts like Keepers, which keeps stars players rotating around the league. I can ding it for a lot of little issues; but overall, NBA 2K17 is a remarkable achievement.
Right now, NBA 2K17 is the bar to which all other sports games aspire. And so long as Visual Concepts continues to attack each new entry with the same kind of vigor and ambition they have demonstrated with this year's version, it will continue to be the bar for the forseeable future.
InterfaceLoad times can be a little long in places, and it's a bit silly to have your character automatically return to their court just so they can leave and go straight to practice. Otherwise, NBA 2K's interface is solid, if a bit too crowded.
SoundNBA 2K is known for its outstanding commentary, and this year is no different. Kevin Harlan returns to offer his typically smooth and insightful commentary, and the studio crew has plenty to say as well.
VisualsNBA 2K17's dumps canned animations for a much smoother experience overall. The arenas and players look terrific, and NBA 2K17 has the most elaborate halftime and postgame show of any sports sim. Seats empty during blowouts and crowds clap along to arena music. In short, it looks amazing.
ConclusionNBA 2K17 addresses most of my biggest issues from last year in cutting out canned animations and going back to basics with MyCareer, and it's still as polished as ever. It's easy to take its excellence for granted, but Visual Concepts' ambition and willingness to take risks keeps it from ever becoming stale. NBA 2K17 is the champion, and it's tough to see it losing that title anytime soon.