How to beat the Nameless One boss in Minecraft Dungeons
It's taken two full levels to get to this point, but deep in the Desert Temple you meet one of Minecraft Dungeons' more interesting bosses: the Nameless One.
Attacking with a mixture of magic and summoned skeletons, the Nameless One can drain your heart in just a couple of seconds if you're not careful - so it's best not to give it the chance.
While it's tough to brute force this fight without a tuned build, it's still much easier than trying to take on the boss fair-and-square. And the rewards make up for the effort - I've had unique weapons and all sorts drop from this battle, so it's worth running through multiple times.
How to beat the Nameless One in Minecraft Dungeons
The most success I've had against the Nameless One is with pure aggression. When you're up close, it doesn't seem like the Nameless One can do much against you if you attack quickly.
To achieve this, I use the Death Cap Mushroom Artifact to increase attack speed and keep up sustained pressure - but you could just use a fast weapon like the gauntlets or daggers.
Secondly, it's best to have additional source of reliable healing as well as your regular potion. This can be a variation of the Grim armor set, a Soul Healer, or a combination of these with weapon and armor Enchantments like Radiance.
The best case scenario would be to have Potion Barrier as an Enchantment on your armor since it lets you tank hits for an incredibly long time - leaving you free to spam damage with your increased attack speed.
Next, you need a way to quickly deal with the summoned skeletons when they surround you, so they don't break your focus on the Nameless One. This can be done with a Harvester Artifact (but not if you're relying on a Soul Healer), with a Light Feather which stuns them all, or with Snowball, Stunning or Freezing Enchantments on armor.
It's not vital to have absolutely all of these things to be successful, but they make it easier.
Finally, you still have to play the fight correctly when it comes to movement. Don't try and tank the Nameless One's ranged attacks by just walking through them to wail on the boss - they will kill you very quickly regardless.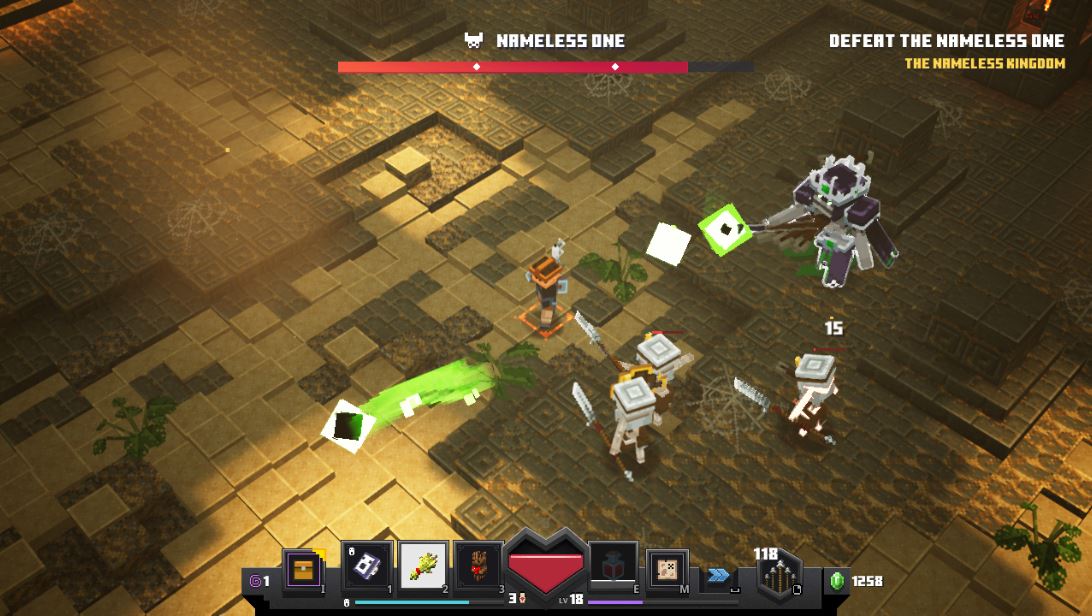 Instead, strafe walk sideways and diagonally towards the boss to avoid the hits, then get your damage in.
When the Nameless One teleports away and multiplies, focus on dodging the orbs, then repeat your advance to get in close again. With reliable healing, and fast hits, you should be able to quickly defeat your foe.
For more on Minecraft Dungeons, here's where to find the game's hidden secrets and chests - including the super secret level.
While here we've linked our lists of the best weapons, best armor, best enchantments and best artifacts in the game.