Halo TV Series Still Alive at Showtime
Xbox Entertainment Studios is dead, but the Halo television series is still showing signs of life.

This article first appeared on USgamer, a partner publication of VG247. Some content, such as this article, has been migrated to VG247 for posterity after USgamer's closure - but it has not been edited or further vetted by the VG247 team.
Halo has had a rough transition from best-selling game to multimedia project. The universe seems like it would work well with a movie or television series, but Microsoft has had trouble adapting the series. The last shot at a Halo TV show was set up at Showtime by Microsoft's short-lived Xbox Entertainment Studios (created in 2012 and shuttered in 2014). Many assumed that meant the series, co-produced by Steven Spielberg's Amblin Entertainment, was canned. During the Television Critics Association press tour, IGN found out that the Halo television series is still alive over at the network.
Close enough?
"It's still in development. Still in very active development," Showtime president David Nevins told IGN. When asked for a time frame, Nevins replied No time soon."
The Halo feature film was in various states of development from 2005 to 2007, with Peter Jackson as executive producer and Neill Blomkamp as director. Ultimately, the film fell through because Microsoft couldn't understand Hollywood.
"[Microsoft] wanted to be able to dictate the terms even though it was a newcomer in the movie biz. Halo was its prize property and they wanted to protect it," read an excerpt of Jamie Russell's Generation Xbox: How Video Games Invaded Hollywood published in Wired. "Games creators are, by their nature, engineers who deal in absolutes. For them the subtleties of Hollywood production, with its ebb-and-flow of egos and power plays, were often alien. The failure of the Halo movie remains a potent illustration of the gulf that still lies between Hollywood and the videogame business. It should have been the tent-pole movie to die for, instead it became the one that got away." That desire for control from Microsoft was also the reason for Showtime's Halo series took so long to negotiate. When Variety first reported the deal, it noted that one of the issues was getting the show to run on Showtime and Microsoft's Xbox platform. Not many networks want to give up their exclusive rights to a show.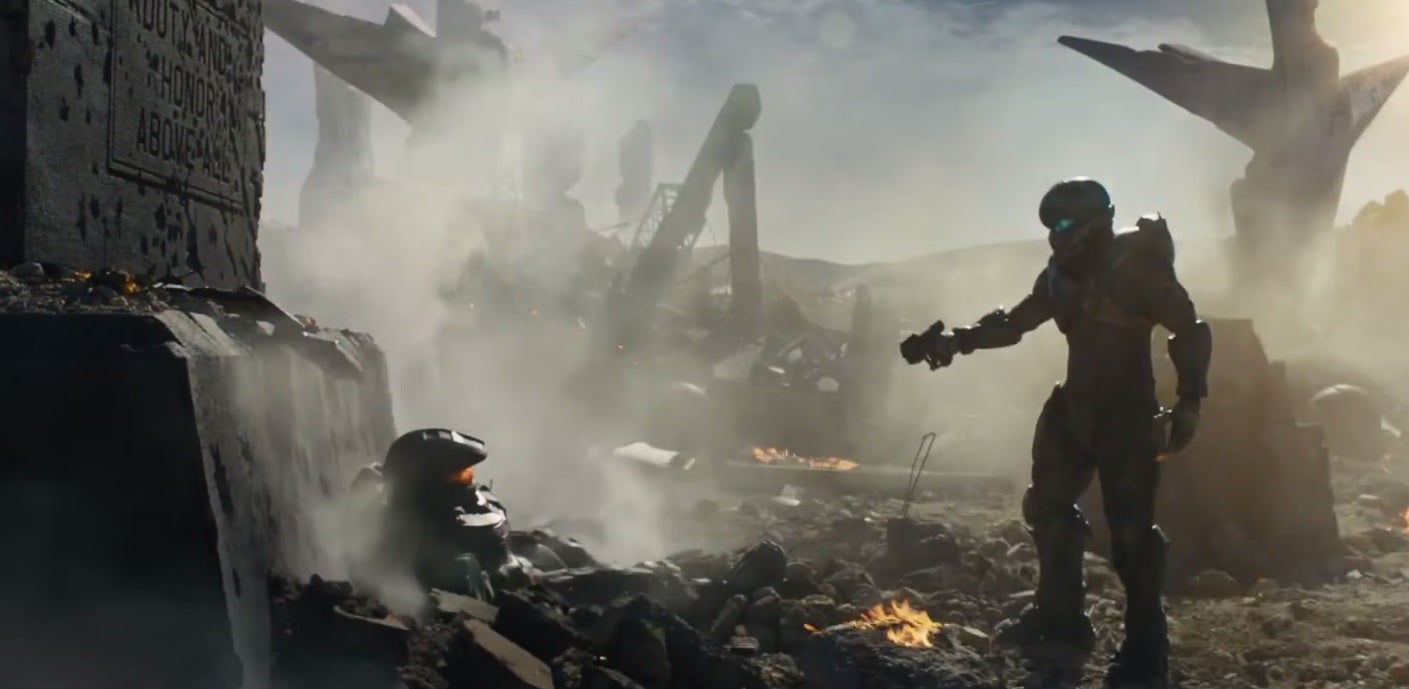 Following the feature film's demise, subsequent Halo live-action projects have been met with limited success. Halo: Forward Unto Dawn from Machinima was decent, but its smaller budget was clearly on display. Halo: Nightfall boasted bigger production values, but the execution was less than good. Rupert Sanders, who directed the live-action commercials for Halo 5: Guardian (above), admitted that getting Halo onto television screens is a difficult prospect.
"I think it'd be too hard to make a Halo movie. There are a lot of chefs in that kitchen," sanders told Wired UK. "That doesn't mean Sanders is against a Halo feature film, adding that "I think it's been tried a few times [and] it could be a great film that would only benefit the franchise. I think people would like to see it done properly."
The Halo universe is ready for a live-action project. The Spartan-IV program, introduced in the Halo: Initiation comic and Halo: Spartan Assault game, allows for augmentation of nearly any trained personnel. That means any writer or creator can make up a new Spartan as needed, as opposed to sticking with the relatively smaller groups of surviving Spartan-II or Spartan-III candidates. Halo 5 is already putting the Spartan-IV idea to good use with Team Osiris, featuring Spartan-augmented versions of Locke from Halo: Nightfall and Buck from Halo: ODST.
For now, all we can do is wait until Microsoft gets its stuff together. Shame it's not on Netflix though. I could bang with a Netflix release.